Averages' 3C Chart Update
***By the time I got this post together, S&P already moved below session lows to $3,000 where I've thought it was headed. I'll likely have another update very soon as this is where I expect a little battle.
S&P and NASDAQ are testing session lows (S&P 3003), small caps are making new session lows as banks move lower from just after 11 a.m. In fact most of the asset classes that sold off this morning (stocks, bonds, precious metals) are pretty close to testing session lows.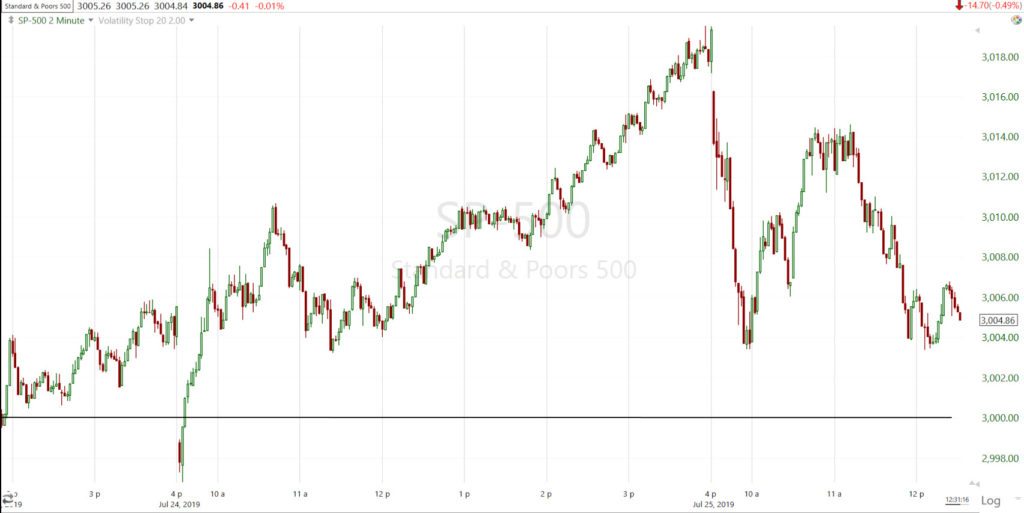 SP-500 (2m) yesterday's move higher and this morning's move lower with $3,000 at the trend line, the area I expect will be tested (psychological and technical support).
Tone in mixed intraday near the session low, and quite frankly these are still low grade, low conviction signals. I'll put up some intraday charts in the area, and the trend from last week to this week.
First the near term intraday charts.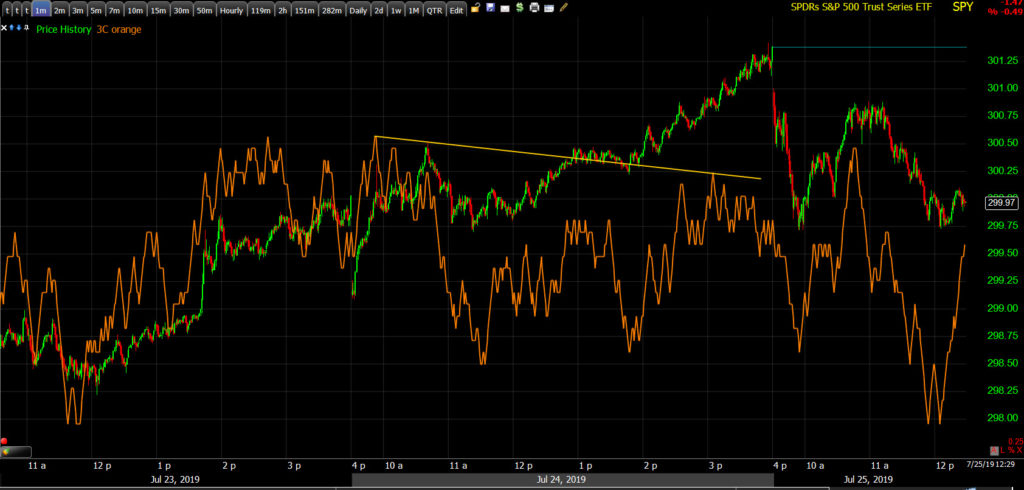 SPY (1m) yesterday afternoon 3C started turning negatively divergent as SPY ran higher. As S&P is at the test of intraday lows, 3C has made a lower low which leans toward $3,000 being tested.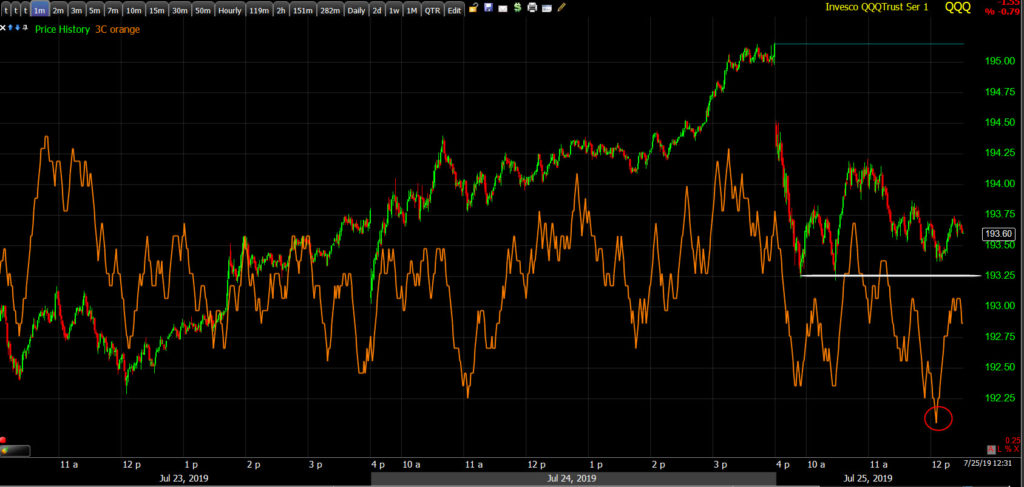 QQQ (1m) was mostly in line yesterday with a very low grade relative negative divergence between Tuesday morning highs and yesterday's highs. 3C has also made a lower low relative to where it was at this morning's low price low.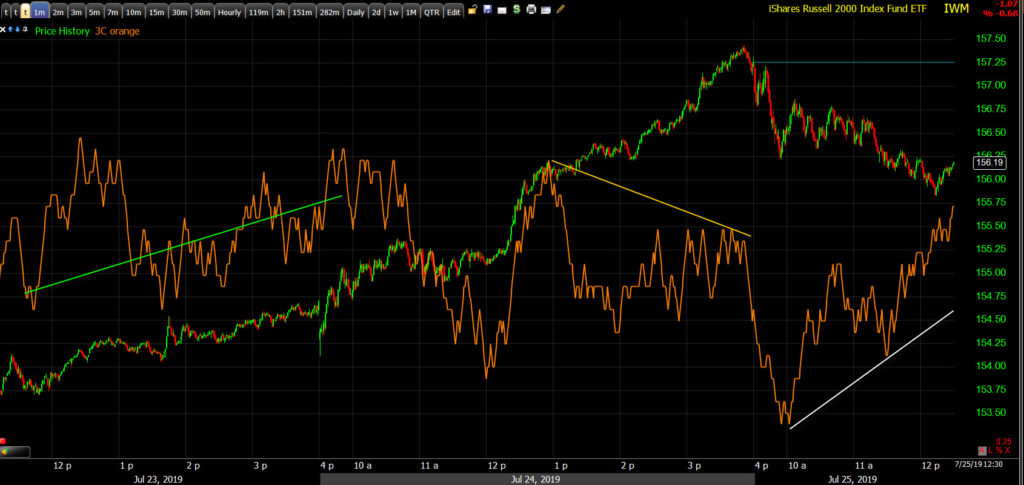 IWM (1m) in line (green) with price, negatively diverging into the highs toward yesterday's close, and a positive divergence as prices decline today.
That's the mixed bag. Small Caps a little better, the others leading lower. DIA is close to in line with price this morning, but also near a new leading negative low for 3C on the week.
I captured these charts, from last week until now, about a half hour ago. There may be some slight changes since, but the overall theme is there.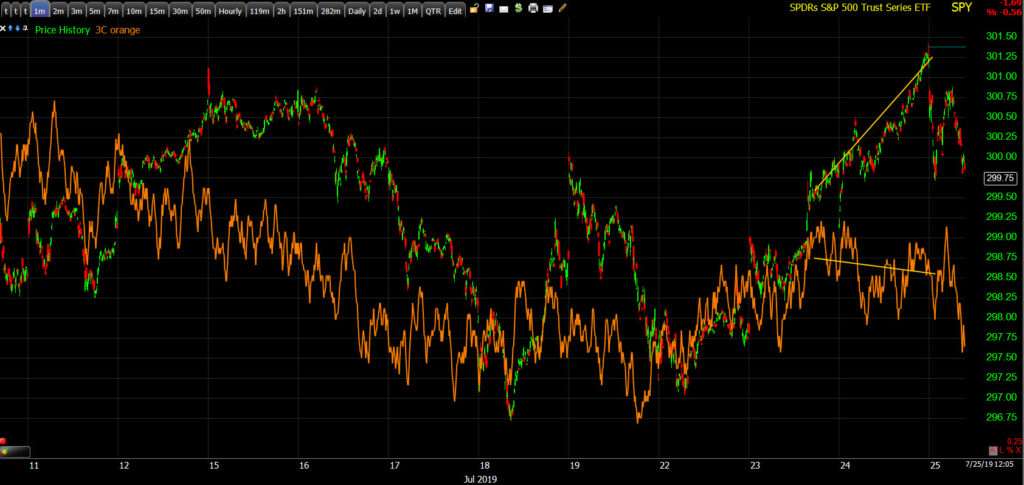 SPY (1m) the negative divergence early last week is clear to the left. SPY has been mostly in line this week, but not strong charts or positive divergences except a very small one at Monday afternoon's low. Here you can see the negative divergence from yesterday pretty clearly. Again it's not a strong signal, but neither were the ones last week. What it tells me is that the new record high yesterday was not a sturdy move with conviction, and thus at risk.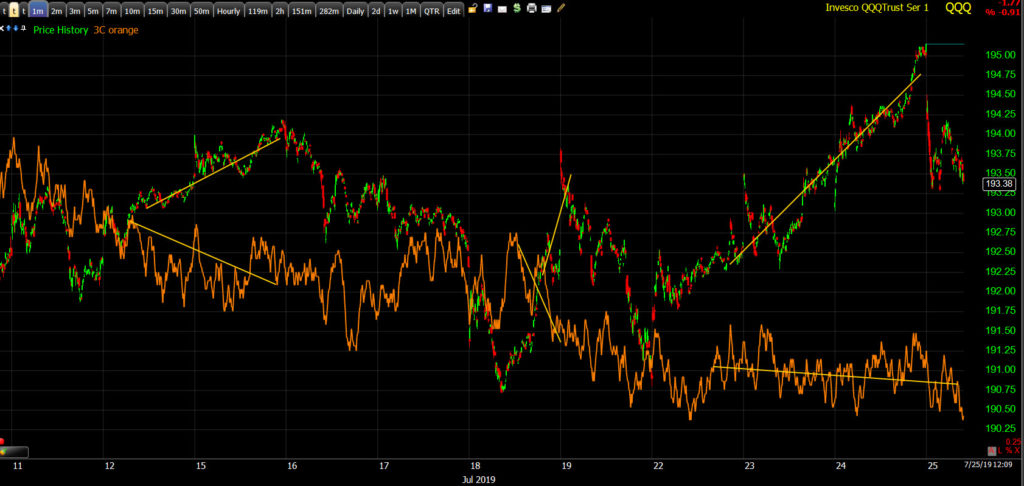 QQQ (1m) shows last week's neg. divergence to the left. While QQQ did not have a sharp negative divergence this week as prices gained, it did not confirm either. In that way the chart is almost identical to last week.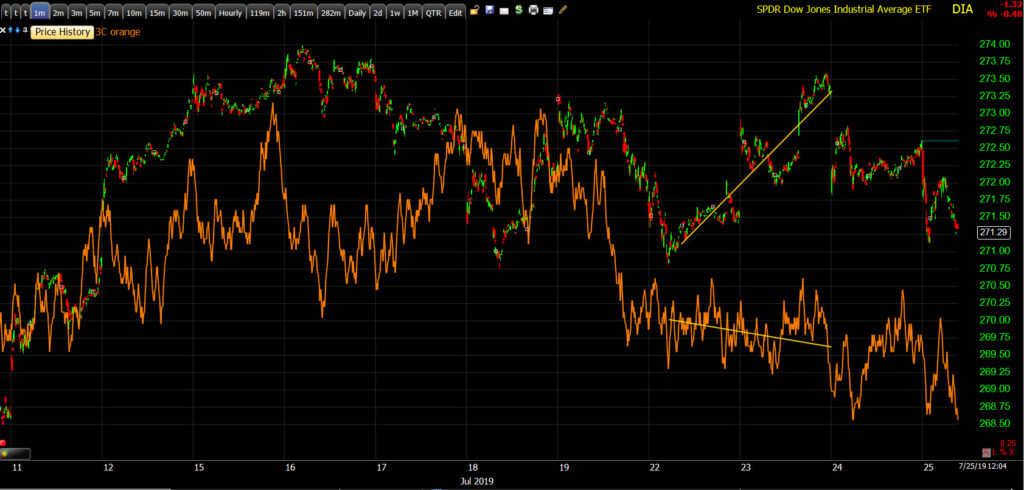 DIA (1m) was the best looking of the major averages last week, although it did go negative Friday, Again it has not been confirming this week's move higher. Dow is under-performing this week anyway. What's dangerous about this chart is how close 3C is to making a new leading negative low for the last 2+ weeks.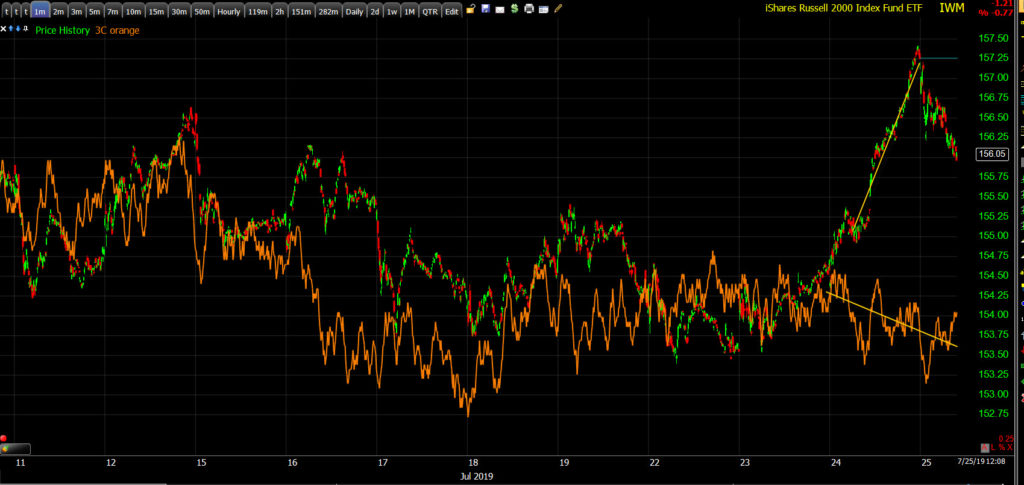 IWM (1m) 3C as sideways with price throughout July, until last Tuesday when it posted a leading negative low and price shortly followed below the sideways consolidation. Small Caps have outperformed this week, a credit to the broader market, but again no confirmation just as it broke above the lateral July range.