Daily Market Wrap for June 25th, 2019
First, Index futures lost ground overnight on geo-political tensions. While the economically sensitive areas warned yesterday (Small caps and Transports) of trouble, the heaviest selling today was in Large Cap Technology. Both days have the air of de-leveraging ahead of uncertainty (G-20). The other takeaway is that the Wednesday/Thursday moves higher after the Fed, had very little strength/staying power. Small caps retraced the entirety of gains and then some yesterday. S&P and NASDAQ are close as of today.
The averages legged down after St. Louis Fed President James Bullard, an FOMC voter and the only dissident in this month's FOMC meeting, spoke. Mr. Bullard said he didn't think it was necessary to cut the fed funds rate by 50 basis points. Instead, he favored a 25 basis points reduction, viewing it as an "insurance" cut (like 1998).  The market didn't like that, especially coming from him as he was the only FOMC member that voted for a rate cut at last week's meeting.
Expectations for the upcoming G-20 summit were also lowered after a White House official told Reuters that the U.S. will not accept any new tariff conditions and that the U.S. is not willing to concede to the Chinese on trade. The goal is to simply reopen talks, which was not the constructive tone the market was anticipating.
Averages
S&P 500 ⇩ -0.94 %
NASDAQ ⇩ -1.70 %
DOW JONES ⇩ -0.67 %
RUSSELL 2000 ⇩ -0.59 %
Friday and Monday Small Caps showed relative weakness, notably so yesterday. This is what I consider to be "market signal" as the growth sensitive Small Caps led the broader market lower today.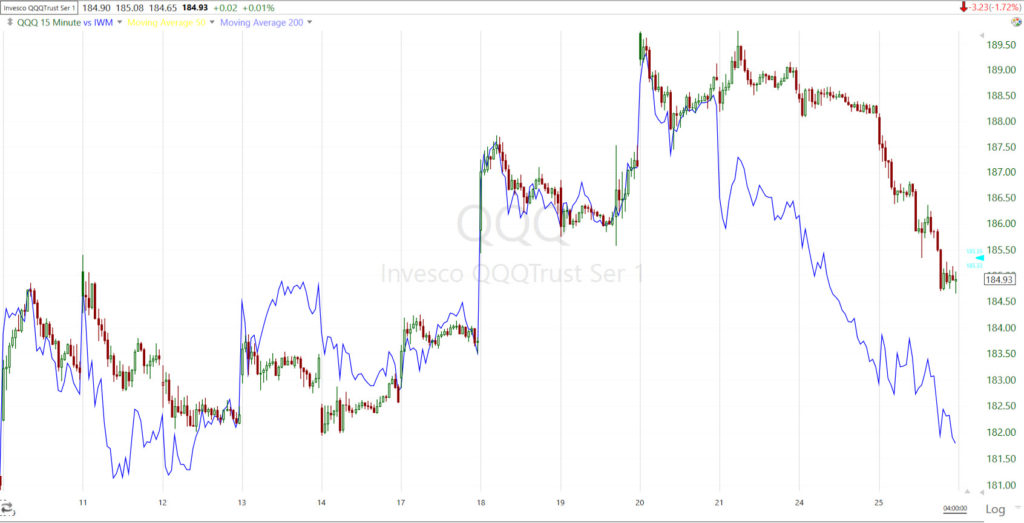 QQQ and IWM (blue) 15 min normalized June 10th. These are the kinds of signals that are seen at pivot highs/tops of some importance. There were quite a few of these types of signals at the two pivot March highs, and the April record high. There was no price leadership by Small Caps today, unlike yesterday, but they showed relative strength in terms of price performance. The extent of relative strength diminished after IWM broke $151.50 this afternoon.
While I'm mentioning Small Cap relative performance, it's worth noting that in the bigger picture of things, small caps' relative performance against the S&P is at levels last seen as the market was just emerging out of the Financial Crisis.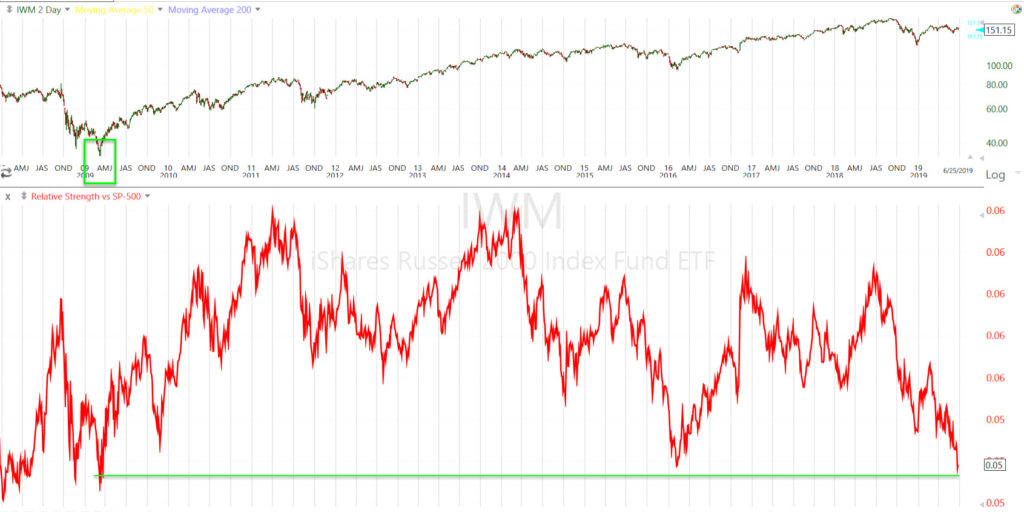 IWM and relative strength vs. S&P-500 (2 day) The lowest since 2009. Other economically sensitive sectors are at multi year R.S. lows: Transports 7 year low (RS), Major Automotive Manufactures at an all-time relative strength low.
The averages are at, or near their pre-FOMC consolidation, a 6-day consolidation.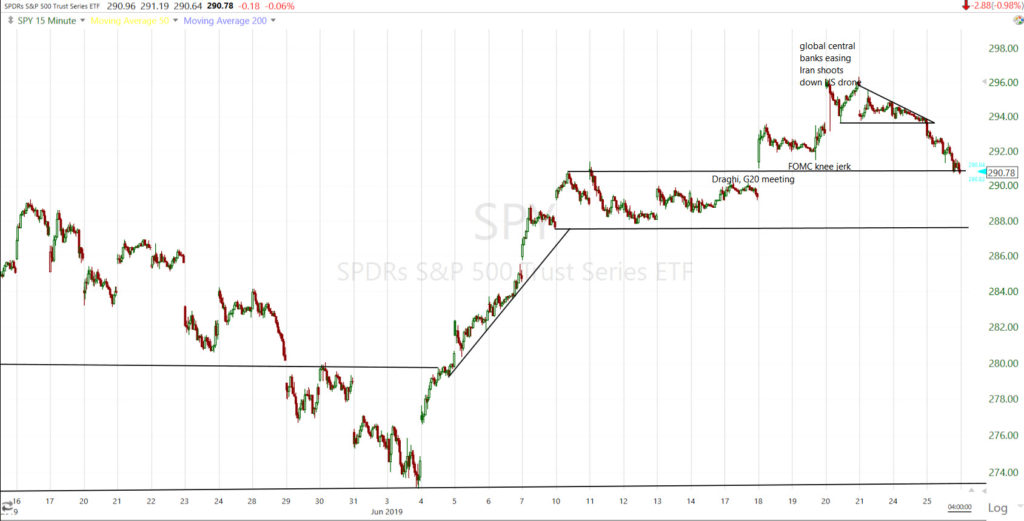 SPY (15m). If this area fails as support, then I think S&P is headed for the bottom of the consolidation channel. That's also where it's 50-day moving average happens to be.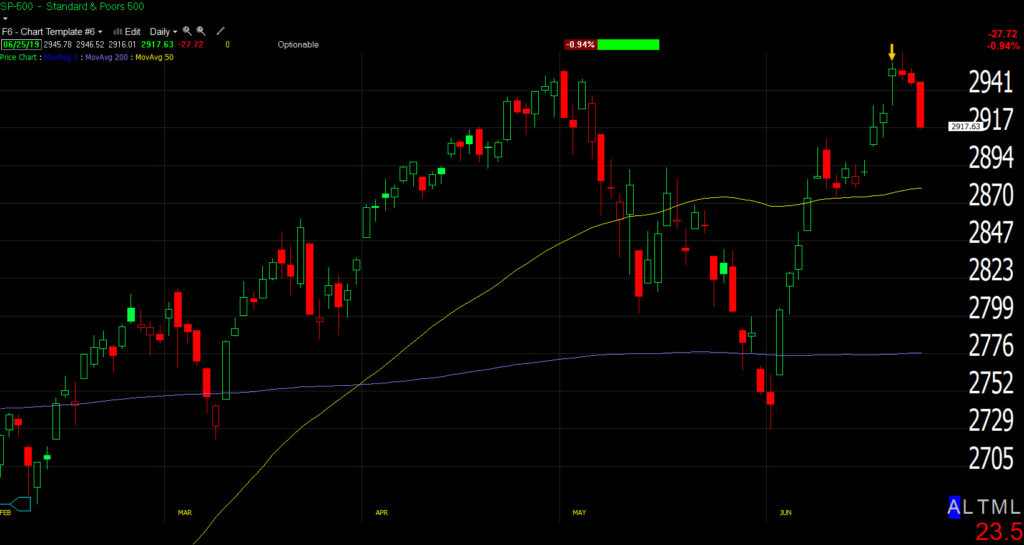 SP-500 (daily) After Thursday's Hanging man candle pointed to a loss of upside momentum, and the next 2-days had small body candles, today finally confirmed the reversal… a reversal Small Caps made Friday. Note that the averages closed at the low of the day. That's a bad way to close. I expect the markets have more downside to go tomorrow. NASDAQ 100 is close to its 50-day moving average, so we may see some attempt at support there.
S&P sectors
Ten of 11 S&P 500 sectors finished lower, led by the mega-cap stocks within the FANG heavy Technology, Communications, and Consumer Discretionary sectors. The Materials sector closed green. The defensive/rate sensitive sectors moved lower with shorter duration Treasuries in response to Bullard and Powell comments.
Materials ⇧ 0.05 %
Energy ⇩ -0.79 %
Financials ⇩ -0.33 %
Industrial ⇩ -0.75 %
Technology ⇩ -1.84 %
Consumer Staples ⇩ -0.05 %
Utilities ⇩ -0.61 %
Health Care ⇩ -0.41 %
Consumer Discretionary ⇩ -0.96 %
Real Estate ⇩ -1.36 %
Communications ⇩ -1.86 %
For overall perspective I have posted each of the  11 S&P sectors, and a few important others. Part of market signal is the overall outlook of the market, including the sectors that make it up.
These are my own trend lines, based on my interpretations of price trends. Feel free to use your own, this is just to give you a sense of what's happening with the sectors that drive the market. All charts are the same scale and time frame. Each starts from the end of the May decline to present.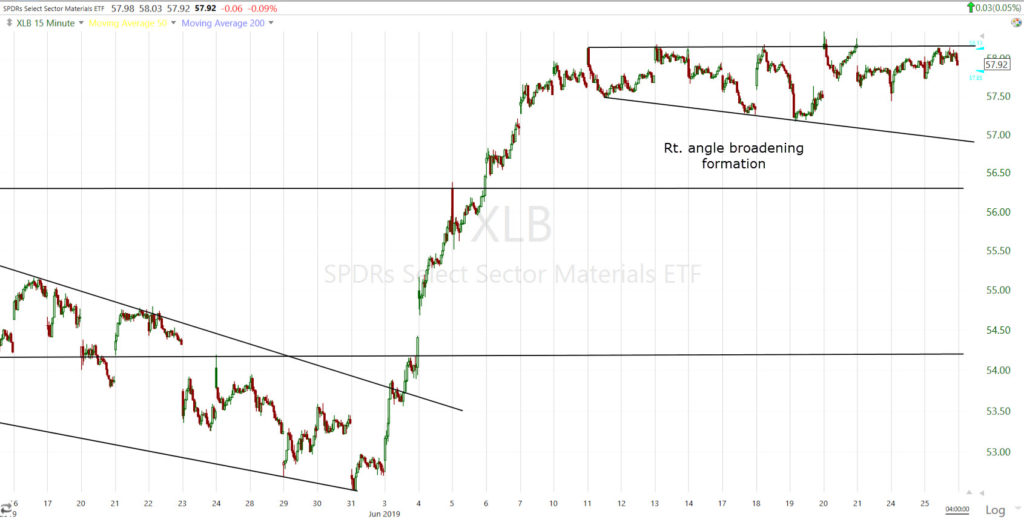 Materials/XLB (15m) has been consolidating the entire time, it wasn't able to breakout of consolidations with the major averages last week. In relative strength terms, today it was the best performer. The consolidation is turning to a right angle broadening formation. This is the same consolidations seen late April, before May's decline. They're not bullish.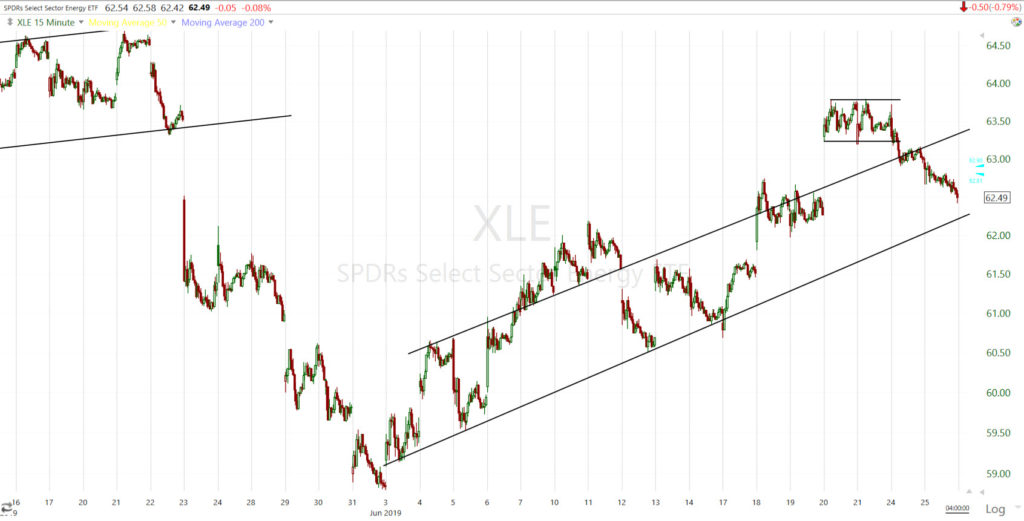 Energy/XLE (15m) is a good example of the May decline and June rally. Energy couldn't add any more to its breakout from the channel and reversed. This June channel is a little big for a bear flag, and volume is not right for a bear flag, although on a daily chart it's hard to make a case against the interpretation.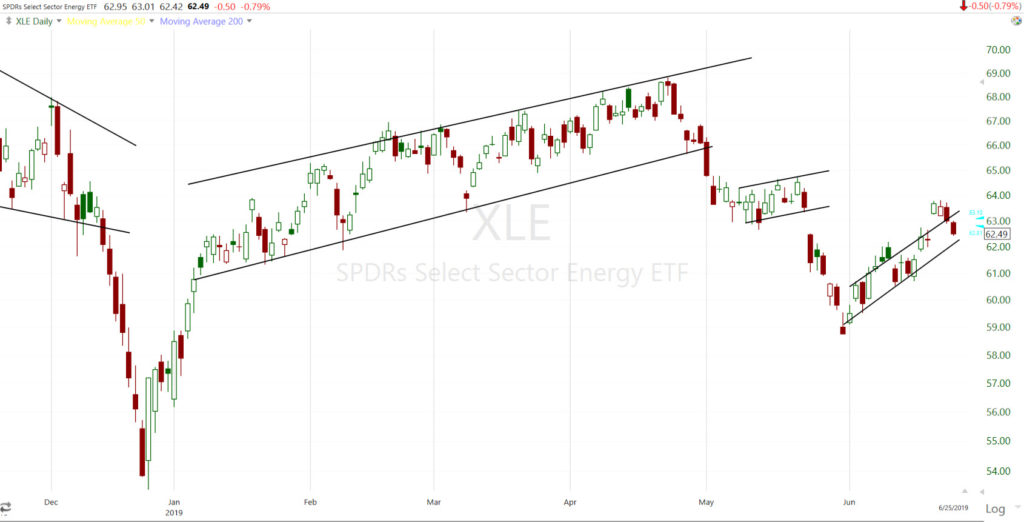 Energy/XLE (daily)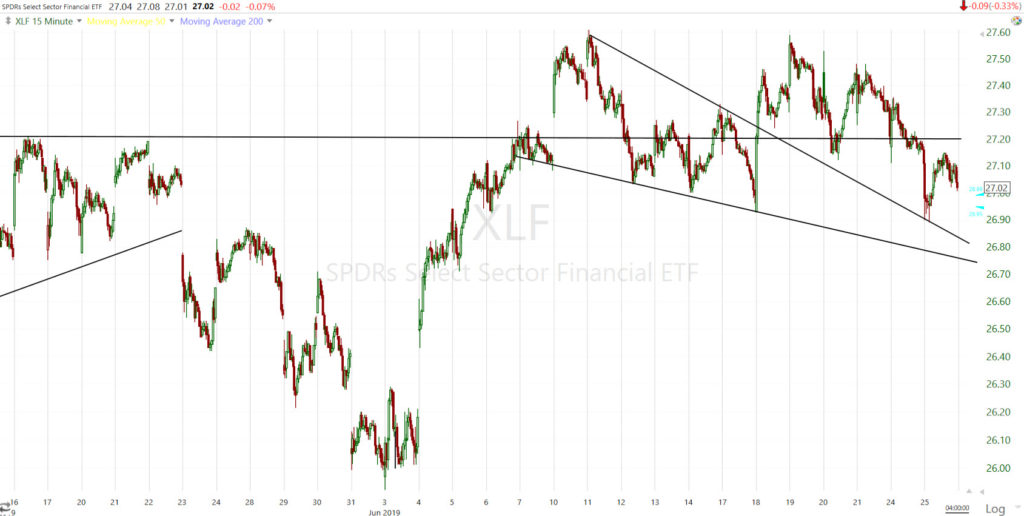 Financials/XLF (15m)  This was one of the more bullish consolidations, but Financials were not able to breakout with the broader market. The $27.20 area is like a magnet for price.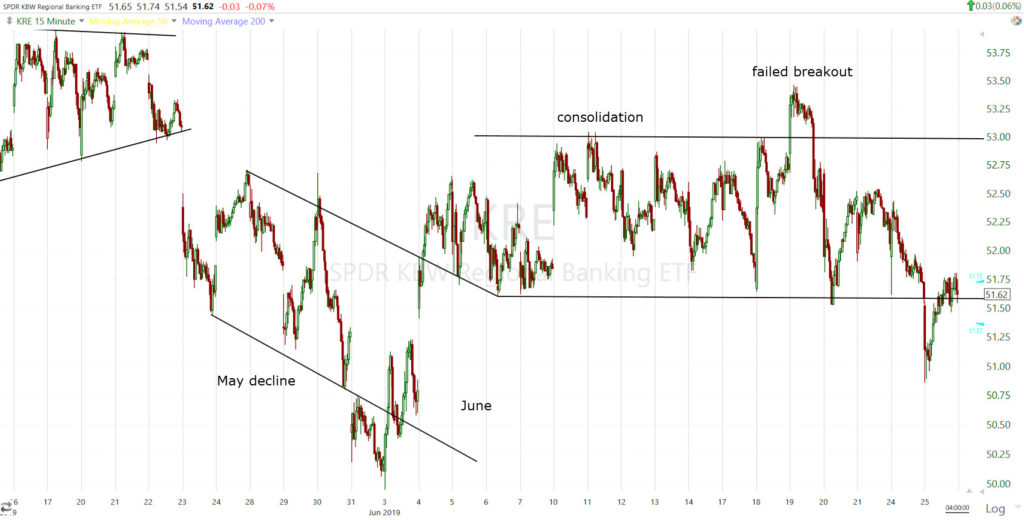 Regional Banks/KRE (15m) is another example on an economically sensitive sector that couldn't break out with the broader market. This is also an example of failed breakouts leading to fast reversals. The sector was among the weakest this morning, but moved back into the green quickly.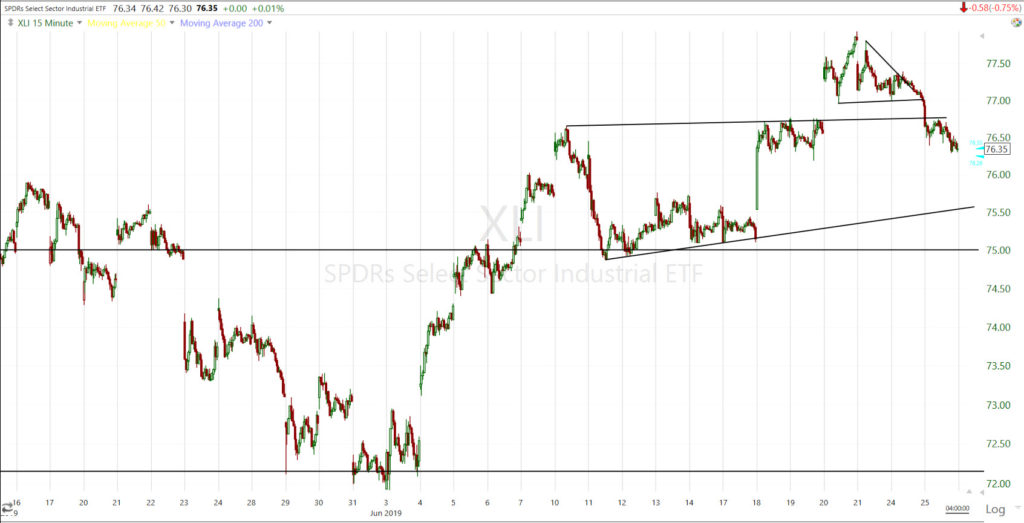 Industrials/XLI (15m) an example of the June rally and a large consolidation into the FOMC, with a failed breakout.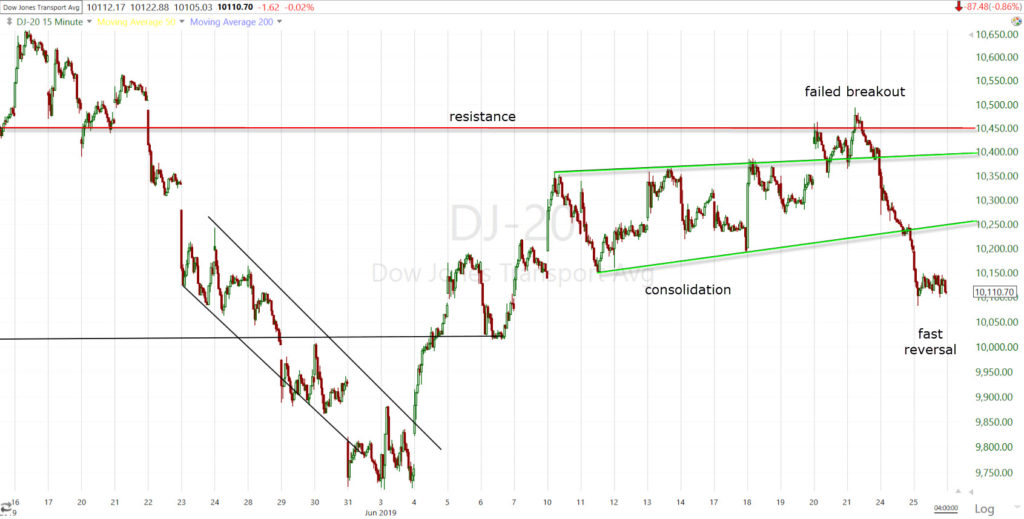 Dow Transports (15m) This is an example of what I call, "market signal". One of the most economically sensitive sectors very weak. This is another example of a failed breakout, and fast reversal.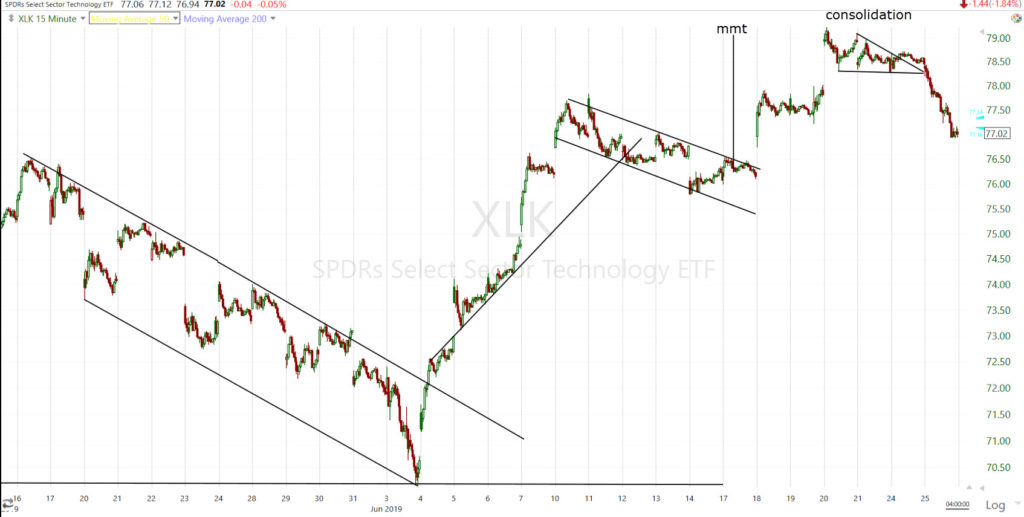 Technology/XLK (15m) has been one of the best looking charts. It did reach it's measured move target on the breakout last week. Today seemed like bigger players were taking money off the table in heavily weighted sectors like this.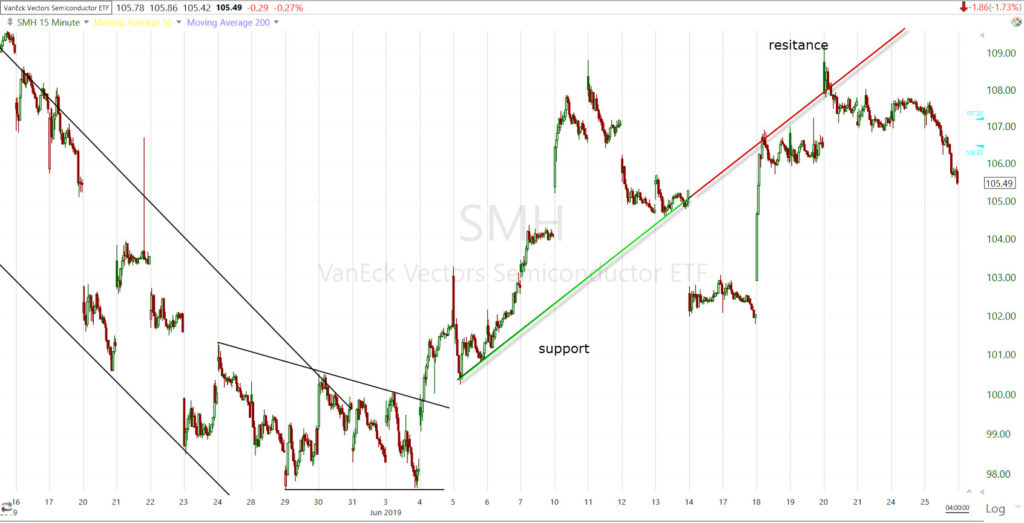 Semiconductors/SMH (15m) this is another example of an economically sensitive sector not able to rally with the broader market on the FOMC. Note how the early June up-trend turned to resistance once broken.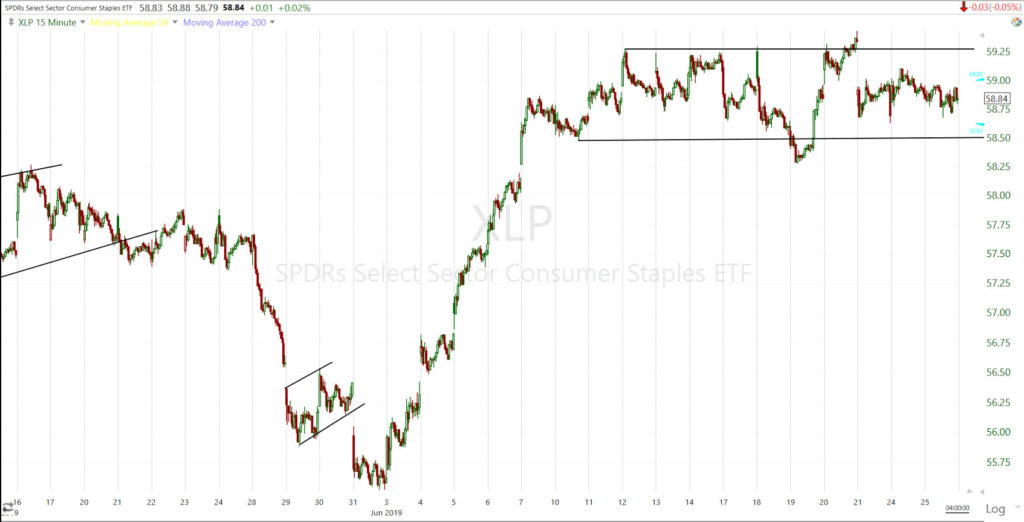 Consumer Staples/XLP (15m) speaks for itself-consolidating in a broad range.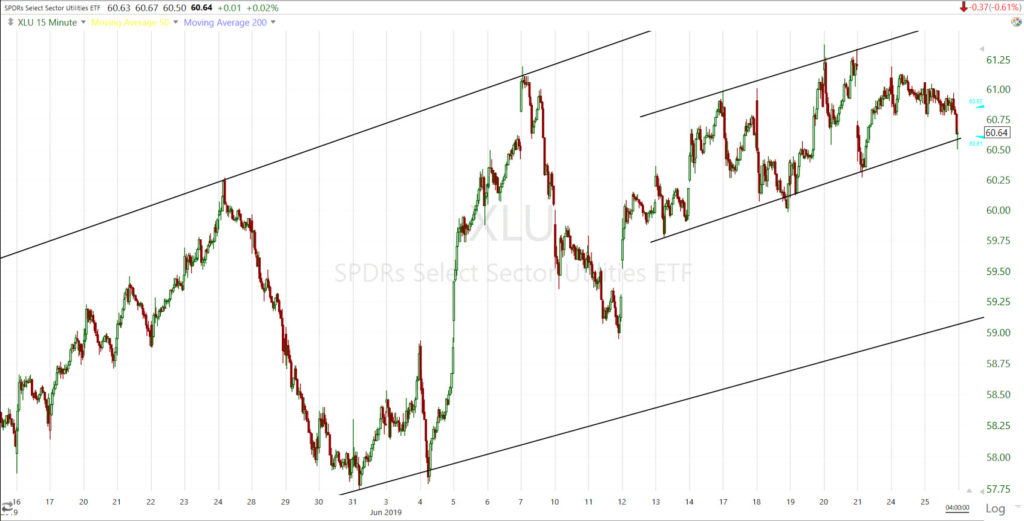 Utilities/XLU (15m) trading in a small channel in the middle of a larger 6 week channel. I still like the defensive sectors overall for positions. I'd be most interested in a position on a pull back to the lower trend line near $59.25. These are not trades, but positions, expected to be a month, maybe more.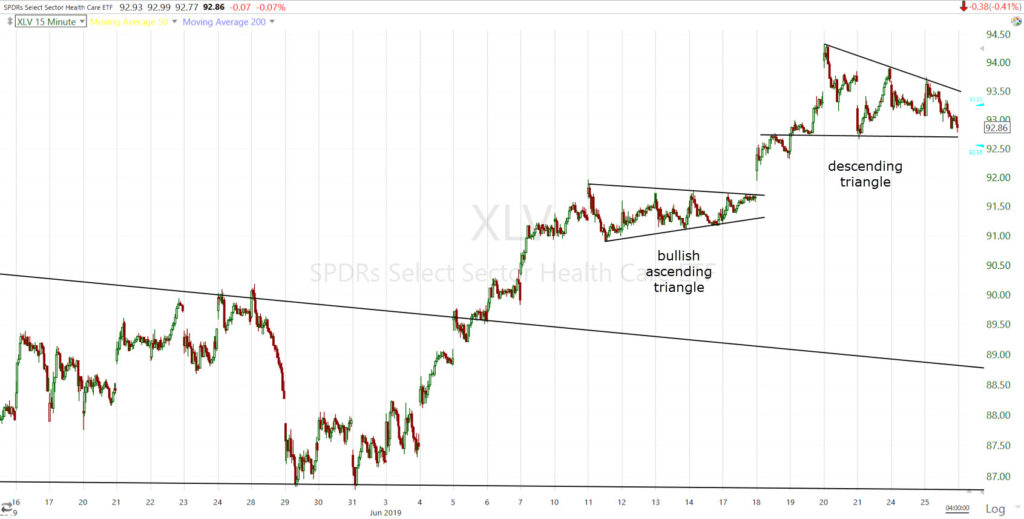 Health Care/XLV Another sector acting well, and the second most heavily weighted S&P sector. The only change in character here is the first ascending triangle consolidation was bullish, representing an area of supply, and higher lows representing increasing demand that finally absorbed supply and broke out.  The current descending triangle has a bearish bias, more so when coming after a move down. Overall it's not that bearish given it's after an advance, but more so than the earlier consolidation.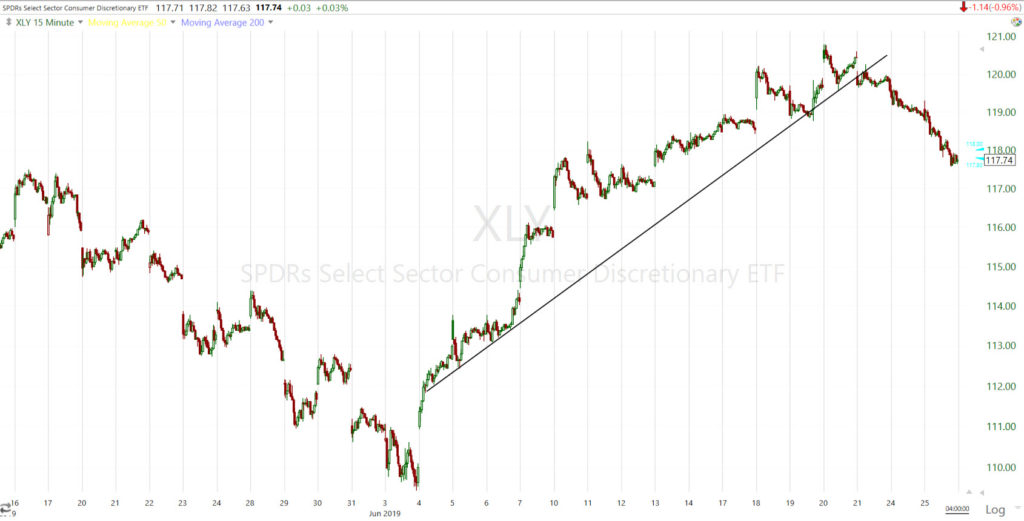 Consumer Discretionary/XLY (15m), another FANG heavy sector. This has been one of the most resilient in June, moving higher as the rest of the market consolidated. It has obviously broken the June trend, but has multiple areas of potential support below like $116.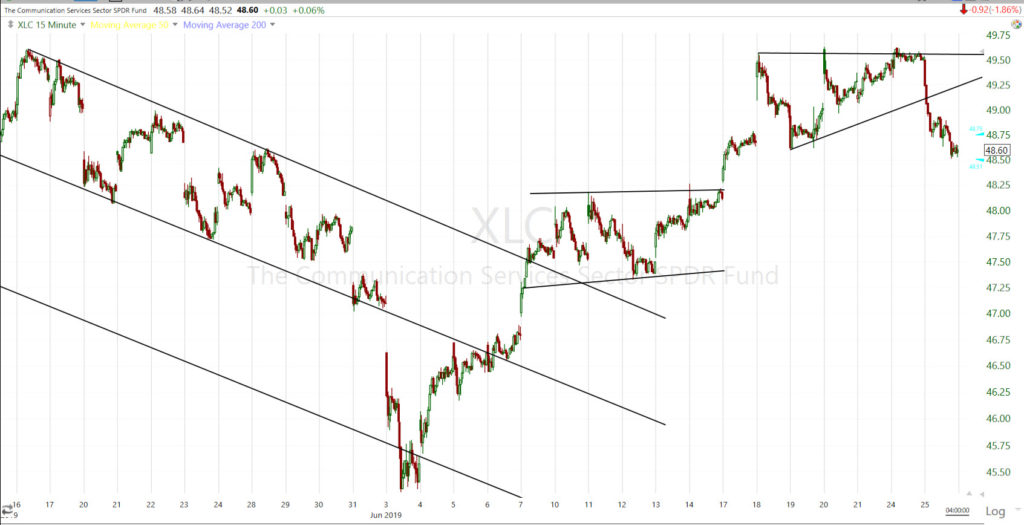 Communications/XLC (15m) another FANG heavy sector. This week's decline has broken a bullish ascending triangle.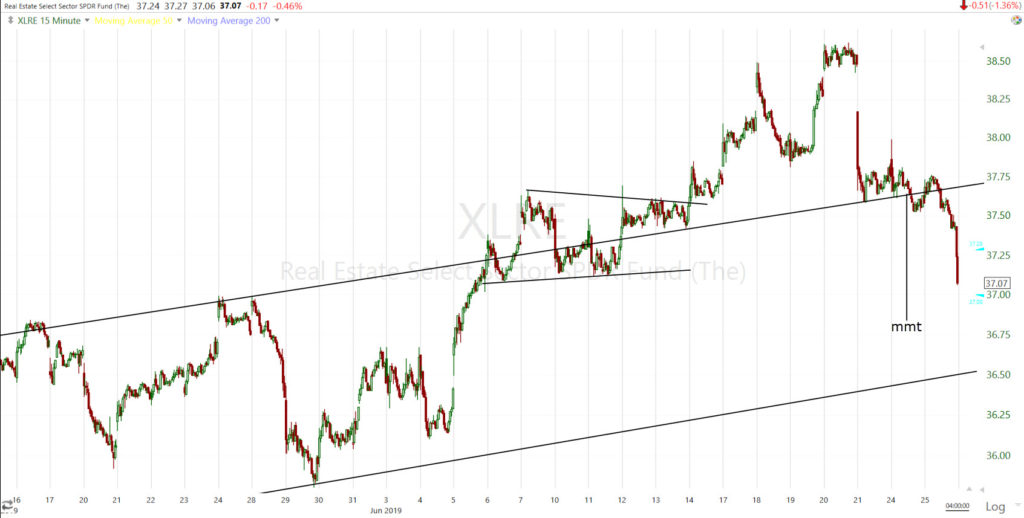 Real Estate/XLRE (15m) This is another sector I like as a position on a pull back to the larger trend's lower channel. XLRE fell about $0.20 short of my upside target. I had a feeling it was not going to hold support at the channel's upper trend line. It has nearly reached the measured move target for a second leg lower near $36.85.
Internals
Most of the day internals were pretty good considering, but once small IWM broke under $151.50, that changed. NYSE advancers 954
to decliners 1907 (-953) on heavier volume of 876.8 mn shares. There's no overall dominant price/volume relationship. S&P and NASDAQ 100 came in at Close Down/Volume Up, which is typical of a 1-day oversold condition, especially with 10 sectors down and decliners 2:1 over advancers. Dow and Russell 2000 did not have dominant p/v relationships. I think we have some more downside to go tomorrow, and that may put in a stronger 1-day oversold condition.
Treasuries
U.S. Treasuries finished on a mostly higher note. The 2-year yield was unchanged at 1.74%, and the 10-year yield declined three basis points to 1.99%, notably under 2% again and well below the Fed funds rate, a stark reminder of the bond market pricing in a recession.
Currencies and Commodities
The U.S. Dollar Index increased 0.2% to 96.16.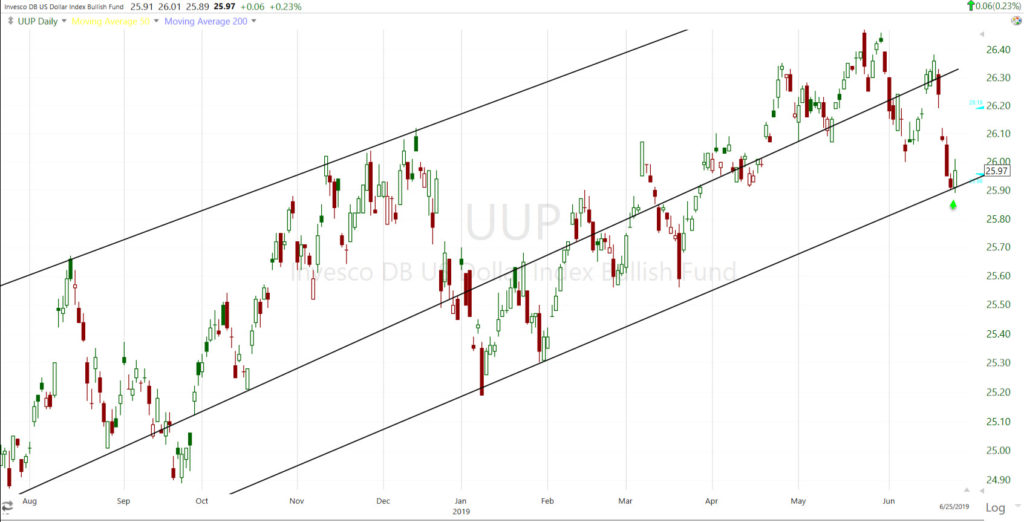 UUP (daily)- This is a key area for the U.S. Dollar, if it breaks trend, it will have a meaningful impact for all kinds of assets from currencies like the Euro, European markets, Emerging markets, commodities and gold, and more. Today it found support at the lower trend, responding to Bullard's less dovish comments with a gain.
WTI crude was unchanged at $57.81/bbl. Crude looks pretty good tonight, see below.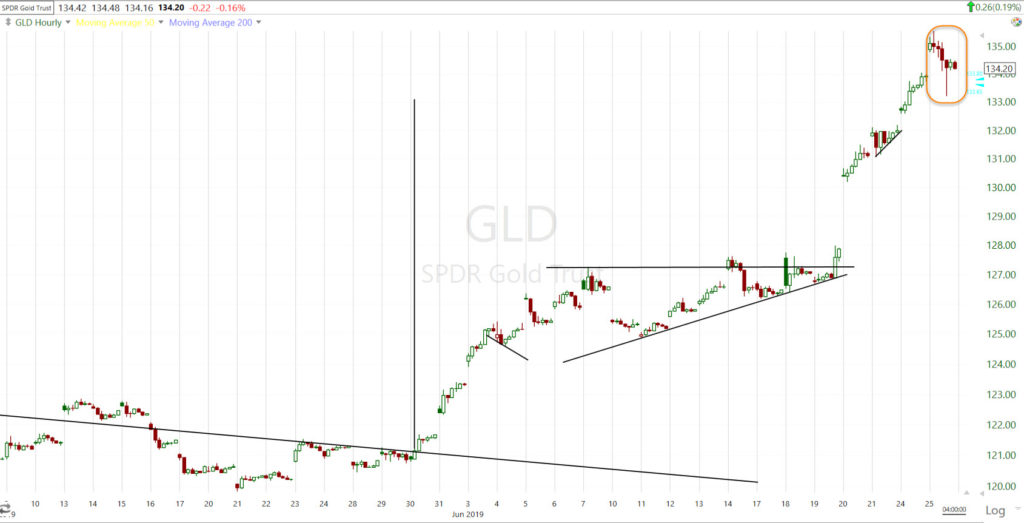 GLD (60m) Gold futures started out today with a fantastic gains of more than 1%. After the Bullard/Powell comments, the U.S. Dollar spiked higher and weighed on gold. We'll see how it acts tomorrow. I think it's due for a rest and consolidation and that's what the cash/GLD charts have been reflecting since moving above the $133 target.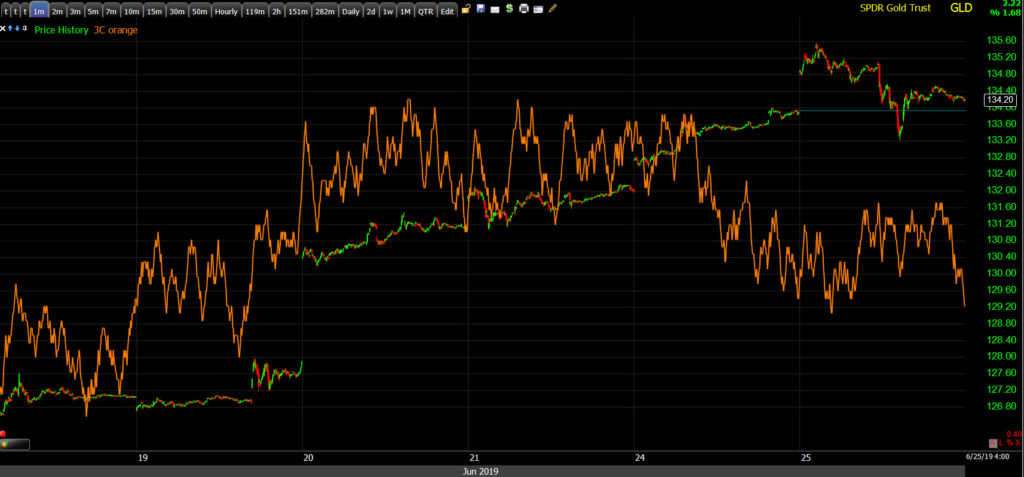 GLD (1m) 3C trend suggests a break in the run higher, maybe a consolidation.
Economic data
The Conference Board's Consumer Confidence Index fell to 121.5 in June (consensus 132.0) from a downwardly revised 131.3 (from 134.1) in May. The index is at its lowest level since September 2017. * The takeaway from the report is that it reflects growing concern about trade tensions among consumers that had been previously lacking, but which had been showing up in business confidence surveys. Flagging confidence on the part of businesses and consumers alike, if it is sustained, is an adverse development for the growth outlook.
New home sales declined 7.8% m/m in May to a seasonally adjusted annual rate of 626,000 (consensus 683,000) from an upwardly revised 679,000 (from 673,000) in April. * The report showed that demand was relatively soft despite a drop in mortgage rates and a 2.8% yr/yr decline in the median sales price of $308,000.
The FHFA Housing Price Index for April increased 0.4% (consensus 0.2%) following an unrevised 0.1% increase in March.
The S&P Case-Shiller Home Price Index for April increased 2.5% as expected after increasing a revised 2.6% in March (from 2.7%).
The following reports are due on Wednesday: Durable Goods Orders for May, the weekly MBA Mortgage Applications Index, and the Advance reports for International Trade in Goods, Retail Inventories, and Wholesales Inventories for May.
Summary
Since there was no improvement in sectors that can move the market, I think the averages have more downside to go tomorrow, maybe the bottom of the pre-FOMC consolidation for the S&P, also its 50-day moving average. NASDAQ should run into it's 50-day first. This week has been the first time I've seen more worrisome market signals in June, like small cap weakness or Transports.
The market still hopes for a good outcome at the G-20. Hope is not a strategy I recommend. Then there's the upside down world of Fed easing cycles in which good news is bad news, and vice versa. After an initial knee jerk, a meaningful deal at the G-20 might actually cause the market to decline as the Fed would no longer see a reason for rate cuts.
One other thing to keep in mind, good news is sometimes sold.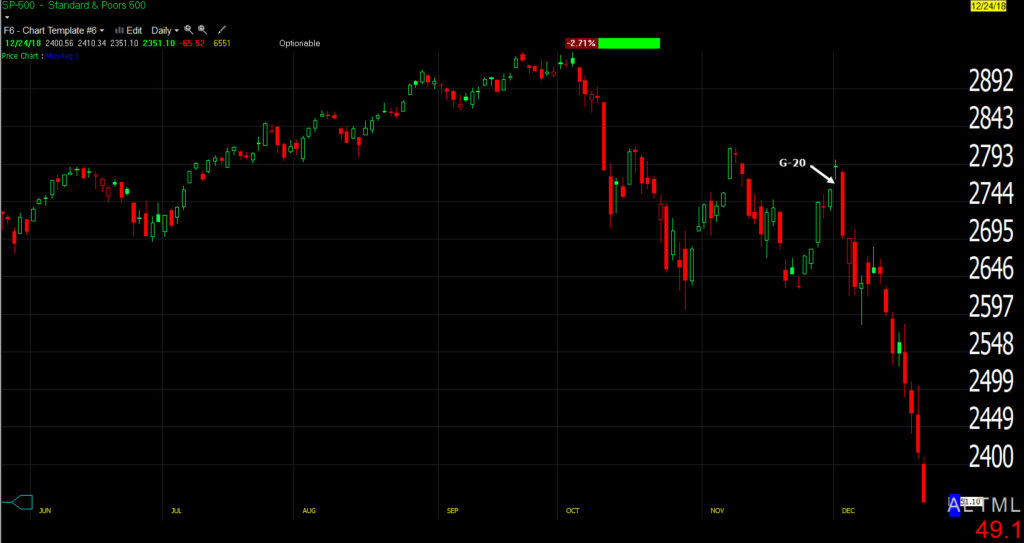 SP-500 (daily) 2018- The G-20 fell in between Friday's close and Monday's open on December 1st. At the meeting between Trump and Xi, they agreed to suspend escalations in tariffs and start a round of talks that lasted until April. The market gapped up on the news Monday December 3rd, then proceeded to sell-off.
After the G-20 I'd expect the summer doldrums to begin. The market is focused on July's FOMC meeting, so it may not be as dull as normal.
Overnight
S&P futures are flat, but they don't look good.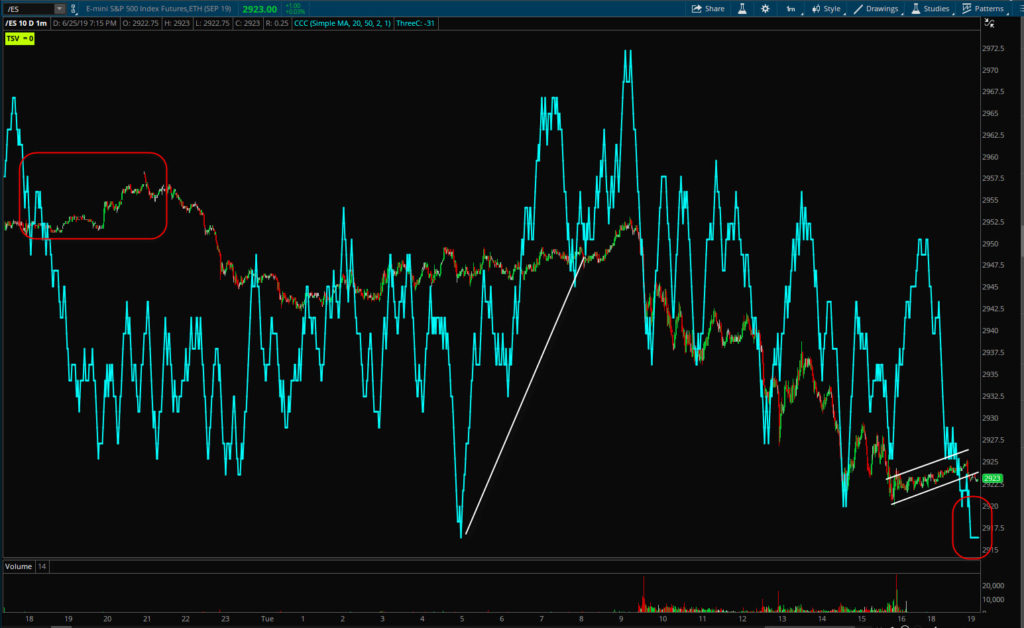 ES/S&P futures (1m). From left to right, a negative divergence early in the overnight session, with price weakness early Tuesday morning.  Index futures recovered and looked OK this morning before the open. This is why what happens in the cash market is always more important to me as that's where, and when large players transact. The averages sold off on the open, ES's 3C chart confirmed the move lower today. Tonight ES is in a small bearish flag with 3C leading lower.
Crude looks better tonight, up +1.6% after API oil inventories showed a draw in crude stockpiles.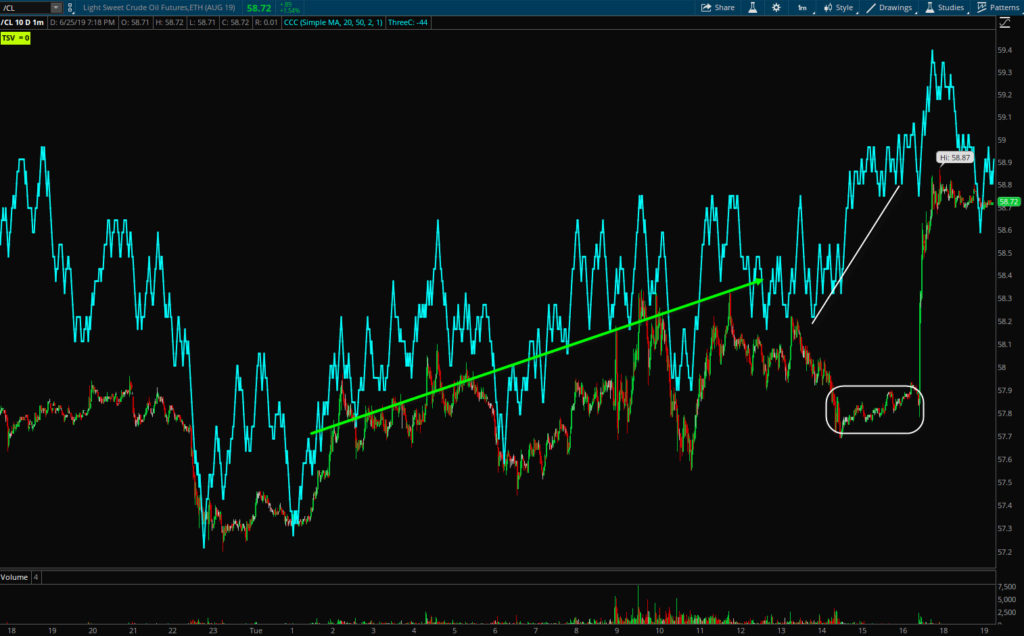 CL (1m) had a quieter, confirmed trend (green), with a positive divergence heading into the API oil inventories, and looks good here.
The only other item of interest is Gold futures' 3C charts looks better since the cash close.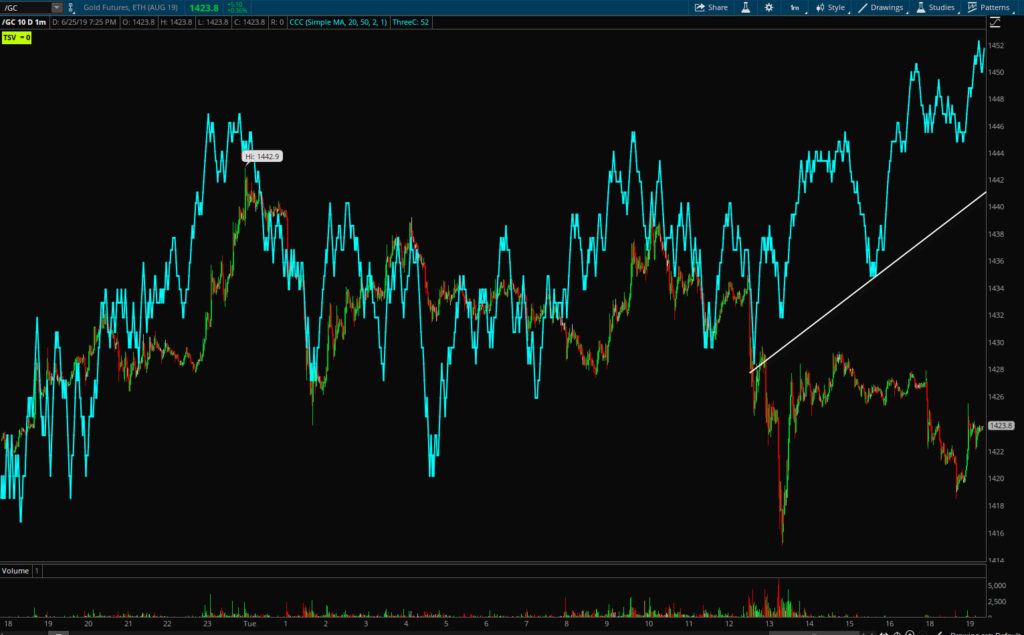 GC (1m) Perhaps traders are expecting a repeat of last night's early overnight session (stocks down, gold up on geopolitical concerns).
I'll see you in the morning.