Daily Wrap March 20, 2019 FOMC Update
As mentioned the last few days, FOMC days tend to see knee jerk reaction and it can take hours or days for them to settle. I'm just going to go with what we have.
The S&P declined as much as -0.70% earlier today. Small Caps lost as much as -1.65% before prices stabilized ahead of the FOMC policy statement.
The early weakness was related in part to FedEx's (FDX -3.49%) negative earning outlook. FDX'x earnings report fueled the slowing growth narrative after it lowered its fiscal 2019 earnings guidance due to slowing international macroeconomic conditions and weaker global trade growth. FedEx also missed top and bottom-line estimates. Its negative outlook weighed on the Dow Jones Transportation Average (-1.30%).
Also top CEOs reported a weaker economic outlook for the first quarter than from the fourth quarter, according to the Business Roundtable. Separately, the CEO of UBS (UBS -1.99%) told conference attendees, according to Bloomberg, that the first quarter was one of the worst environments for investment banking in recent years.
Why was the market so off-put by FedEx's earnings? Transports tend to be very economically sensitive, which is why I use the sector as a leading indicator. I saw this chart earlier today and thought I'd share it with you.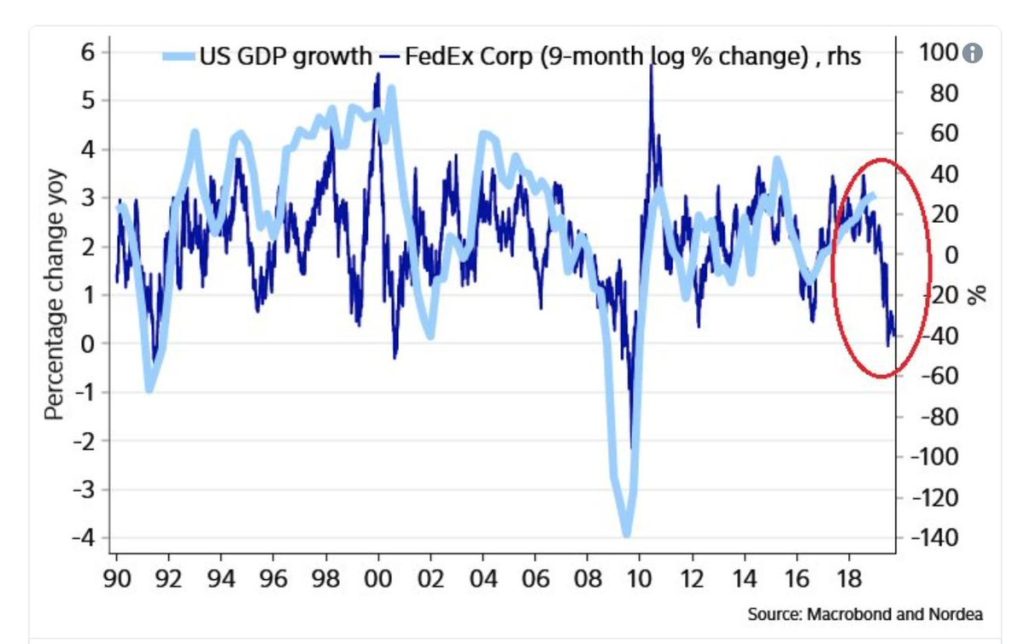 FedEx's performance tends to be highly correlated with U.S. GDP growth over the years. This all goes back to Dow Theory, how the Transports and Industrials perform relative to each other. Industrials produce goods, Transports deliver goods, theoretically they're relative performance should be similar. When they diverge, it tends to be worth paying attention to.
The averages stabilized just ahead of the FOMC just after noon. Then benchmark S&P-500 gained as much as 0.4% on a knee jerk reaction after the Federal Reserve provided a series of updates that shifted even further to a dovish mindset. The knee-jerk buying interest cooled off as Financials/Banks failed to rally amid sharply flattening yield curves, and led lower by Small Caps.
The Fed left the target range for the fed funds rate unchanged at 2.25-2.50%; signaled that it does not expect any rate hikes now in 2019 versus two rate hikes at the time of the December 2018 meeting; and said it will begin tapering its balance sheet in May with an end date of Sept. 30.
Leaving the fed funds rate intact was widely expected. Projecting zero rate hikes in 2019 – and only one in 2020 – along with providing an end date for its balance sheet runoff was less expected
While the last 3 strongest S&P days were all related to Fed/FOMC events, today was the first day of 2019 in which the market was relatively weak, and on a day that the Fed made an even larger dovish pivot. That additional dovish pivot may now be fueling concerns that the Fed's mindset reflects a dim view of the global economic outlook that won't translate well for earnings growth. Consider this was in the context of FedEx earnings reflecting slowing international macroeconomic conditions and weaker global trade growth trends.
Once again Small Caps – that put in a bearish engulfing candle Tuesday – were the weak spot, which has become a recent trend.
S&P 500 ⇩ -0.29% %
NASDAQ ⇧ 0.43 %
DOW JONES ⇩ -0.54 %
RUSSELL 2000 ⇩ -0.76 %
While NASDAQ 100 closed green on the day due to the out-performance of the heavily weighted FANG stocks, if you remove the heavily skewed FANG weighting in the NASDAQ 100 (and QQQ), the QQQE Equal weight index closed dead flat on the day.
QQQ (Daily) up about 2.5% from March 4th's pivot high.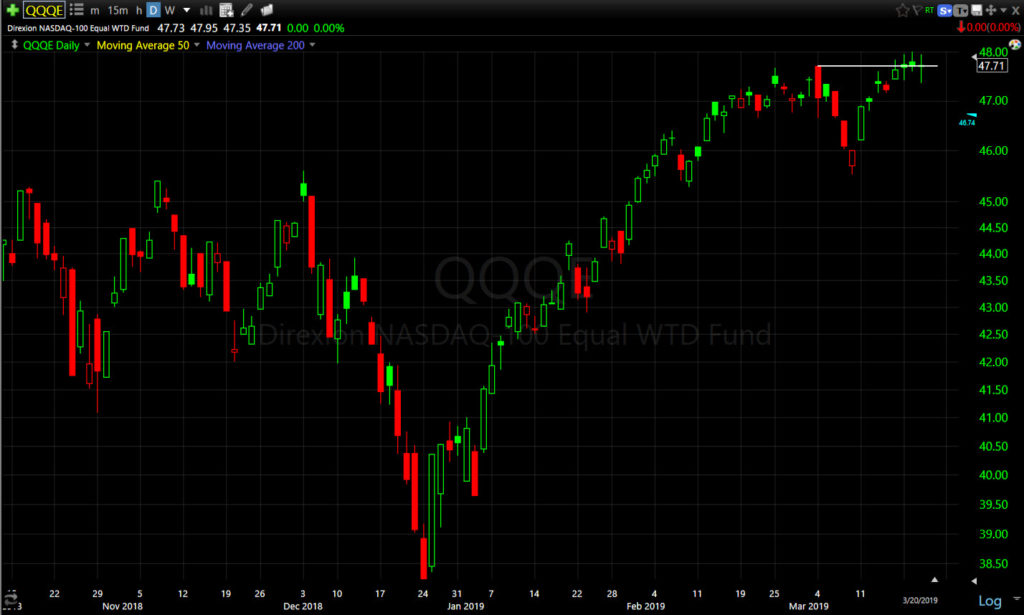 QQQE (Equal weighted version of QQQ, stripping out the FANG's heavily skewed weighting) flat on the day and unchanged relative to March 4th's pivot high. That means the most heavily weighted large cap Tech stocks (mostly FANGs), have contributed about 2.5% to the NASDAQ 100 just as a matter of how the index is weighted.
I haven't checked recently, but a couple of years ago Apple alone had a weighting of 20% in the NASDAQ 100. At the time Apple's weighting in the NASDAQ 100 had more influence on the NASDAQ 100 than the 50 bottom weighted NASDAQ 100 stocks combined. I use to use this example to demonstrate this…
If you took Apple and the bottom 50 weighted NASDAQ 100 stocks combined, and Apple was up 2% on the day, the other 50 stocks were down 1% each, the NASDAQ 100 would close up 1% despite 50 of 51 stocks closing 1% lower.
Practically speaking, In Q4 2018 numerous times after a sell-off, the broader market would recover first, then after investor gained some confidence, the FANG stocks would rally late as retail investors gained more confidence. In Q4 2018 this would tend to happen after a sell-off and initial rally, and just before the market rolled over. (Retail bull trap?)
Another negative market factor today ahead of the FOMC decision was a remark from President Trump, who said he is considering leaving tariffs on Chinese goods in place for a long period.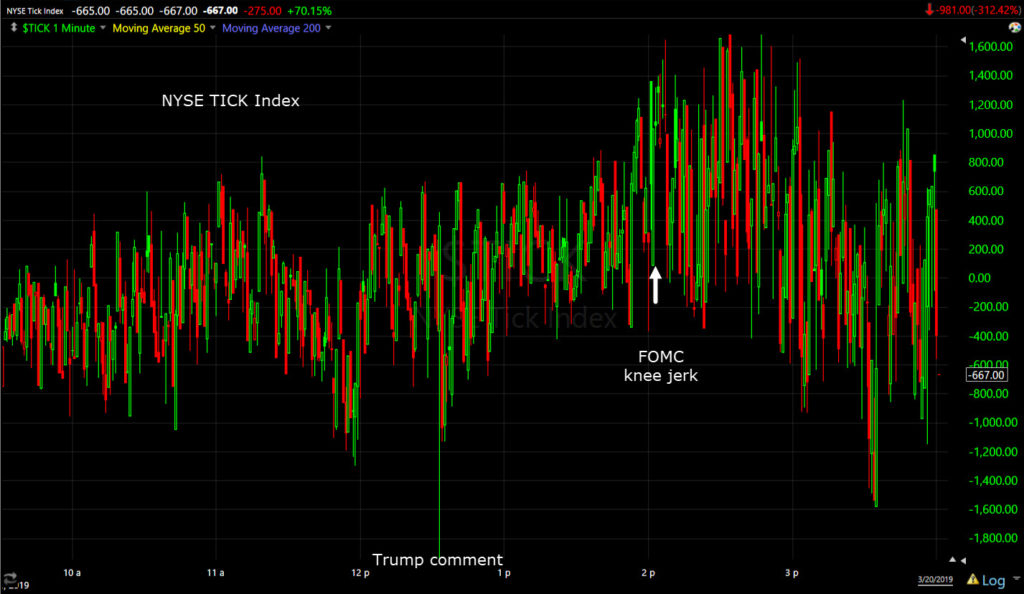 NYSE TICK Index (1m today) this is the number of NYSE stocks ticking up less those ticking down. The Trump comment was the most extreme negative tick of the day at -1940. You can also see the FOMC knee jerk reaction and TICK fading afterward. The 12:33 p.m. low tick was also within minutes of the low of the day for the major averages.
The knee jerk reaction higher in stocks after the FOMC started to fade during Powell's press conference. The first place weakening 3C charts showed up was in Small Caps. Here's the upated IWM 3C chart from this afternoon's Intraday Alert: IWM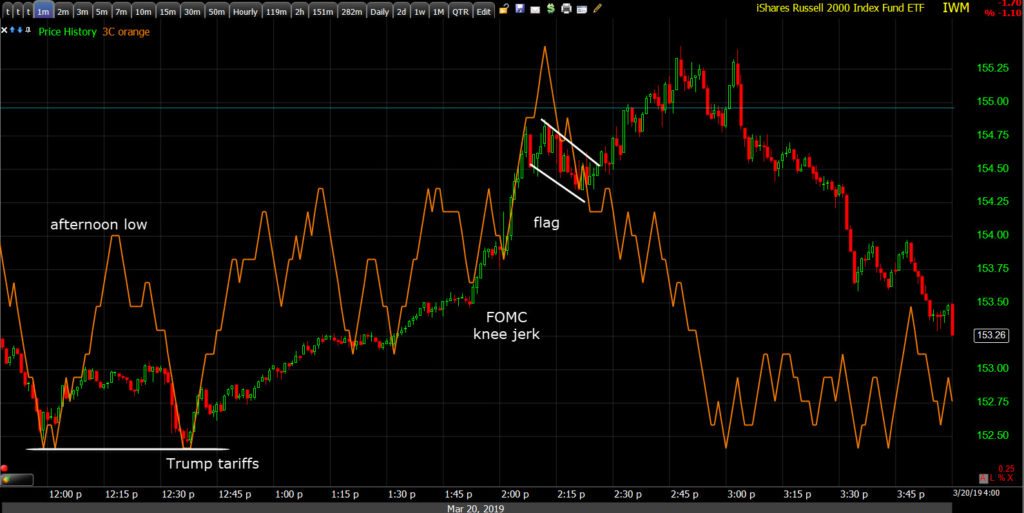 IWM (1m) off the test of the noon lows, and knee jerk reaction to the FOMC. IWM and the other averages formed a small bull flag consolidation as Powell's press conference began, then started a second leg higher. 3C started negatively diverging on the second leg higher attempt as Powell spoke, yield curves flattened and Financials weakened with IWM and the other averages turning down into the close.
Seven of eleven S&P sectors closed lower with the clear laggard being Financials. Regional Banks (KRE) were weak all day. The Financial sector was the only S&P sector that did not knee jerk higher on the FOMC, then rolled over this afternoon as Treasury yields snapped lower and yield curves flattened sharply.
Energy was the leading sector all day after Crude gained +1.4% on this morning's EIA oil inventories, crude setting a new high for 2019. Communications also showed relative strength along with the defensive bond proxies Real Estate and Utilities.
Materials ⇩ -0.09 %
Energy ⇧ 0.88 %
Financials ⇩ -2.06 %
Industrial ⇩ -0.69 %
Technology ⇩ -0.27 %
Consumer Staples ⇩ -0.42 %
Utilities ⇧ 0.26 %
Health Care ⇩ -0.69 %
Consumer Discretionary ⇧ 0.14 %
Real Estate ⇧ 0.45 %
Communications ⇧ 0.90%
Many of the sensitive leading sub-sectors were the weakest performers today like Regional Banks -3.41%, the worst 1-day decline since December 4th 2018 as they were among the sectors leading the market lower then, and the worst 2-day decline in a year, almost to the date.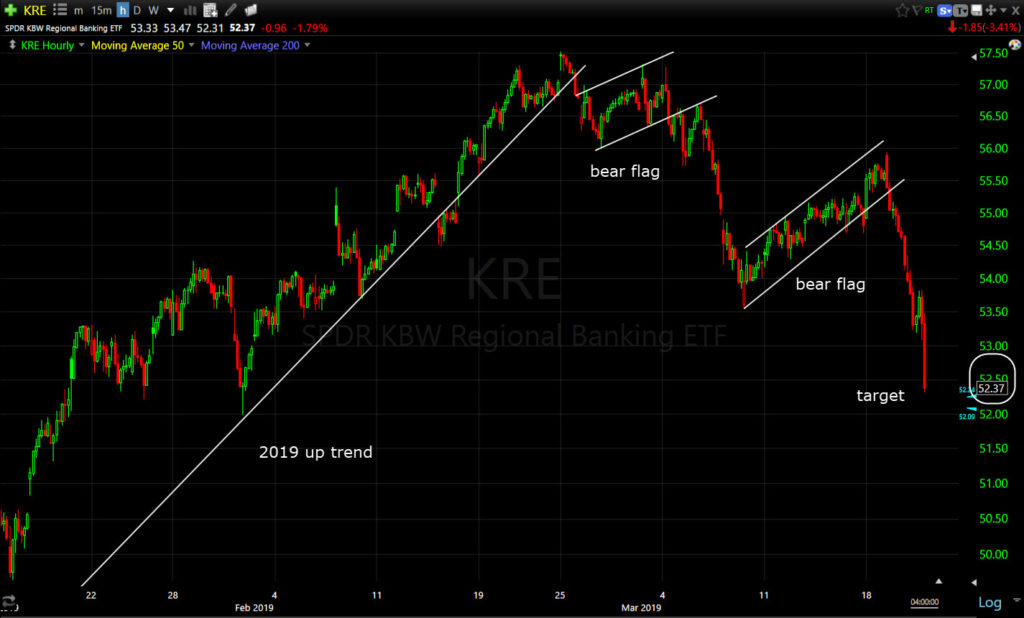 KRE/Regional Banks (60m) broke the most recent bear flag yesterday, today they met and exceeded my downside target of $52.50-$52.80.
These targets are evidence-based estimations. With newer or smaller bear flags after a trend change, they can come up short. With larger bear flags after a trend change, they can often exceed the target. I like to take off trades at the targets, but it doesn't mean that they bearish price action has ended. In fact the most probable scenario is that there's some type of consolidation. If that turns out to be another bear flag, then that's another high probability trade.
KRE blew right through its 50-day moving average today.
The Bank Index was down -3.02%. Transports (-1.30%) were another weak area today, down a second day. The Retail sector was another area of relative weakness, down -0.90%, and Semiconductors -0.86% under-performed the Technology sector.
FANGs outperformed on the day, offsetting larger losses and helping NASDAQ 100 outperform. In Corporate news Alphabet's (GOOG +2.10%) Google was hit with a $1.5 billion fine from the EU for breaching antitrust violations, although the fine pales in comparison to Alphabet's current cash position.
Internals were similar today compared to Tuesday with advancers of 1281 compared to decliners of 1555 (NYSE breadth -284) on lighter volume of 928.4 mn shares. There was no dominant price/volume relationship today. I'm not sure I would have given one much credibility considering the first half of the day's weakness, the knee jerk higher and the afternoon fade. It was almost like 3 distinctly different days in one. The early weakness and the lackluster close is not typical of an FOMC day in which the Fed turns even more dovish.
While the S&P held above the 2817 area that many traders are focused on, NYSE 52 week lows advanced to the highest since March 8th.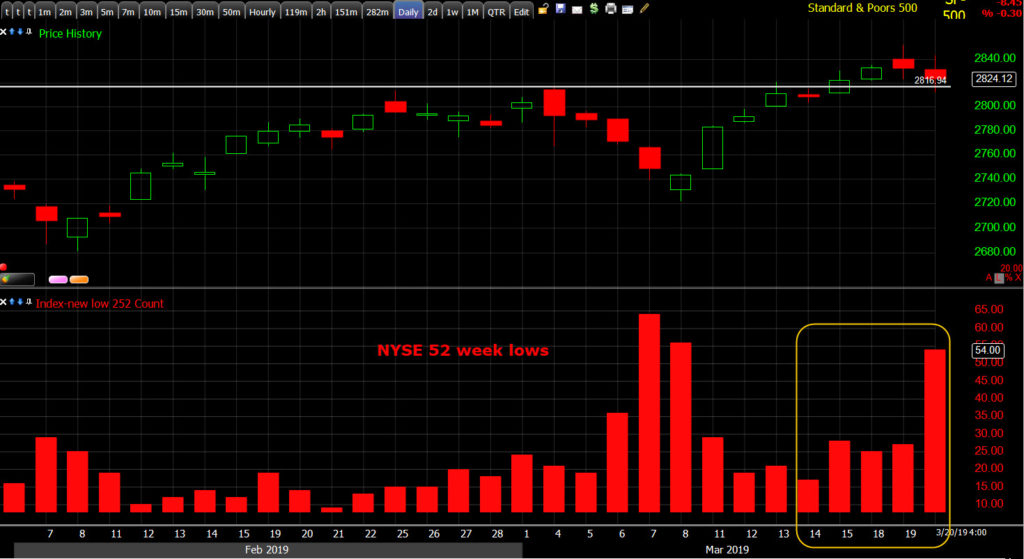 SP-500 (daily) from January and NYSE 52 week lows. As mentioned this afternoon,
"That's not a positive development with the S&P only down a half percent today (as opposed to having been down 5 days into March 8th and more than -2% on the week). New 30 day and 52 week NYSE lows have been creeping higher as the S&P has rallied over the last week. For bullish confirmation, they should be decreasing notably, not increasing."
Underscoring the FANG's weighting influence on the NASDAQ 100..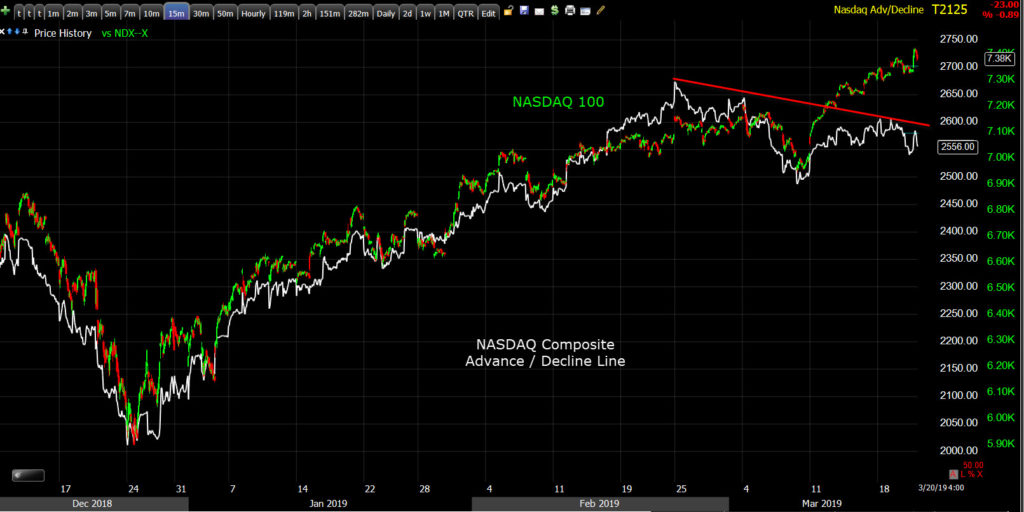 NASDAQ 100 (15m) and NASDAQ Composite Advance/Decline Line negatively diverging from NASDAQ.
And underscoring the overall market breadth deterioration, or waning participation of more stocks…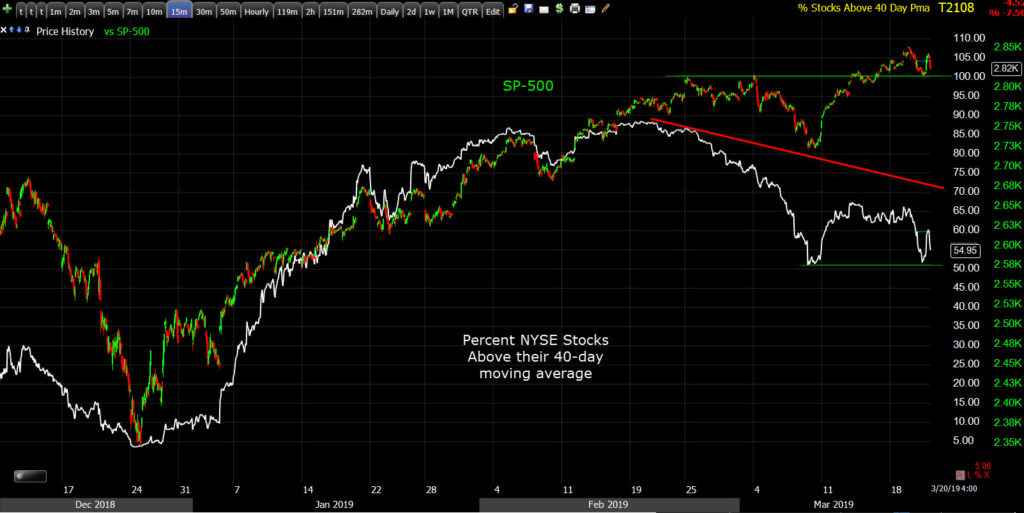 SP-500 (15m) and Percent NYSE Stocks Above their 40-day moving average. S&P is just above the resistance area the market has been paying attention to while the breadth indicator has not only made a lower high relative to the S&P, but is near the pivot low from March 8th after 5 days of the S&P declining and down over 2% on the week.
And as pointed out a week ago and earlier today…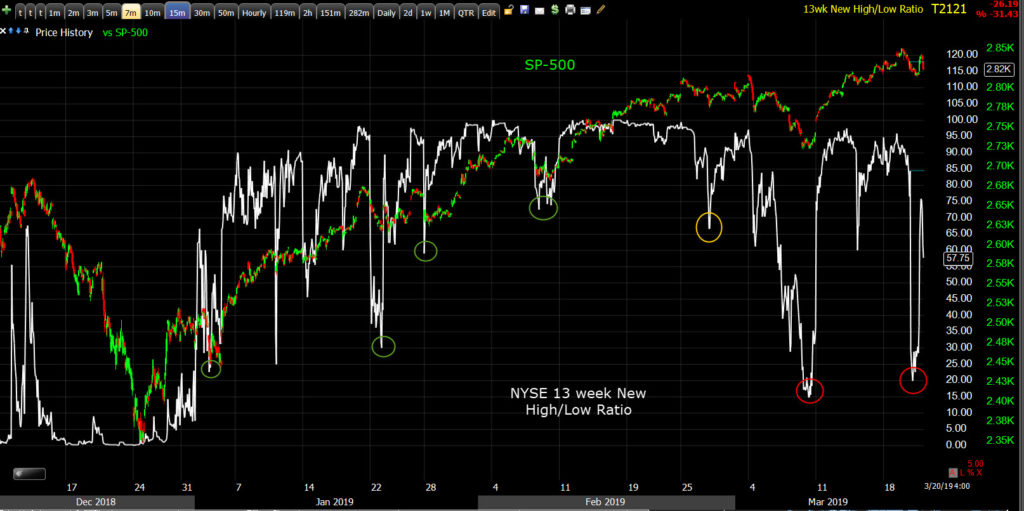 SP-500 (15m) and NYSE 13 Week New High/Low Ratio. This indicator is a little less volatile than the one I showed earlier today here. The takeaway is the same. Note the indicator made higher lows with the S&P on minor pull backs (green). Now it's making lower prints indicating larger swaths of stocks being sold at once on corrections.
While volatility did not show the same degree of unusual strength today as Monday/Tuesday and VIX futures were under the typical FOMC downside pressure, VIX closed higher for a 3rd day, up +0.88% at the same time S&P has closed higher 2 of the last 3 days (volatility relative strength on the week thus far).
VVIX (Volatility of VIX) shows the change in tone toward more hedging of equity downside risk more clearly.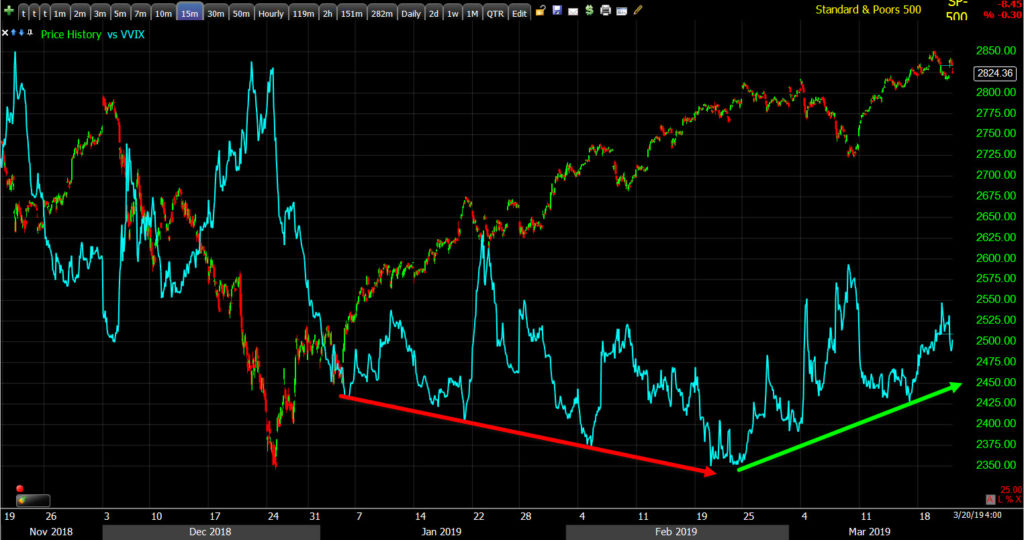 SP-500 (15m) and VVIX (blue). VVIX tends to act like VIX and usually moves opposite the broader market. Above we can see a rising trend through March indicating hedgers are willing to pay up to protect against downside risk, something we haven't seen at all until March.
U.S. Treasury yields spiked lower (yields move opposite Treasury prices) on the FOMC. The 2-year yield fell six basis points to 2.40%, and the 10-year yield fell eight basis points to 2.54%. The 2s-10s spread is at the low of 2019 at 14 basis points, that's 14 basis points away from inversion. The curve-flattening trade weighed heavily on the financial sector, as a compression in spreads caused concerns that net interest margins will be weak for lenders.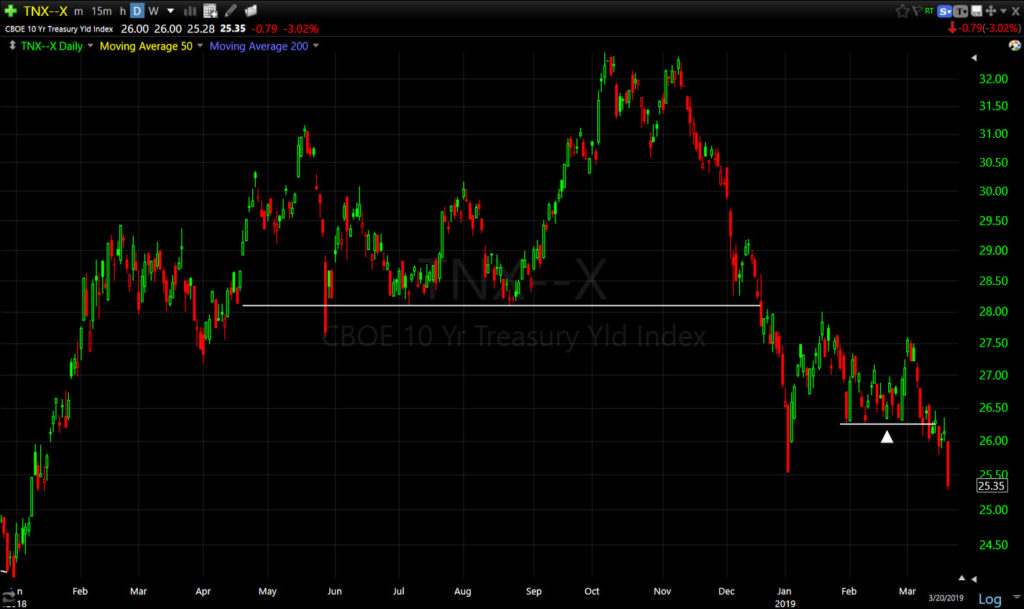 10-year yield and the 2.625% support level from 2019 I've been pointing out. The level was broken a week ago, but as you can see today yields spiked lower on the lower rate expectations and weaker growth outlook.
I'm not going to read too much into a knee jerk reaction over a few hours, but the divergence between Treasury yields and the S&P is monstrous.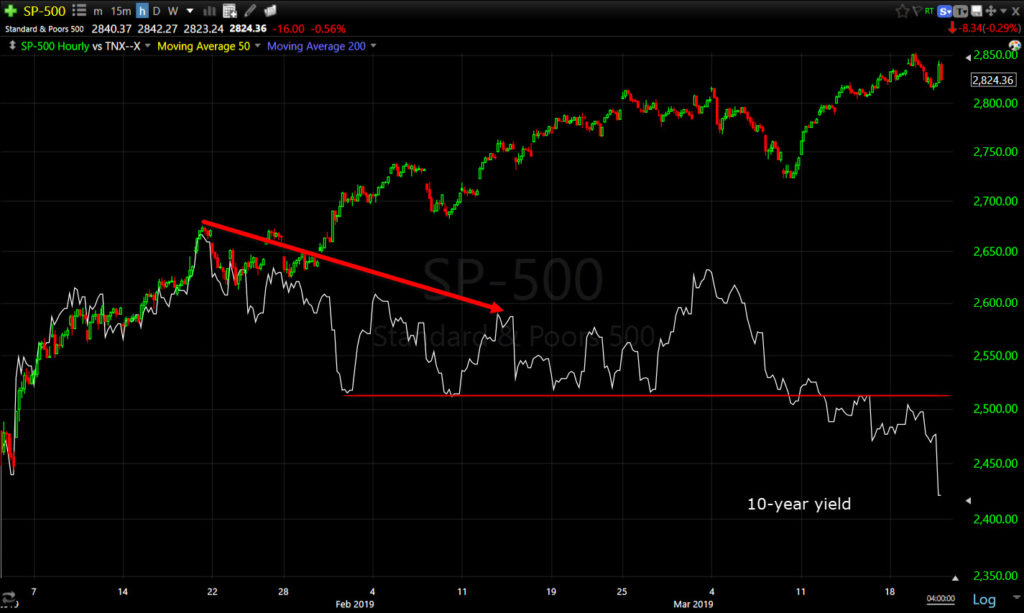 SP-500 from the first Powell pivot on January 4th and the 10-year yield. The break of the 2.625% support area last week was pretty bad on its own. Today's decline in yields is absolutely huge as is the divergence with the S&P. The takeaway is that either stocks are right or bonds are right, typically it's bonds that lead stocks. This divergence is far larger than the one from early December that led the market into the second leg decline.
When I see something like this,I'm reminded of the relative performance of the growth sensitive sectors (i.e- Transports).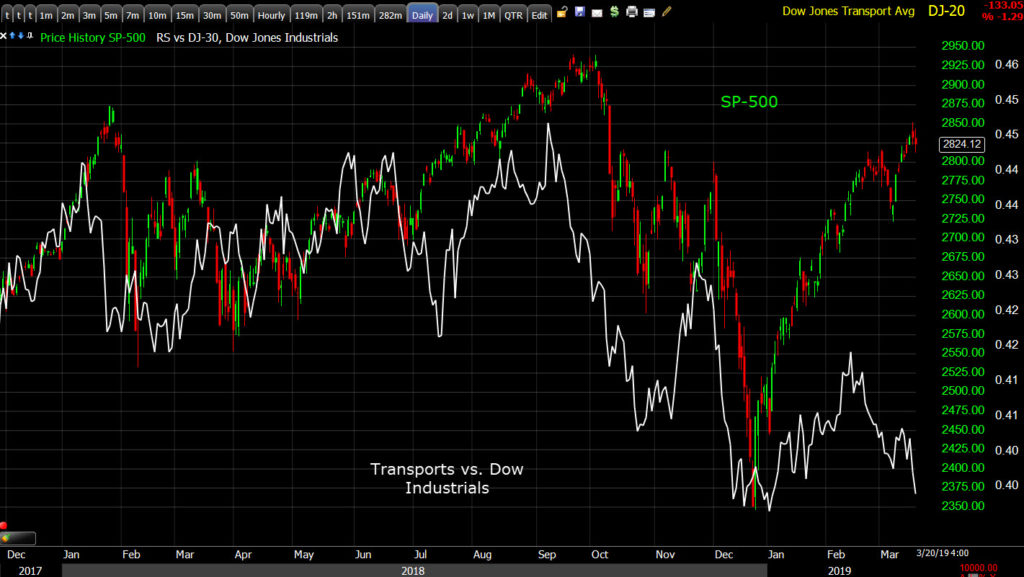 SP-500 (daily) and Transports relative to Dow Industrials- another building monster divergence.
My money is on Bonds/Treasuries (a much larger, smarter market) being right.
TLT has a solid start to a breakout from both the smaller more recent bullish pennant and the much larger bullish flag.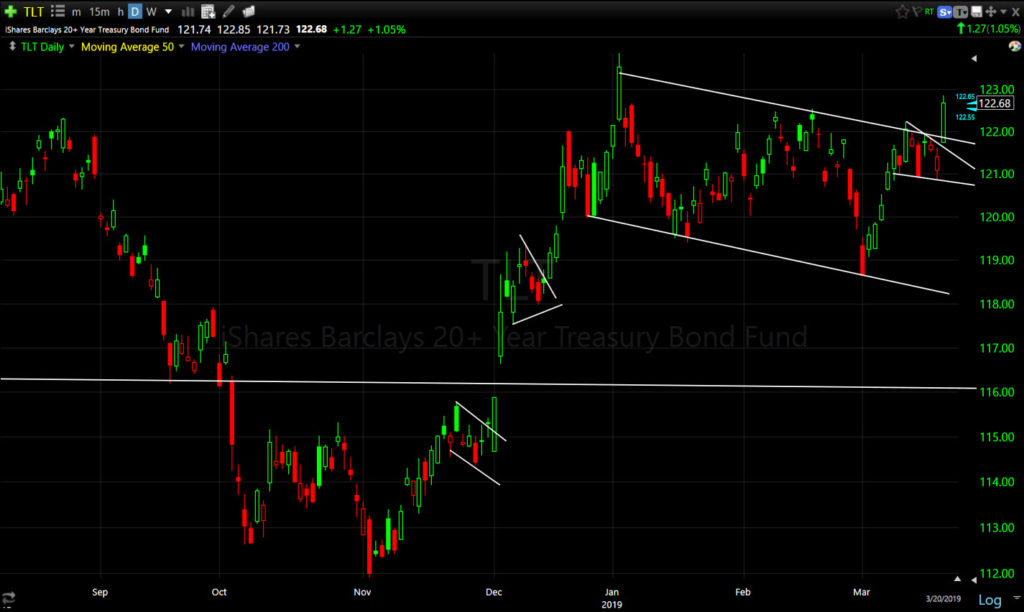 TLT (Daily)
Here's Friday's TLT update with my targets. I'm starting to flesh out how I'm going to handle this trade, but first I want to see the breakout confirmed. My intention is to take off the trade at the first target (April options). I suspect there may be a small consolidation at the first target, I'll be looking to use that to re-enter the trade in May/June options for the second leg (target). I'll update this as it develops, again first things first-the breakout confirming and adding some room. Stops can be set at the breakout level or for a wider stop at the lower trend line of the most recent smaller bull pennant (around $120.75).
The U.S. Dollar Index (95.95, -0.43, -0.5%) dropped sharply lower with yields on the dovish Fed, which helped gold gain. I suspect gold gained as a knee jerk reaction to the weaker dollar, but gold also has a correlation to falling real yields.
WTI crude benefited from the weak dollar and knee jerk reaction, + 1.1% to $59.91/bbl, setting a new yearly high which also followed some bullish inventory data out of the EIA this morning.
As I've touched on earlier this week, I don't read too much into Fed knee jerk reactions, but rather give them a little time to settle. This week has stood out for the unusual volatility relative strength. Today stood out for this morning's weakness on a FOMC day, and for not being nearly as bullish as the last 3 Fed events. We should have more color by the end of the week.
Overnight S&P futures are up +0.20%. I can't take away much from overnight charts given the market swings today over a short period of time. In any case, most developments have been in the cash market with overnight futures giving away little.
Crude futures are flat.
VIX futures are under clear downside pressure tonight, that actually started last night.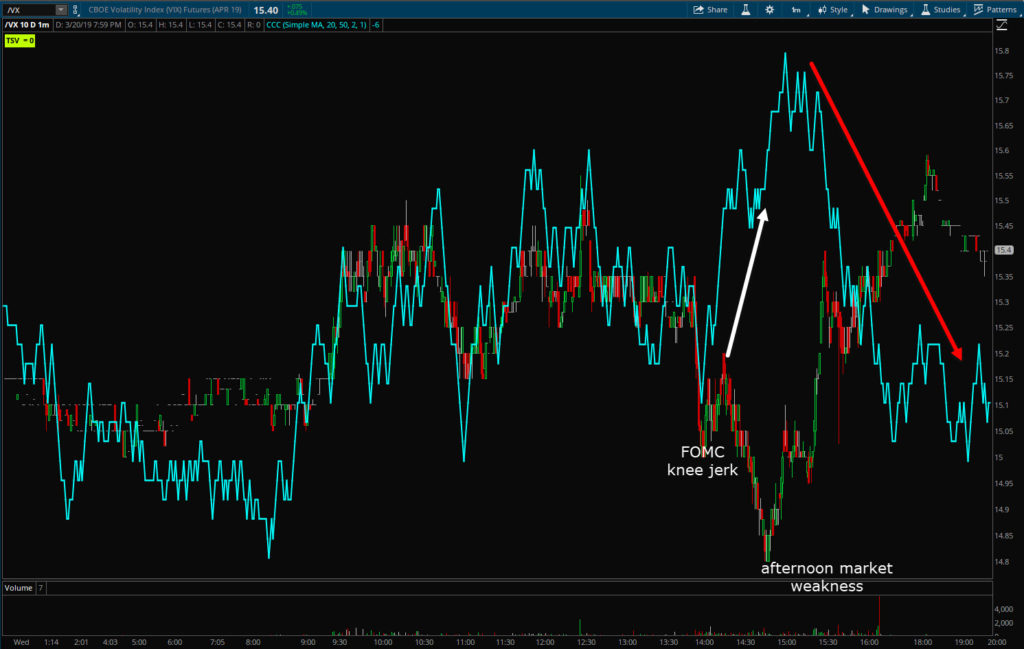 VIX futures (1m) lower on the market's knee jerk reaction higher to the FOMC. Then strength developed in VIX futures quicly before the market weakened in to the close. VIX futures are under downside pressure in to the overnight session.
Looking ahead, investors will receive the weekly Initial and Continuing Claims report, the Philadelphia Fed Index for March, and the Conference Board's Leading Economic Indicators Index for February on Thursday.