Early Update – The Correction/Consolidation Has Started
10:55 a.m. ET
The stock market opened decidedly weaker with the NASDAQ, Transports and Small Caps lagging their peers. There's a heavy bias towards declining issues at the open with decliners leading advancers by a nearly 6-to-1 margin at the NYSE and a 7-to-2 margin at NASDAQ.
SP-500 -1%, Dow -0.7% (Transports -2.15%), NASDAQ-100 -1.65%, -1.95%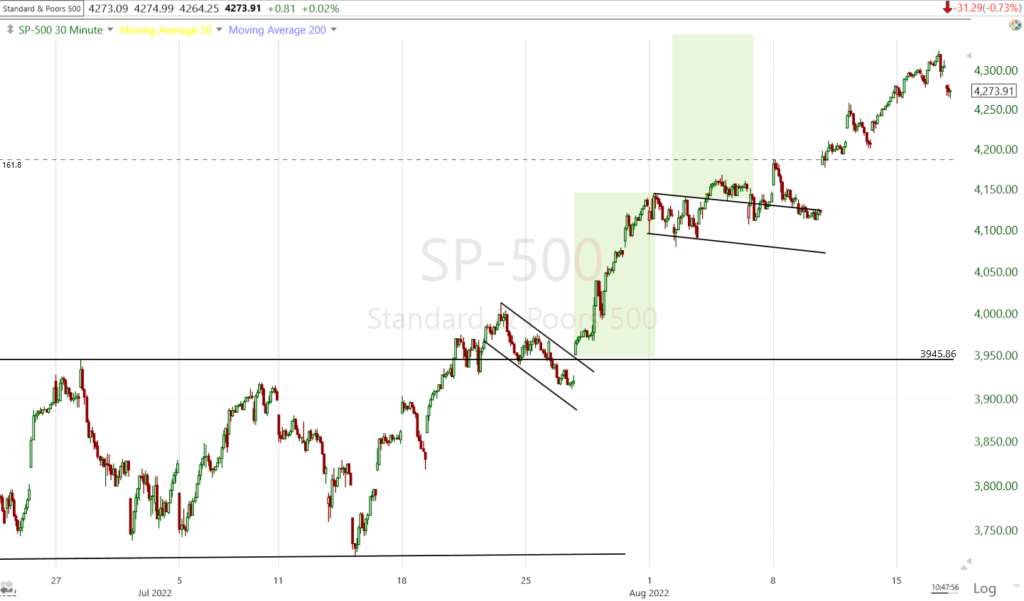 Here's today's price action within the trend of the rally off June lows, it's pretty standard at this point, but it's too early to identify any price pattern yet. The green shaded areas are equal leg measured moves, so S&P fell just a bit shy of meeting the measured move out of the last bull flag. The price action today "could" be consistent with the start of another bull flag. That's not to say it is, just to say it could come down more and still be well within a bullish consolidation. We'll have to see what the price action and signals say.
The same goes for all of the other averages at this point.
Interestingly, the Most Shorted Index isn't even down.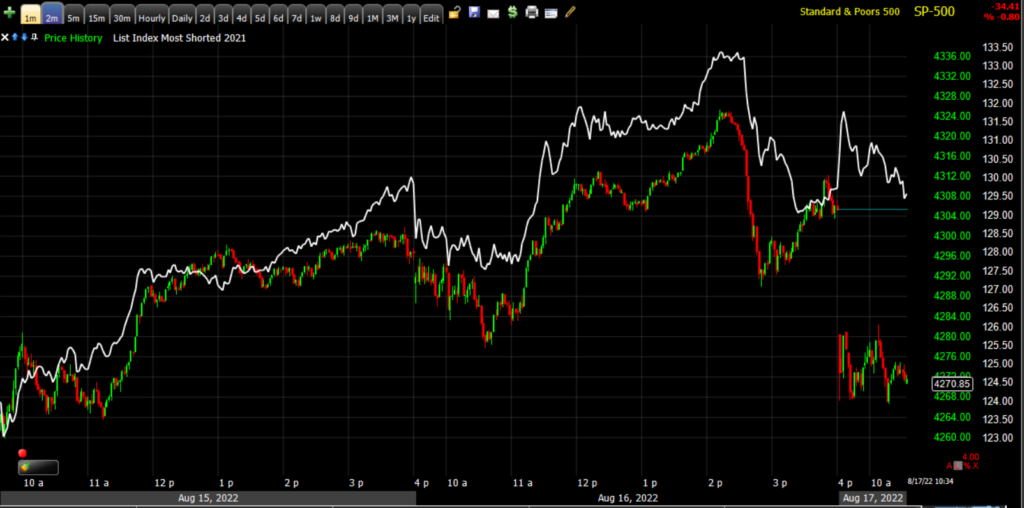 SP-500 (1m) and MSI. Bed, Bath and Beyond (BBBY +24%), which is in the index, was halted over its crazy price action.
Volatility is not all that impressive with VIX up 3.4%.
Only 2 of 11 sectors are green, Energy (+1%) and Utilities (+0.15%). The worst performing are Consumer Discretionary -1.5%, Materials -1.4% and Communications -1.8%.
Mega-caps are performing in line (-1.1%) vs. the equal weight S&P (-1.1%).
Advance/Decline lines are about as I'd expect, except NASDAQ-100's is a bit weaker, but nothing jumping off the charts.
Breadth oscillators are out of overbought territory real quick, down to 60 but we'll have to see where they end the day.
HY Credit (HYG -0.75%) continues to lead the correction signal as it has for a few days.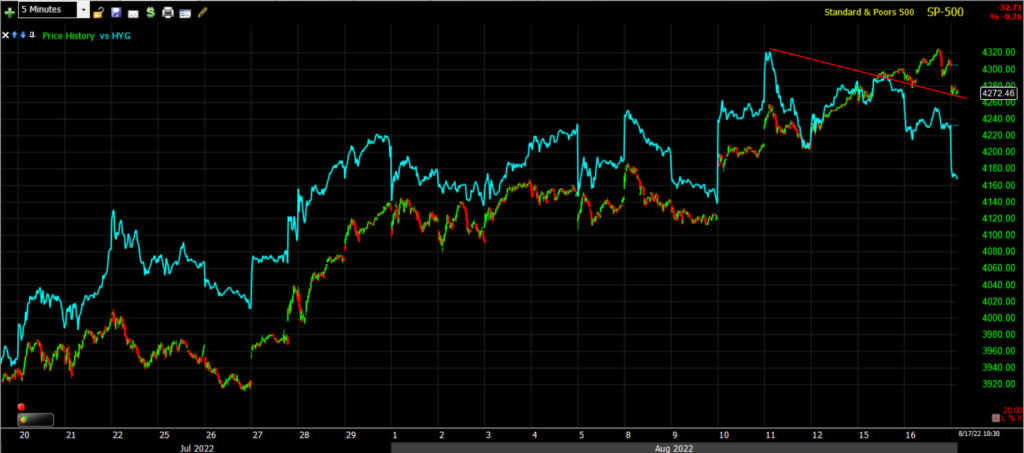 SP-500 (5m) and HYG
The U.S. Dollar Index is up pretty modestly (+0.2%). We'll want to watch this when the FOMC Minutes come out this afternoon.
WTI Crude is up +1.6%, which explains why the Energy sector is leading.
Gold futures are down another -0.5% since losing $1800 for the 3rd time in 2 weeks, to $1780.60/oz.
Bitcoin futures are down as I'd expect, -2.5%, considering the tone in equities.
3C charts are little changed this morning but they have been calling for this correction to begin into this week.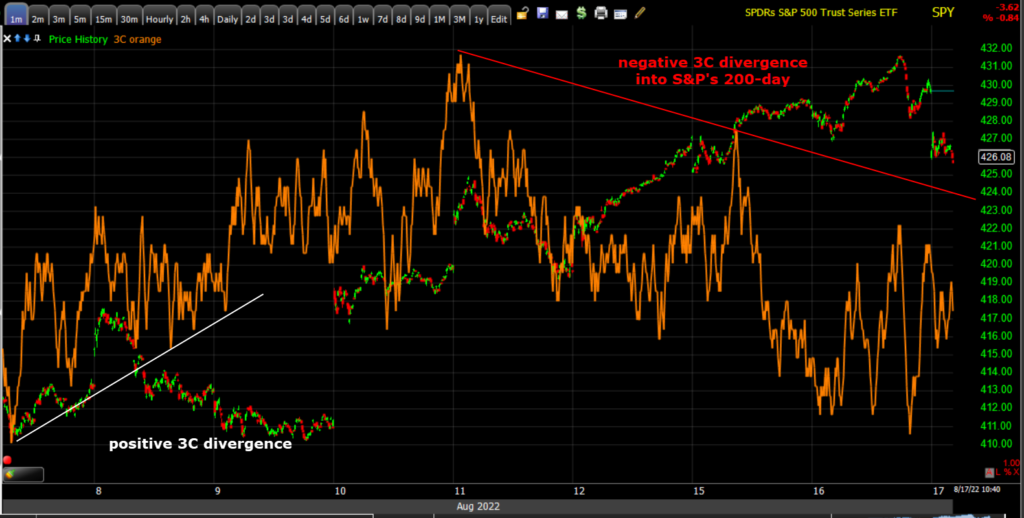 SPY (1m)
This is the kind of ugliness with Transports, NASDAQ and Small Caps underperforming that I'd expect to see as a correction starts. Shorts have been punished for going against the price trend for weeks and of course they're going to jump in here. I'm surprised the Most Shorted Index isn't down. I'm also surprised VIX is so tame. In any case, I've been expecting this correction this week since Friday, once the S&P's 200-day was tagged so not too surprising there either. I've suspected it would last the week at minimum, but we do have the FOMC minutes from the last meeting at 2 p.m. and the market will be parsing it for any hints of what's to come in September. I'm not convinced that the minutes will contain anything earth-shattering, but they do have the potential to move the market is there's a surprise in there. Remember to watch the U.S. Dollar Index as they come out for the quick take (up=hawkish, down = dovish).
Otherwise, we'll have to wait and see what shape the correction/consolidation takes, but given the price trend for the rally off the June lows, I wouldn't be overly bearish just yet until we see more evidence, but as mentioned yesterday, shorts could be established so long as you really respect protective stops.