Intraday Update – Catalyst
2:15 p.m. ET
Literally about 3 minutes after posting this,
"This is a market that looks like it's chomping at the bit to make a run higher, but it needs a window of opportunity in which yields and/or the dollar aren't presenting headwinds. "
Since the last update, the averages made a notable move higher intraday. The catalyst? Atlanta Fed President R. Bostic commented in the last half hour that he favors 25 basis point rate hike in March, but rates may need to go higher since policy has only recently entered restrictive space. And that the Fed may be in a position to pause rate hikes by mid to late summer.
The reaction…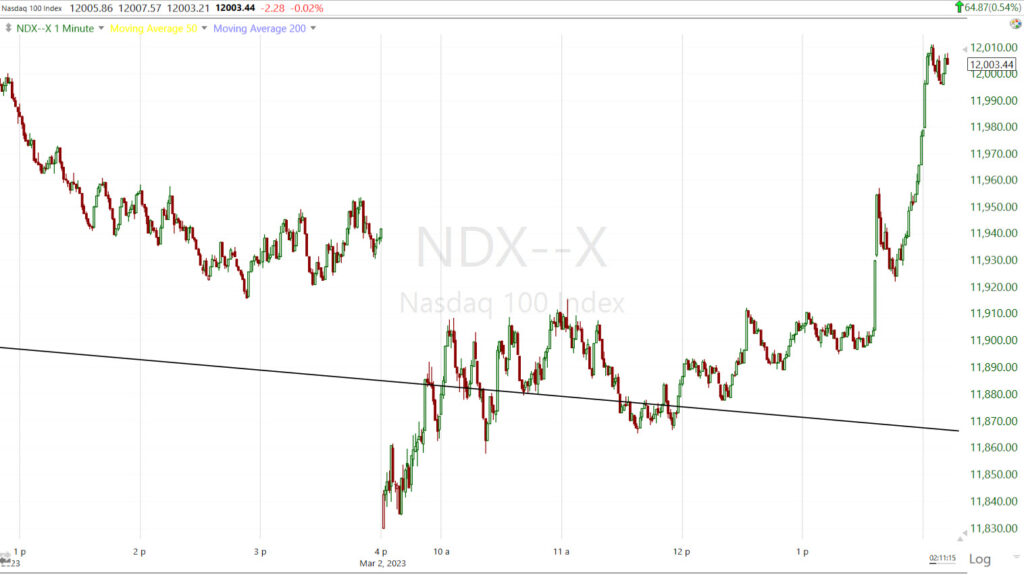 NASDAQ-100 (1m) launching higher, already inside its large bull flag.
SP-500 +0.4%,  Dow +0.8% (Transports +1.25% and could be breaking out of their bull flag) NASDAQ-100 +0.4%, Small Caps -0.05%.
In the next 15 to 30 minutes I'll check on 3C charts and see what kind of conviction we have behind this move. I don't know if that's enough to halt the bleeding in bonds, but it's a start.