The last 8 Mondays have been very quiet, dull days. Two weeks ago the S&P put in a record high on the smallest daily range since September 2018, and the lightest SPY volume since the day after Thanksgiving 2017. This morning futures had a more positive disposition, but looked set for a similarly quiet, dull day. That wasn't the case on the open as the NASDAQ 100 gave back almost all of Friday's gains in the first 40 minutes of trade. The rest of the day was lackluster, more like a typical Monday.
S&P sectors had a defensive tone since this morning, treasuries saw a slight bid, as well as precious metals.
Averages
Flipping last week's script, the Dow was the leader and Small Caps the laggard today. NASDAQ 100 showed significant early weakness after outperforming Friday. One of the reasons I added to my August SPY puts on Friday was that one stock, by its sheer weighting in the averages, was largely responsible for lifting the entire market, Alphabet (GOOG). In addition, the 3C charts of the major averages were just as negatively divergent as the record S&P high on July 15th. In fact, several times on Friday I noted that QQQ…
"QQQ might be the most interesting…negatively diverging this afternoon, and has also posted a new leading negative divergence like the Dow. Even I thought that's strange, however as you can see from the Technology sector and Semis, most of QQQ's gain is on a single stock (GOOG)."
The leading negative QQQ divergence on Friday fit in the context of this morning's open. The NASDAQ 100/QQQ gave back all but 0.1% of Friday's gains in the first 40 minutes of trade this morning.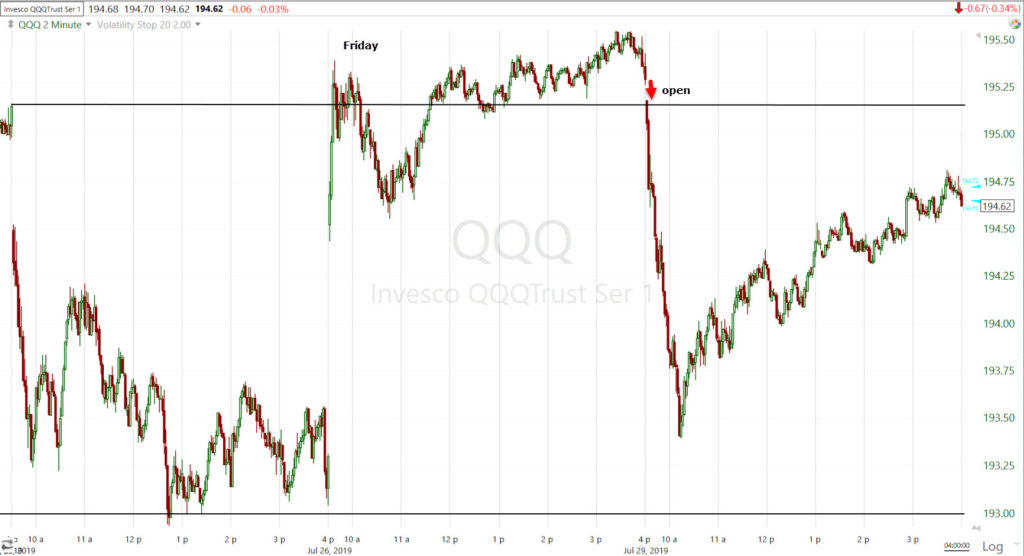 QQQ (2m Thursday, Friday and today).
S&P 500 ⇩ -0.16 %
NASDAQ ⇩ -0.35 %
DOW JONES ⇧ 0.11 %
RUSSELL 2000 ⇩ -0.67 %
Nothing major changed in terms of technical levels for the major averages. Small Caps briefly broke out above the July lateral range last Wednesday, fell back down Thursday, moved up again Friday, but did not make a higher high, and fell back down today. See Financials and banks below as they're most relevant to Small Caps strength last week.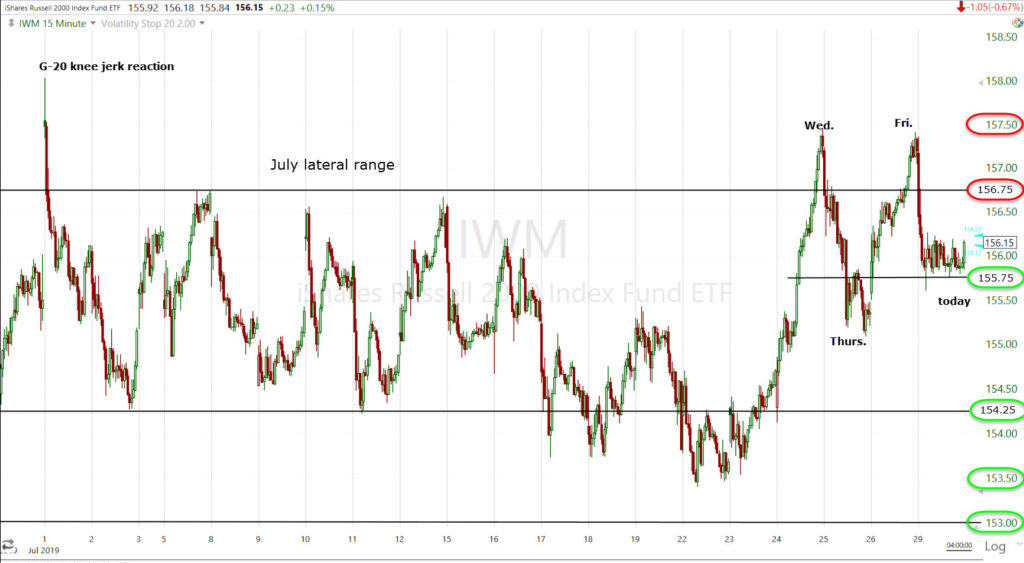 IWM (15m) with some relevant near term levels of support/resistance. Note as of today, IWM is still in the July lateral range.
I updated the 3C charts for SPY, DIA, QQQ and IWM earlier today here.
S&P Sectors
Four of 11 S&P sectors ended higher. The market's early decline could have been worse if Financials didn't hold up as well as they did in the morning session. During the afternoon they leaked lower, ending in last place among S&P sectors. The Energy sector was weak, making another leg lower after breaking a bear flag last week. Also Consumer Discretionary and Friday's leader, Communications, were laggards today. From the cash open the 3 defensive sectors and Health Care outperformed with Real Estate and Utilities ending in the top two slots.
Materials ⇩ -0.36 %
Energy ⇩ -0.43 %
Financials ⇩ -0.77 %
Industrial ⇩ -0.18 %
Technology ⇩ -0.06 %
Consumer Staples ⇧ 0.18 %
Utilities ⇧ 0.52 %
Health Care ⇧ 0.41 %
Consumer Discretionary ⇩ -0.49 %
Real Estate ⇧ 0.38 %
Communications ⇩ -0.56 %
Apple (AAPL +0.9%) performed well today after its price target was raised to $235 from $225 at UBS ahead of its results after Tuesday's close. The other Widely-held FANG shares didn't do as well – Amazon (AMZN -1.6%), Facebook (FB-1.9%), and Alphabet (GOOG -0.9%). They weighed on the Consumer Discretionary and Communications sectors. Facebook was one of several stocks last put in bearish Dark Cloud Cover candlesticks last week after an initial advance. Facebook is 4% lower from Wednesday and 6% lower from Thursday's high (dark cloud cover daily candlestick).
Within the Financial sector the banks were impressive last week, but showed relative weakness today. Financials were the best performing sector most of last week, only beat out by Communications on Friday as the sector gained +2.6% due to Alphabet (GOOG) +10.5% on Friday. Financials helped the broader market last week, more so small caps. The KBW Bank Sector Index ran into a massive zone of expected resistance at $103.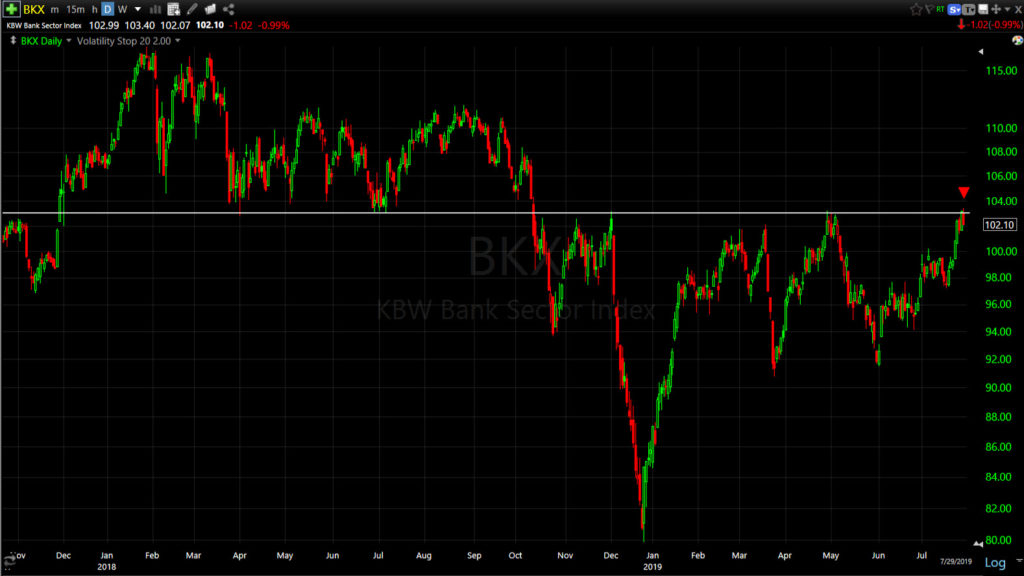 BKX/KBW Bank Sector Index (daily). This is an important area for the banks. Financials (and banks) have not participated with the broader market in making higher highs since January of 2018's high.
Regional Banks have more influence on small caps…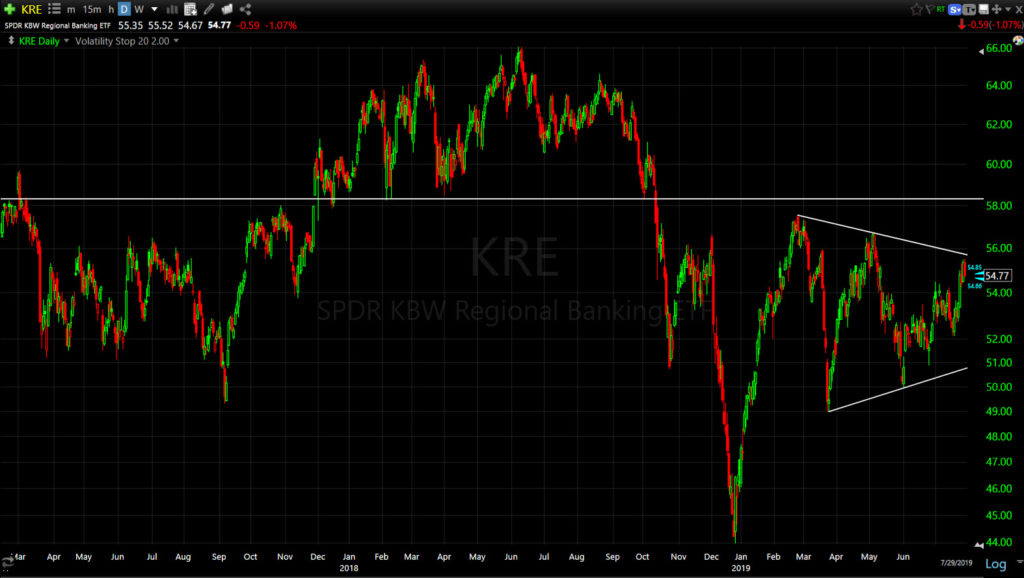 KRE/Regional Banks (daily). Like the broader Financial sector, they did not confirm the S&P's September 2018 high, nor any new highs since then. The banks have done little more than trade sideways since the end of February. The trend from the end of February traces out a symmetrical triangle, but considering the rest of the market has made numerous higher highs since, it's not constructive, which is why their performance last week was notable.
The banks have been trading in near lockstep with a steepening yield curve the last few weeks, presumably ahead of the FOMC rate cut expected Wednesday. Yield curve inversion has been the bond market's warning of a high probability of U.S. recession, but it's the sharp steepening as the Fed cuts rates that always immediately precedes a recession. In the short term, changes in the slope of the yield curve tend to lead banks, overall though they don't tend to do well with falling yields. Last Wednesday the yield curve started flattening, but Financials diverged and moved higher until today. It often takes 2-3 days before Financials react to changes in the slope of the curve.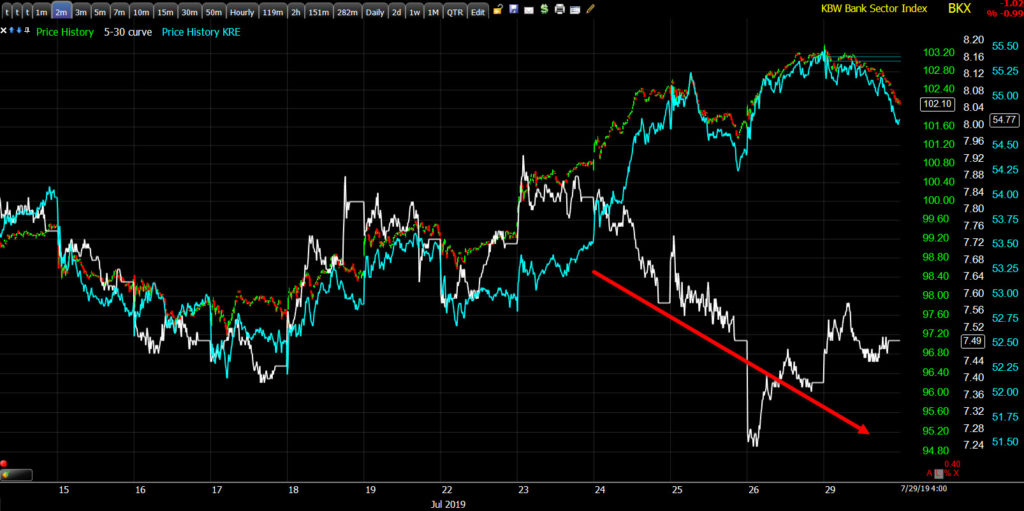 BKX, KRE (blue) and 5-30 spread (white). The very steep uptrend of the last week in both BKX and KRE broke today, but neither made a technically significant lower low.
The Energy sector made another leg lower from a small 1-day bear flag on Friday.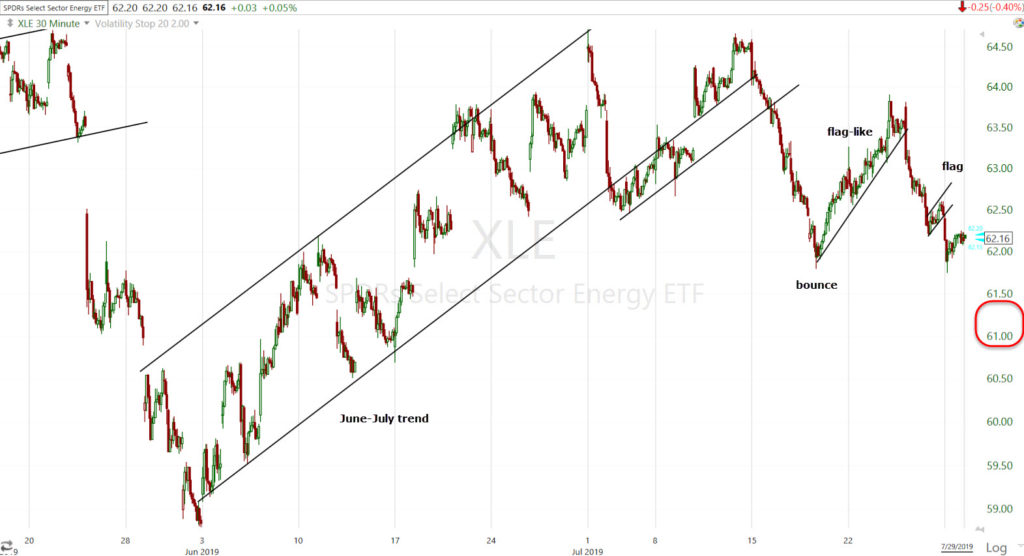 Energy/XLE (30m). After breaking the June/July uptrend, I called out a short term bounce in the sector, but the 4-day bounce took the shape of a bear flag in crude oil, and similar (although a little steeper) in Energy. The real short term trade opportunity was last Wednesday as Crude broke the bear flag, but XLE held above for several hours, breaking below Thursday. My short term target is still between $61 and $61.40.
These shorter term sector trades have been fairly productive. XLE's bounce, TLT's bounce from July 12th, and XLE's drop from Wednesday have been larger percentage moves than the S&P over a comparable time period.
I updated the Real Estate sector, mentioned several times last week, this morning. At least as much as I can at this point. The charts are still constructive.
Internals
Friday's internals depicted a moderate 1-day overbought condition with 9 of 11 sectors higher, advancers 2:1 over decliners, and a dominant price/volume relationship of Close Up/Volume Down. Today breadth was dead flat with 1472 advancers and 1420 decliners (+52). NYSE volume was just a tick higher than Friday at 743.6 mn (vs. 736.1 mn) and below the 50-day average of volume (800m). There was no dominant price/volume relationship today and no 1-day overbought/oversold condition. Judging from internals alone, it looks like any of the Mondays over the last 2 months – low conviction, quiet trade.
There's not much to add to market breadth since last Thursday's update of NYSE 52 week highs.  NYSE new 52 week highs have been negatively diverging with the S&P by making lower highs since the day after the June FOMC (June 20th). Breadth is not an immediate red flag, but NYSE 52 week highs do show a lower level of participation since June 20. The S&P made a marginal new high on Friday, and once again NYSE 52 week highs made a lower high.
Treasuries
In another indication of a slightly defensive bias, U.S. Treasuries finished the session higher, pushing yields lower across the curve. The 2-year yield and the 10-year yield declined three basis points each to 1.84% and 2.06%, respectively.
Currencies and Commodities
The U.S. Dollar Index finished flat at 98.04. The U.S. Dollar has gained about 2.5% since the June FOMC, at which point the Dollar came close to breaking the massive uptrend from April of 2018. Currently the U.S. Dollar is near its highest level since 2017. Normally when a central banks loosens policy (such as cutting rates), the associated currency falls (with yields). The U.S. Dollar has different factors at work, the Dollar smile. The Dollar tends to be strong when global economies are weakening and the U.S. looks better (inflows to the U.S like April of last year). The Dollar tends to weaken as both global economies and the U.S. look good (like 2017) as money moves out of safety and into risk assets, and the Dollar strengthens when global economies and the U.S. look weaker (flight to safety). One of the mechanisms of reflating asset prices when the Fed eases or cuts rates is that the Dollar weakens and dollar denominated assets gain due to the weaker dollar, particularly commodities. However, as the Fed cuts rates it allows other central banks to follow in the Fed's footsteps, which weakens their currency relative to the Dollar. The next few months should be interesting for the U.S. Dollar. It's trend has been resilient and the Fed may have trouble reflating via a weaker dollar.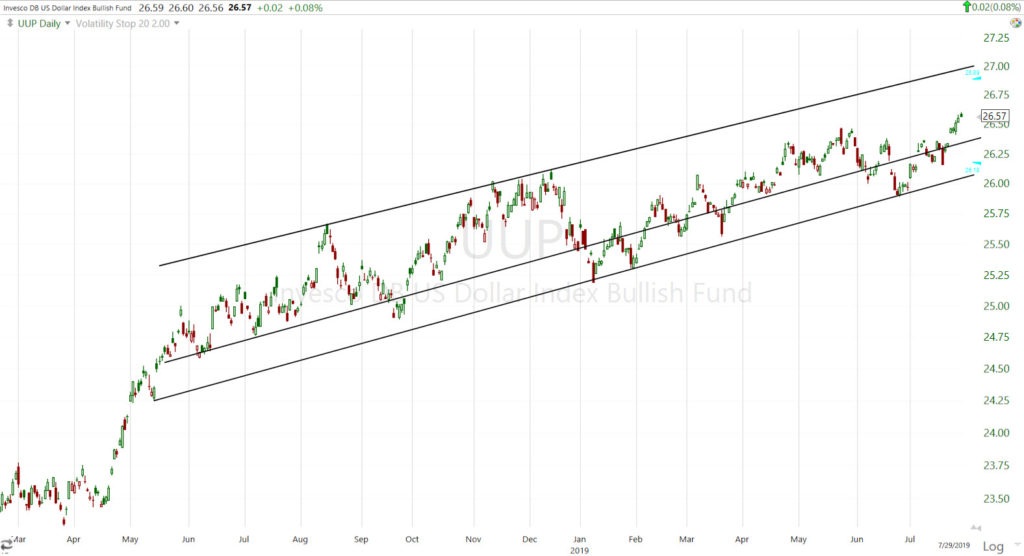 UUP/U.S. Dollar Index (daily) monster up-trend since global economies started weakening last year relative to the U.S. (partly driven by U.S. tax cuts).
Last week I mentioned that from a macro point of view, the Aussie was showing notable weakness, down about 2% on the week vs. the Dollar. The Aussie is sensitive to the Asia-Pacific region, sensitive as a commodity currency, sensitive to global trade, and from a macro perspective it's a good bellwether of inflationary/deflationary trends.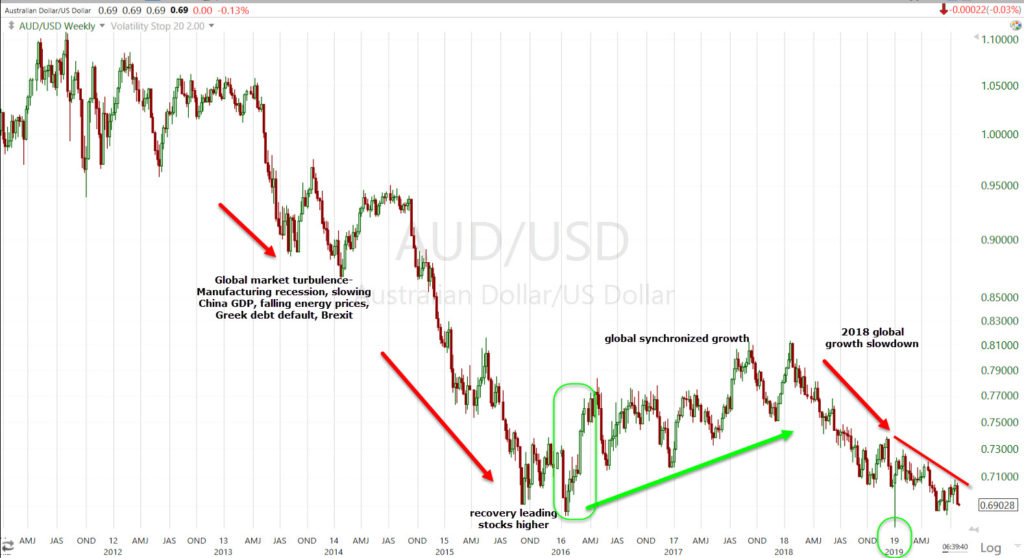 AUD/USD (weekly) as a proxy for global growth. Note the steep decline into 2015/2016, a period in which the Shanghai exchange lost over 40% in two months, the S&P-500 lost 12% in a month (2015) and nearly -15% into 2016. In early 2016 AUD/USD led the S&P higher into a recovery lasting until early 2018 (global synchronized growth narrative), then led global markets lower in 2018. The pair put in a low in early January 2019, but soon failed to confirm the S&P's higher highs in February.
The chart above makes it very clear that the market's rally in 2019 has nothing to do with growth recovering, instead the rebound in stocks has had everything to do with the market's confidence that the Fed will be able to counter the weakening growth trends.
Over shorter time frames the Aussie tends to leajglddddddddd risk assets like stocks, which is why I mentioned the plunge last week, back to the lowest level since the June FOMC.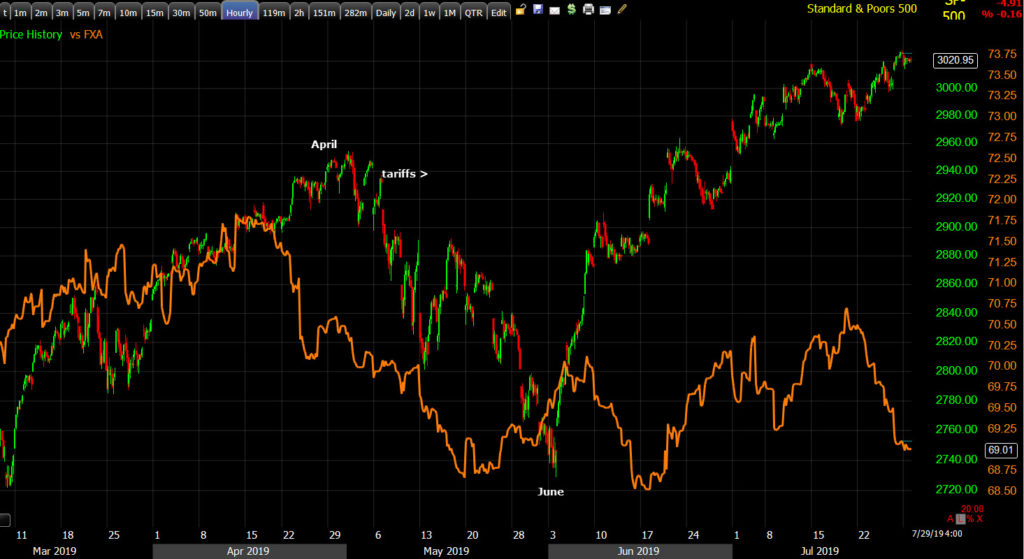 SP-500 and FXA in orange/proxy for the Aussie (60m). The Aussie was one of the clues that something was not right toward the end of April before tariffs increased in early May leading to the S&P's sharpest correction of 2019, down almost 7%.  The Aussie also led to the upside at the end of May into the June market rally. Last week the Aussie made a lower low relative to its July 10th low.
Unlike the S&P, the Aussie has not made a higher high relative to April. Normally the market would have already made a sharper downside correction on last week's decline alone, but like all of 2019 – especially the market rally from June – market psychology has been all about Powell and the Fed's dovish pivot on June 4th, market hopes that the Fed will cut rates, and hopes that rate cuts will be enough to offset further weakening and usher in growth expansion.
While on currencies…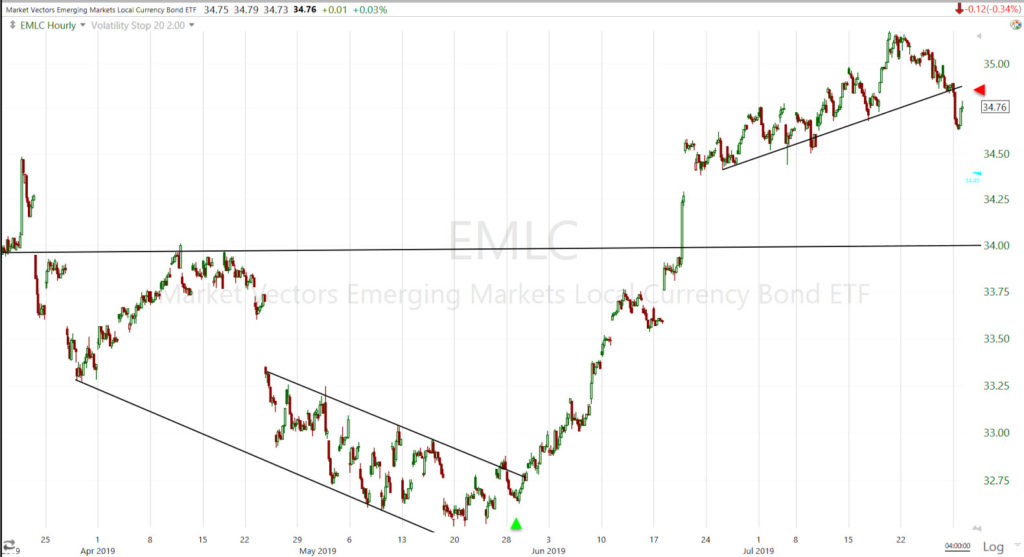 EMLC/proxy for a basket of Emerging market currencies (60m) broke its recent supportive trend today.
WTI crude gained +1.2% to $56.87/bbl, helping the Energy sector pare losses of over 1% this morning.
Gold futures settled less than 0.1% higher on Monday at $1,420.40/oz. In this morning's A.M. Update Silver futures had a constructive chart with a positive 3C divergence. This afternoon both precious metals gained in what appeared to be a slight defensive tone, also apparent in S&P sector performance and Treasuries more broadly on the day.
Gold has displayed consolidative tone over the last 5 weeks. As price action continues to develop, I'm updating the trend lines. Gold/GLD consolidation has expanded to a bullish ascending triangle just ahead of the FOMC Wednesday.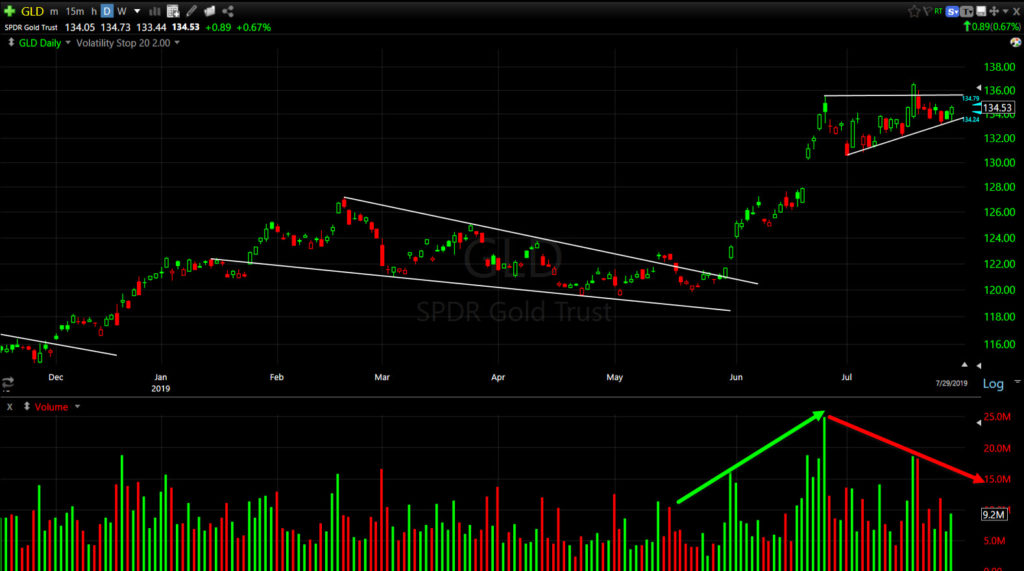 GLD (daily) bullish ascending triangle with resistance around $135.60 and then $136.70 where there was a premature, or failed breakout. Volume is generally constructive for the price trend and consolidation, increasing on advances and declining on the consolidation. The volume on the consolidation is a little heavier than ideal, but still fine.
Here's a closer look….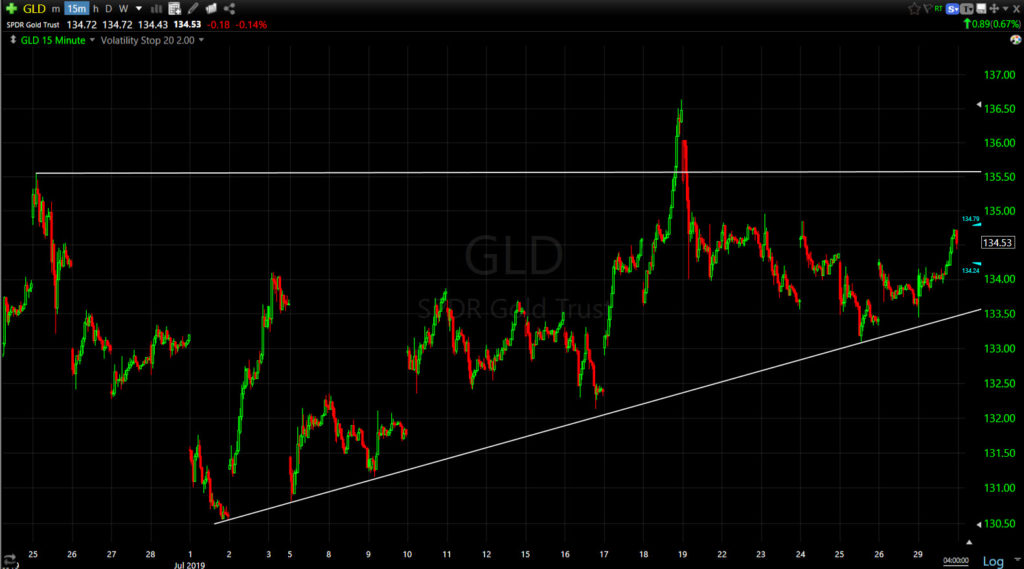 GLD (15m) shows the failed breakout attempt more clearly, which is the one thing I don't like. However, Gold and silver look a whole lot better to me than any of the major averages.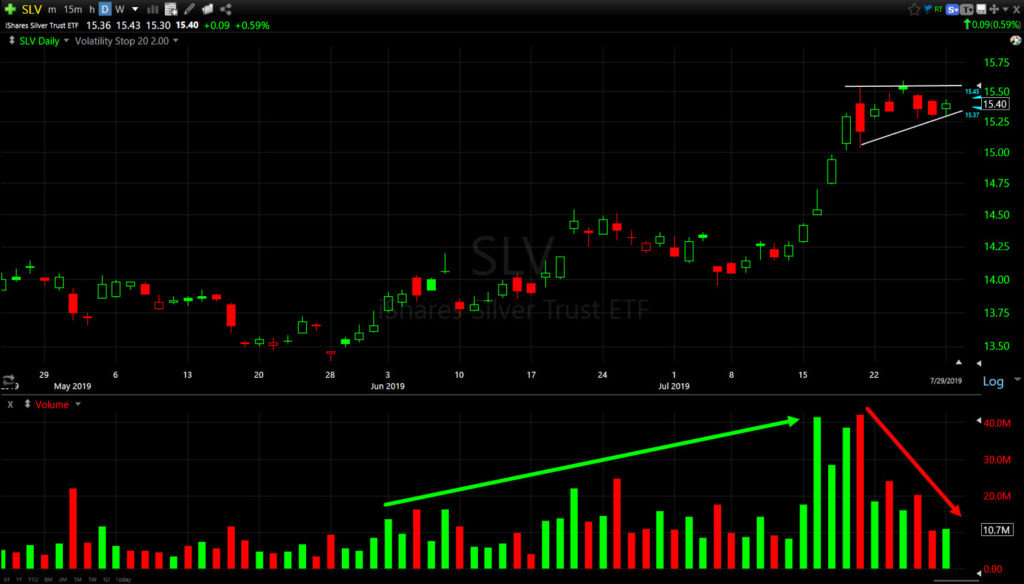 SLV (daily) ran above the $15 target as is often the case, but has settled and consolidated in the $15 area in another bullish ascending triangle. Volume is constructive, although a little heavy early in the consolidation.
Here's a closer look…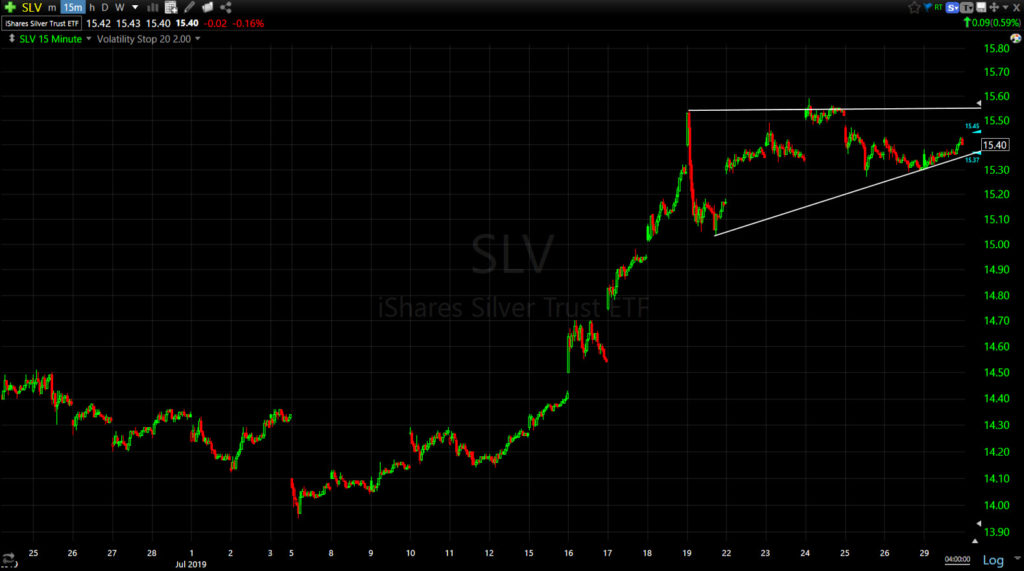 SLV (15m) the consolidation could be better formed, but again compared to other asset classes, it's one of the best looking charts out there.
Both precious metals will be very sensitive to the FOMC on Wednesday, there could be quite a bit of price volatility and knee jerks. In both cases, they have very reasonable stops nearby under the lower rising trend line of the triangle. Given the potential for price volatility I'd prefer a wider stop where the lower trend line first starts the consolidation (like a rectangle) around SLV $15 or GLD $130, but that's a pretty wide stop.
Volatility
Last Wednesday VXX started putting in a clear positive divergence. Friday VIX futures joined with a clear positive divergence before the open. In addition, hedging activity was visible in Volatility's term structure on Friday, but did not see any additional movement today.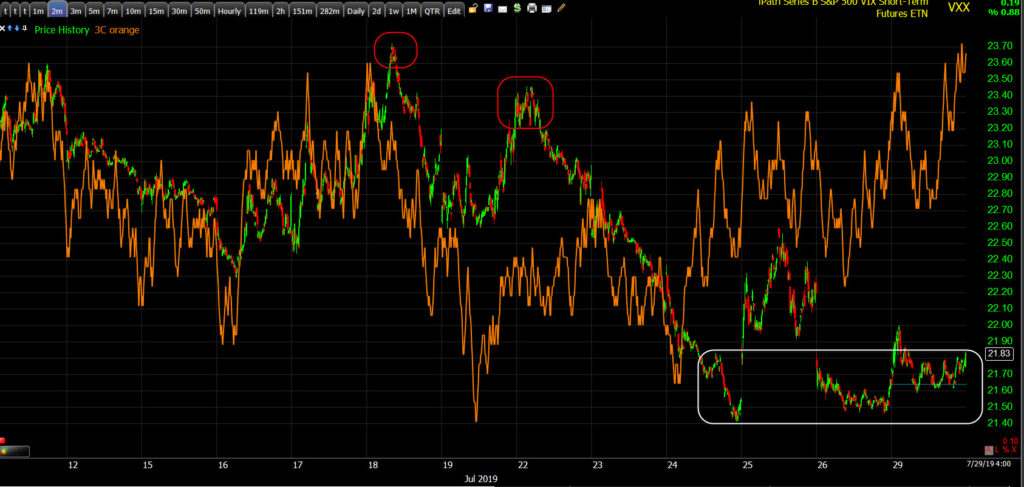 VXX (2m) positive divergence (white)
Summary
Investors continue to wait ahead of the FOMC. Conviction on the part of buyers and sellers has been low since the second week of June, even more so through July, partly due to earnings and I suspect summer. Ironically or coincidentally the S&P-500 is just fractionally off the $2030 Broadening Formation upper trend line just 2 days ahead of the FOMC.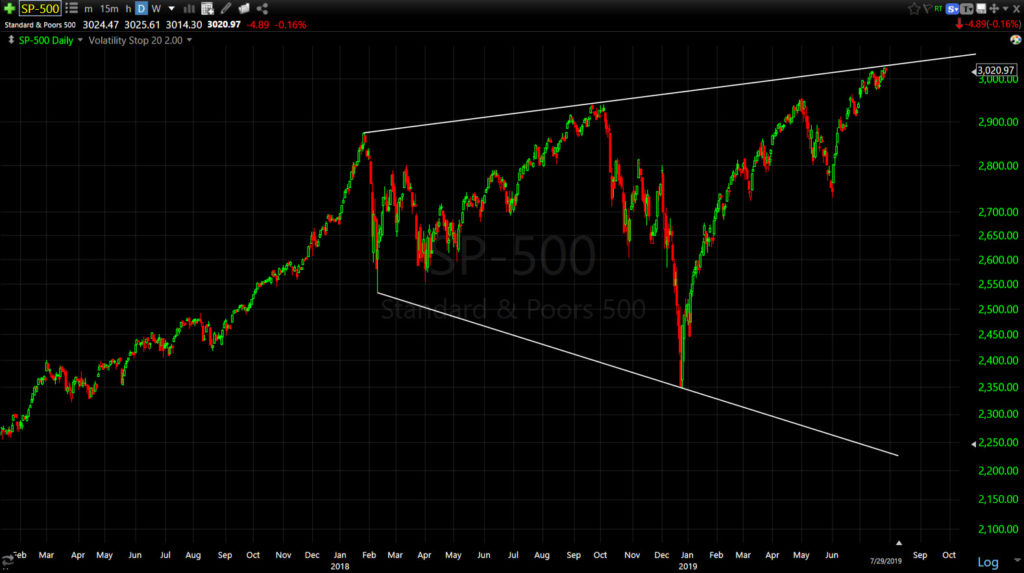 SP-500 (daily)
Throughout June and July the market has ignored bad economic data and news. Just last week the Department of Justice announced an antitrust probe obviously targeting Facebook, Amazon and Alphabet. There was no reaction. Last week's U.S. manufacturing PMI printed at 50, the lowest level since September 2009. Below 50 represents contraction in manufacturing. The market saw the news as good news, particularly a day before the ECB as European PMIs also came in worse than expected and the market priced in further easing.
The market has had a good two months to price in Fed easing. Wednesday we'll hear from the Fed. The market has a 25 basis point cut priced in. I expect there will be two FOMC voters dissenting, which could color the forward outlook as far as the market is concerned. There are any number of variables from no rate cut (extremely low probability and the market would sell off sharply), to a 50 bp cut. They could decide to end the balance sheet roll off before scheduled in a couple of months, which would be my expectation. As mentioned, two voters may dissent from even a 25 bp cut.
Last week, although brief, the market did not react well to the ECB delivering what was expected, but no more. The day before European PMIs came in weaker than expected which caused the market to price in more easing expectations for the next day, the ECB did not go above and beyond expectations which had a lot to do with Thursday's uglier decline on heavier volume. The market could just as easily sell the news since it has been priced in much of 2019, and specifically since June 4th. The details and language will likely make all of the difference.
Overnight
S&P futures are +0.1% with a minor negative divergence building since the cash close. For the most part index futures look like weaker tone tonight. In Russell 2000 futures' case, there was a sharper leading negative divergence since the close.
VIX futures have the same positive divergence they had this afternoon, although not as strong as Friday as the chart weakened from Sunday's open until just before the cash open this morning.
Gold futures are up +0.25%, they do have a positive tone since this afternoon, but it's not jumping off the chart. Silver future look very similar with a positive tone.
Treasury futures are unremarkable.
Nothing is so sharp as to suggest any major moves overnight. Index futures look like many of the cash 3C charts, low conviction, but no sharp signals.
There was no notable economic data today. While I doubt any data is going to alter the course Fed chair Jerome Powell has plotted, Tuesday will feature the Personal Income and Spending report for June, which will include the Fed's preferred inflation gauge – the PCE Price Index. Investors will also receive the Conference Board's Consumer Confidence Index for July, Pending Home Sales for June, and the S&P Case-Shiller Home Price Index for May.
Other notable events this week include U.S.-China trade talks starting tomorrow through Wednesday in Beijing. Expectations are low. Apple's (AAPL) reports earnings Tuesday after the close. The July employment report is out Friday morning.