The last 24 hours of price action has been borderline manic. Yesterday the S&P dropped -1.9% after the FOMC. This morning it rallied 1% and this afternoon dropped lost -2.1%. Keep in mind that this price volatility is just below the S&P's broadening top pattern's upper trend (3030).
There's a lot to take in, but try to keep things as simple as possible, yesterday the theme was sell stocks because the Fed isn't promising to cut rates enough, which is the last thing the market should want considering what it means historically. This morning the theme was panic buy stocks because ISM data came in so bad that the Fed will have to cut more. This afternoon it was sell stocks as the trade war escalated with new tariffs for the second time in 3 months.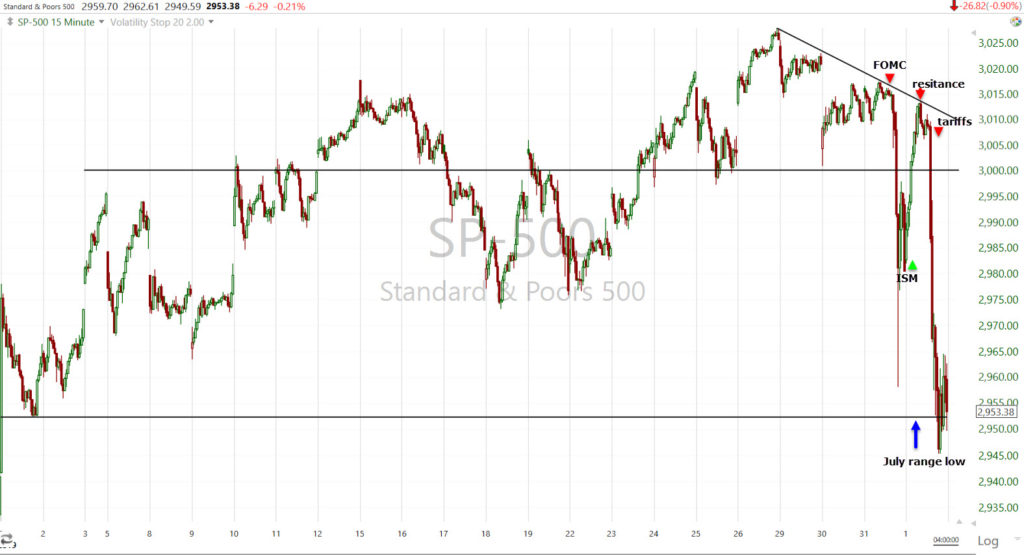 SPX (15m from start of July) After plunging on the FOMC, the S&P 500 had nearly recovered all its losses from Wednesday, then hit a minor resistance zone at $3013, then the tariff tweet.
Economic Data
The ISM Manufacturing Index for July this morning declined to 51.2% (consensus 51.9%), which is its lowest level since Aug. 2016, and total construction spending for June unexpectedly declined 1.3% (consensus +0.4%). The weakening trend in manufacturing is crystal clear, it keeps weakening. For now that's being offset by good consumer spending, but consumer sentiment tends to be one of the last things to go, usually when stocks decline sharply, which is why the Fed is keen to keep stocks from selling off sharply.
New tariffs
There were pretty low expectations heading into this week's U.S.-China trade talks focused on goodwill gestures that had been agreed to a month ago at the G-20 meeting. The meeting ended after only a half day (scheduled for 2 days). The market has been so focused on the Fed, that there was no reaction to the meeting being cut short, and the market hasn't paid any attention to North Korea firing missiles over the last week.
North Korea is a great indicator of how trade talks between the U.S.-China are going as North Korea is dependent on China. North Korea fired missiles for the first time since 2017 just before the May tariff escalation. After, presidents Trump and Xi came to a cease-fire agreement at the G-20, the next day President Trump was walking across the DMZ into North Korea to shake hands with Chairman Kim, a probable perk thrown in by President Xi. North Korea fired the third ballistic missile in a week today as trade talks failed. The market has been so preoccupied with the Fed that it hasn't discounted weak economic data or other troubling news.
And then the tweet…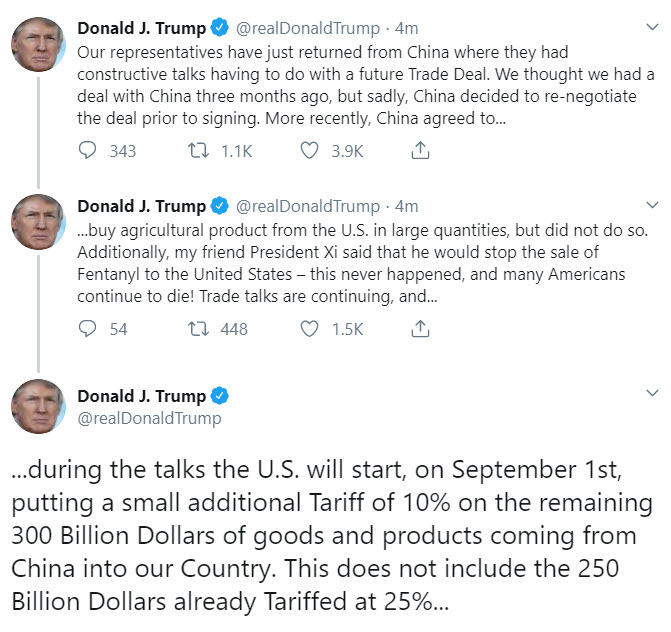 I believe the market was getting ready to turn lower anyway before thee tweet. My price alerts had been pretty quiet this afternoon, then…

My email alerts… The tweet was out at 1:27 p.m. ET. Notice alerts of the banks breaking levels (bottom) around 1:20 p.m. Just 30 minutes before that I had sent out an update that the banks were getting ugly and threatening the broader market. Although I doubt the market would have come down that hard without the Trump tweet.
Averages
Small Caps showed relative weakness well before the tariff tweet today. Perhaps because there was no massive short squeeze as there was the two previous day (see below).
S&P 500 ⇩ -0.90 %
NASDAQ ⇩ -0.61 %
DOW JONES ⇩ -1.05 %
RUSSELL 2000 ⇩ -1.51 %
Most of the major averages dipped just below July lows, and closed above. That looked like probable near term support, partly why I closed SPY Puts.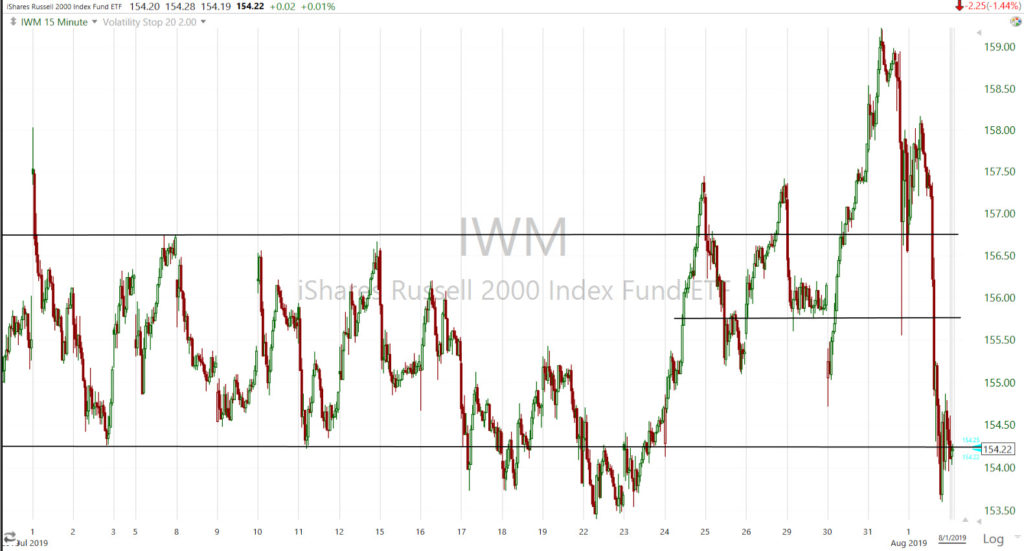 IWM/Small Caps (15m July range). The failed breakout increases probabilities of a fast reversal fro small caps, meaning a break below the July range.
I point out short squeezes when I see them. They move markets fast and often are found at the end of a decline. However, in a situation such as the market's June-July up-trend, they're like a shot of caffeine that moves the market. What they are not is dependable support by buyers who are holding shares and willing to defend price levels. They're shorts buying to cover to close out a trade, then they're done.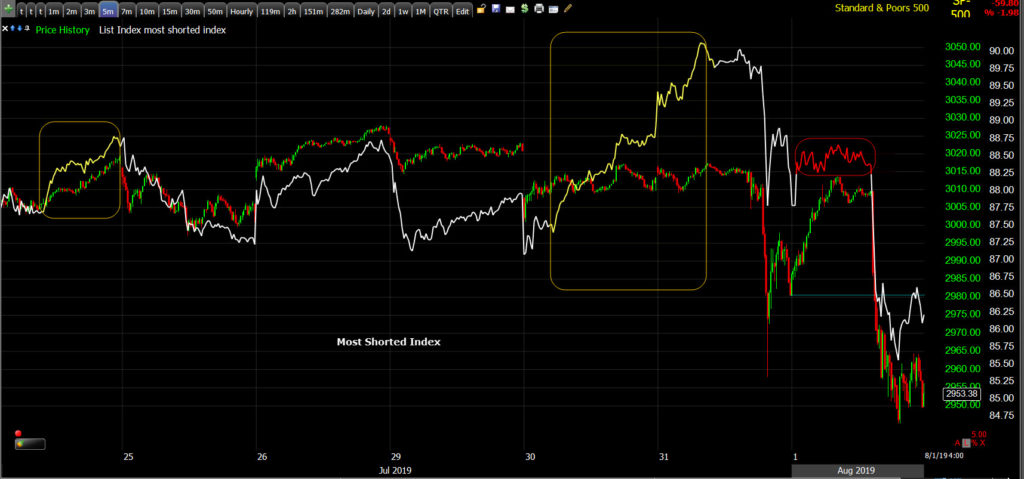 SP-500 (5m) and 3 major short squeezes in the last week in yellow  (last Wednesday, and Tuesday and Wednesday of this week), all of which benefited Small Caps the most. No short squeeze today in red.
S&P sectors
All cyclical sectors closed lower while the defensive Utilities and Real Estate closed higher, as well as defensively oriented Health Care. Energy, Financials and Industrials showed notable relative weakness.
Materials ⇩ -0.57 %
Energy ⇩ -2.26 %
Financials ⇩ -2.27 %
Industrial ⇩ -1.94 %
Technology ⇩ -0.51 %
Consumer Staples ⇩ -0.35 %
Utilities ⇧ 1.02 %
Health Care ⇧ 0.13 %
Consumer Discretionary ⇩ -1.36 %
Real Estate ⇧ 0.24 %
Communications ⇩ -0.47 %
Concerns that escalating trade tensions would cut corporate earnings prospects were evident in the S&P 500 Industrial sector (-2.0%), which is home to many transportation companies with foreign business; Apple (AAPL -2.2%), which previously had some of its high-growth products except from tariffs; and the semiconductor stocks, many of which derive a large of portion of their revenue from China.
The Dow Jones Transportation Average lost -2.5% , finally breaking the June-July trend support below 10,500, and the key $10,450 level with a lot of price activity.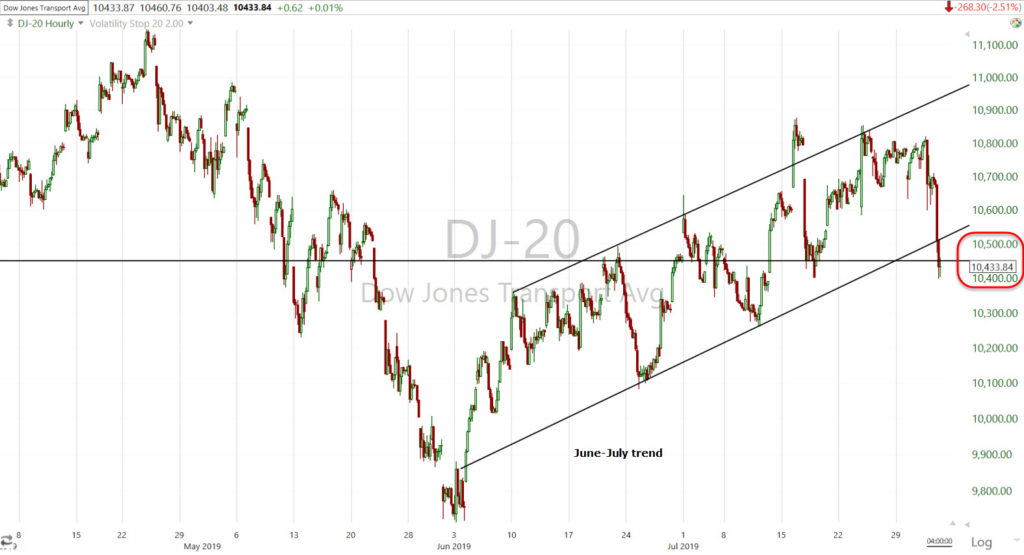 DJ-20/Dow Transports (60m)
The Philadelphia Semiconductor Index lost -2.0%.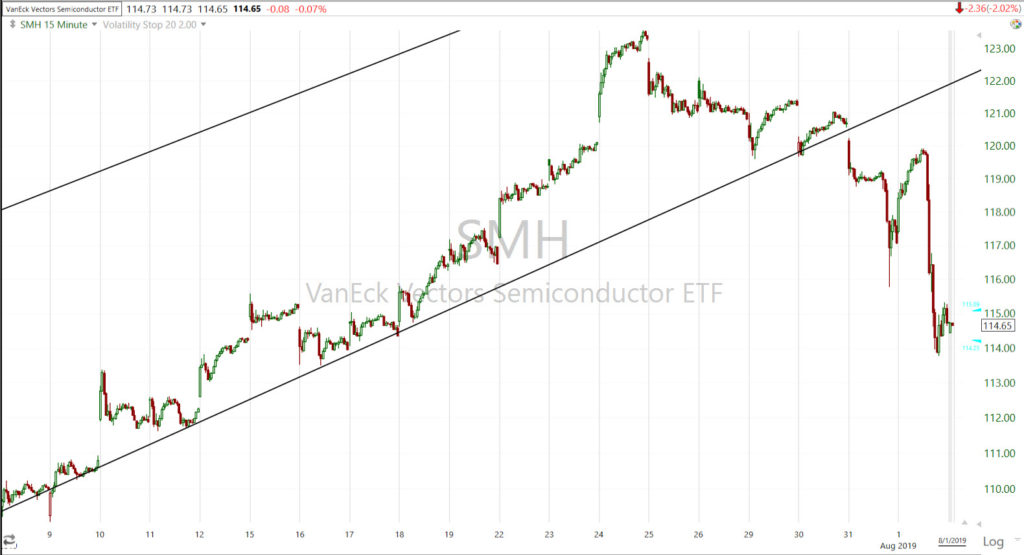 SMH (15m) followed through on the break of the June-July uptrend yesterday. If the semis consolidate here in something like a bear flag, I'll likely add some to my short position.
While not an area that has driven market gains recently, the S&P Retail sector (XRT ) was another laggard, losing -3.2% amid fears that strong consumer spending may be adversely affected by the tariffs.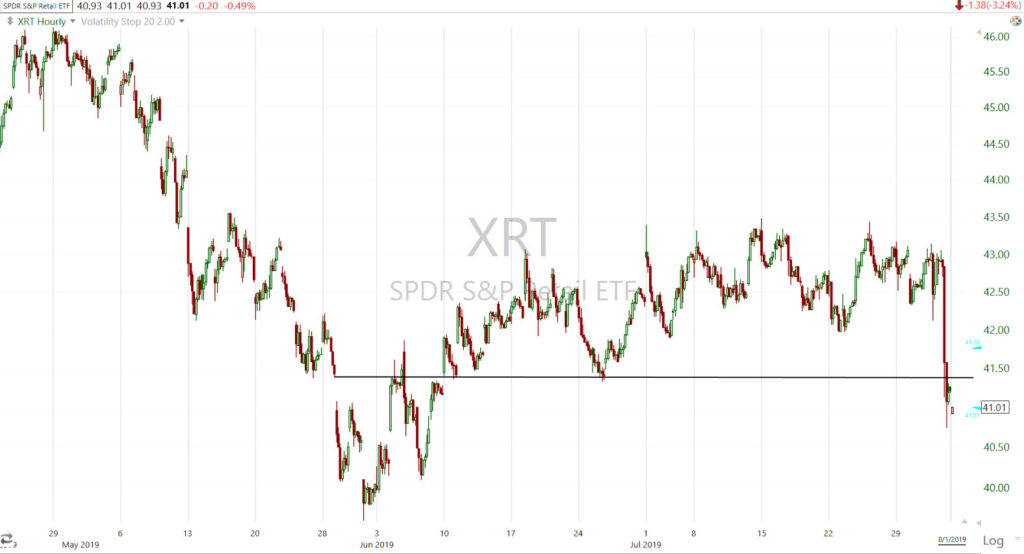 XRT (60m) broke support of the June-July up trend.
Dow Transports' relative weakness weighed on Industrials, but ultimately the sector is very sensitive to the trade war.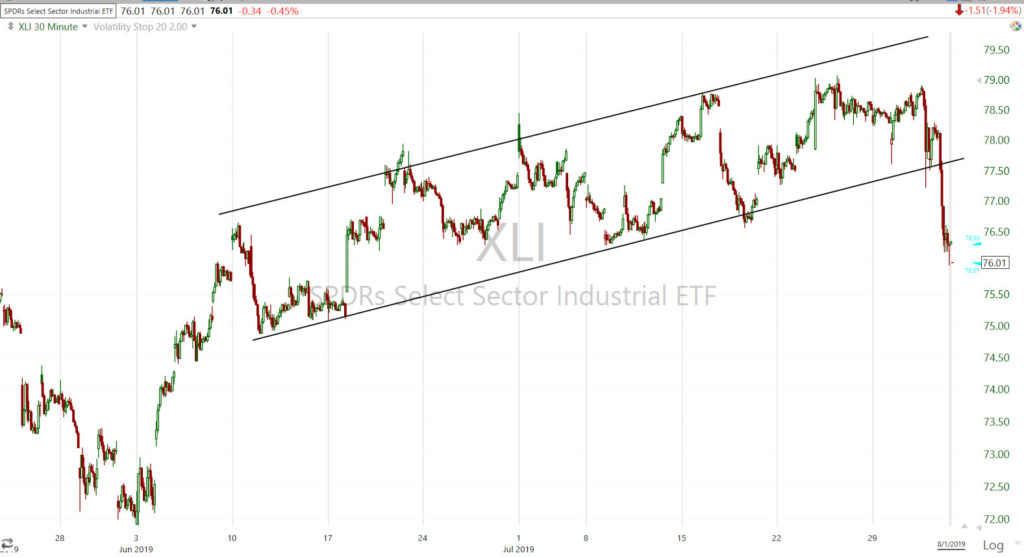 Industrials/XLI (30m), one of the few cyclical sectors that had not broken the June-July trend, did so today.
The Energy sector was under pressure from the open with Crude declining and ending down -7.5% on growth concerns. I updated Energy/XLE today as it hit my measured move downside target. Energy is the only S&P sector that has established a minor/intermediate down trend, since breaking the June/July intermediate up-trend support on July 15th.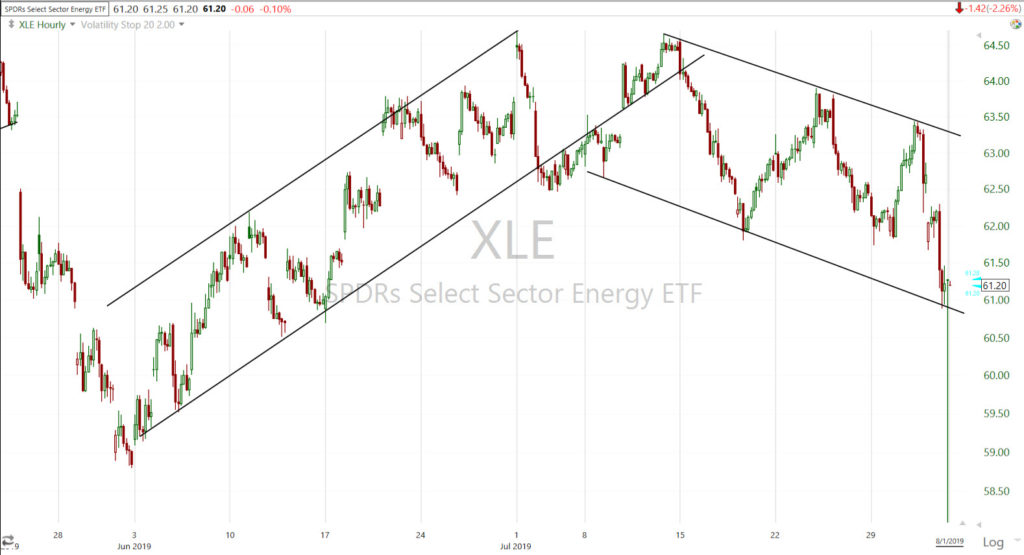 Energy/XLE (60m). Yesterday's bounce helped better define the down trend.
Sharply falling yields didn't help the banks, although the banks were at resistance already. The banks in-turn weighed on the S&P Financial sector. The weakness in Regional Banks (KRE ) weighed on Small Caps.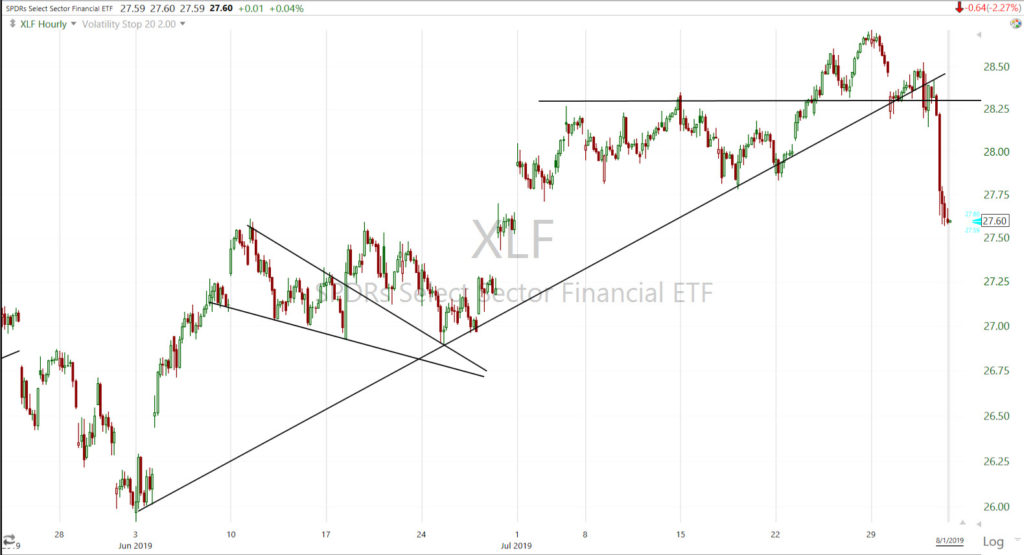 Financials / XLF (60m) looked like they may break the June-July rally trend yesterday, they did break it today.
Even the Technology sector that led the morning advance, ended up confirming the trend break by the close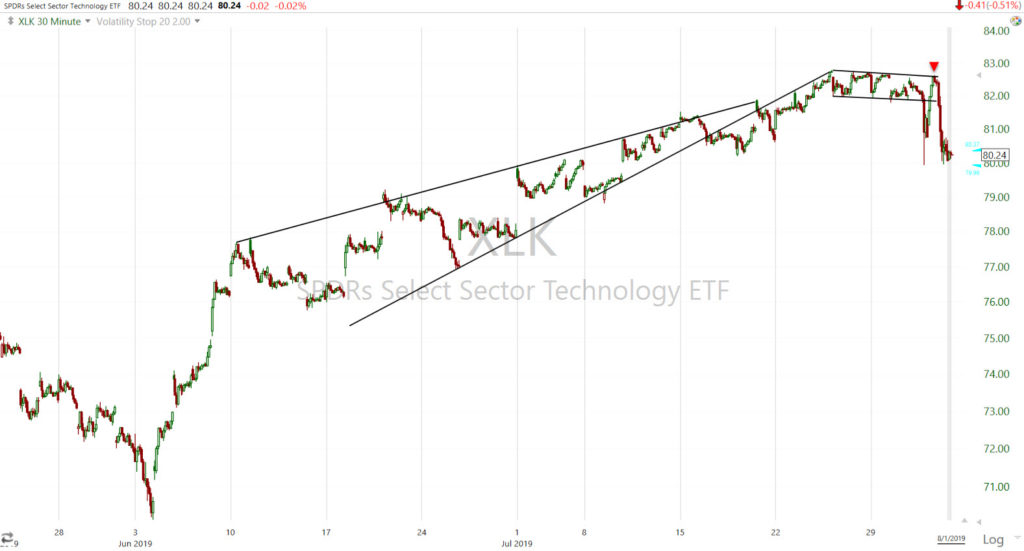 XLK/Technology (60m) ascending wedge, back test and break. Late this morning in the post Resistance, both S&P and Technology hit resistance (red arrow above) and didn't look like the market could go further without banks helping, and they were getting worse. This was 90 minutes before the Trump tariff tweet. Technology looked like it hit a brick wall anyway at that point. Today the trend break from yesterday sees downside follow through. A lot of sector longs got hit hard here today.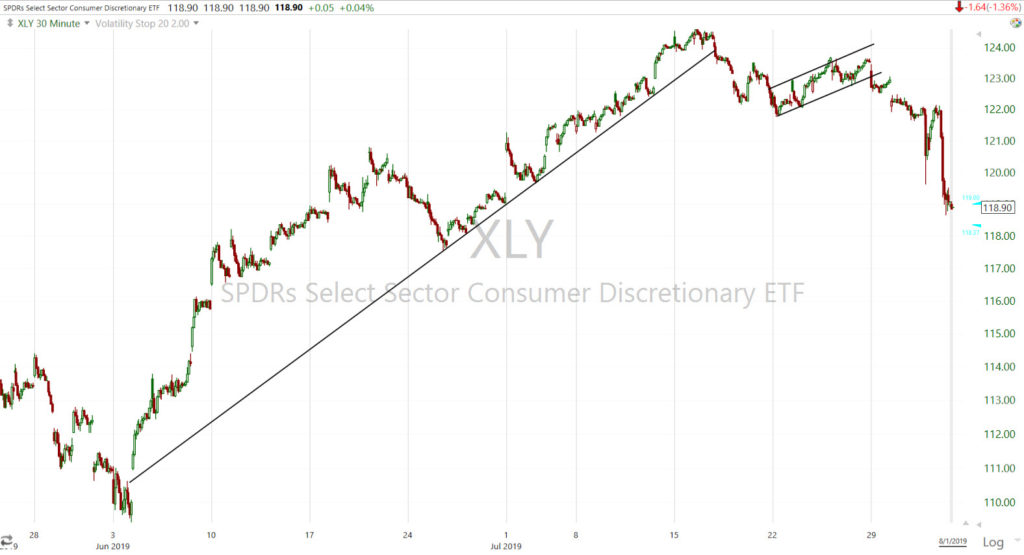 Consumer Discretionary (30m) is another influential growth sector that broke trend in mid-July, bounced in a bear flag and broke the bear flag at the start of the week, followed through Wednesday and again today.
All of the sectors that broke trend this week have followed through to the downside. It's worthwhile to be on the lookout for minor consolidations like flags. As mentioned yesterday, we're seeing a change in market character, tone and psychology (bearish) since the FOMC depicted by the price trend breaks.
Internals
NYSE advancers 990 and decliners 1915 (-925), on huge volume of 1.1 bn shares, that's about 40% above the 50-day average. The S&P-500, Dow and NASDAQ 100 had a dominant price/volume relationship of Close Down/Volume Up, which is a typical of a 1-day oversold condition. Russell 2000 came in at Close Down/Volume Down, which is benign, but it rules out a 1-day oversold condition, often leaving the door open for more losses.
Breadth
NYSE 52 weeks highs have been making lower highs as the averages made higher highs in July. That's an indication of weaker participation on the market's advance or deteriorating breadth.
Not surprisingly NYSE new 52 week lows hit the highest level today since May 31st, the last day of the May tariff decline. Here's a quick overview of what should be a troubling trend.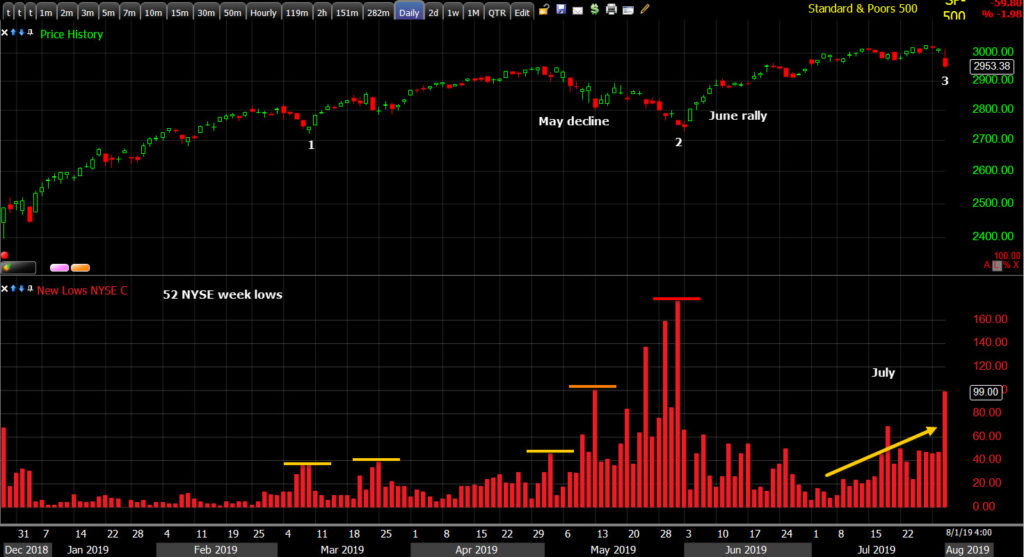 SP-500 (daily) This is the 2019 rally from the end of December 2018. For months I've pointed out this unhealthy trend. New lows should contract as the market advances higher, not expand. They started expanding in early March and never stopped. The big spike was the May tariffs decline, but even that should not be higher than pre-March levels. Since the June rally started, it hasn't been an issue, although the damage done is done. In July more stocks started making 52 week lows as the S&P hit a series of new record highs!
I notated 3 points: 1) the March market pull back, 2) the May decline low, 3) today. Under no circumstances should today's print of new 52 week lows exceed what they were in early March, especially given the S&P is just off record highs and almost 8% above the March level. Breadth weakness isn't an immediate actionable signals, it's a trend that tells you more about the health of the advance. It also tells us that when the market tests the March low, probabilities are very high that the level eventually breaks. Before then, because the current new lows are less than May lows, the chart suggests that the May level will put up a fight when it is tested. On the year, the trend on New lows tells us that this advance is has nowhere near healthy participation.
Here's an example of what it should look like….
I cannot use the April-September 2018 advance because in that case new lows were rising as well, depicting unhealthy participation. I have to go back to the September 9, 2017 advance to the late January 2018 high. This advance was in large part due to the destruction of hurricanes which meant houses would need to be repaired, cars would need to be replaced, supporting the economy through spending. The rally started the day after Hurricane Irma hit us here in Florida. Also the market was rallying on the Trump tax cuts about to be signed.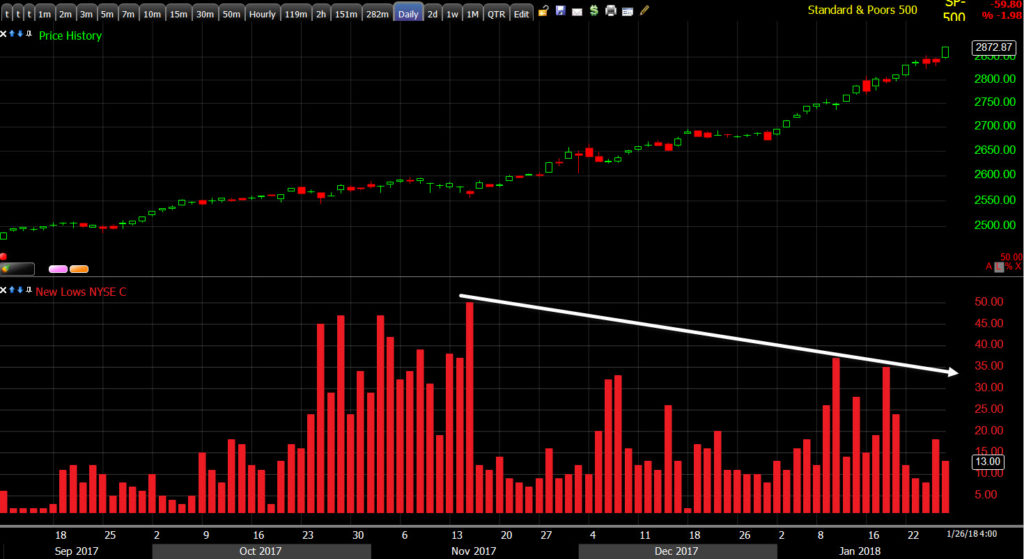 SP-500 (daily) from September 9, 2017 to the late January 2018 high. New 52 weeks lows decline as the market advances-healthy, normal.
The 2017-2018 rally had solid breadth as depicted by new lows. The April-September 2018 rally had weaker breadth and participation. The 2019 rally has the weakest breadth/participation of all. If we put this together, here's the takeaway…
SP-500 (daily) The rally to pivot 1 was strong in terms of breadth as represented by 52 week lows. The rally to pivot 3 was weaker, and the rally to pivot 5 that we just hit is the weakest of them.
The last time new lows were an issue was June to August 2015, just before the global sell-off.
Volatility
There has been quite a run in volatility since positive divergences Wednesday and Friday of last week. The first half of today volatility selling was a tailwind for stocks, but that actually stopped around 10:30 a.m., 3 hours before the Trump tweet.
VVIX reached $111. Above 100 represents the market sitting up and paying attention to risk. Above 110-115 are levels that are more akin to putting on a helmet and getting under your desk and rocking back and forth, mumbling something incoherently. VVIX hasn't reached that level since early May after president Trump last raised tariffs on Chinese goods.
VVIX closed at $105, a level that should have all market participants on alert.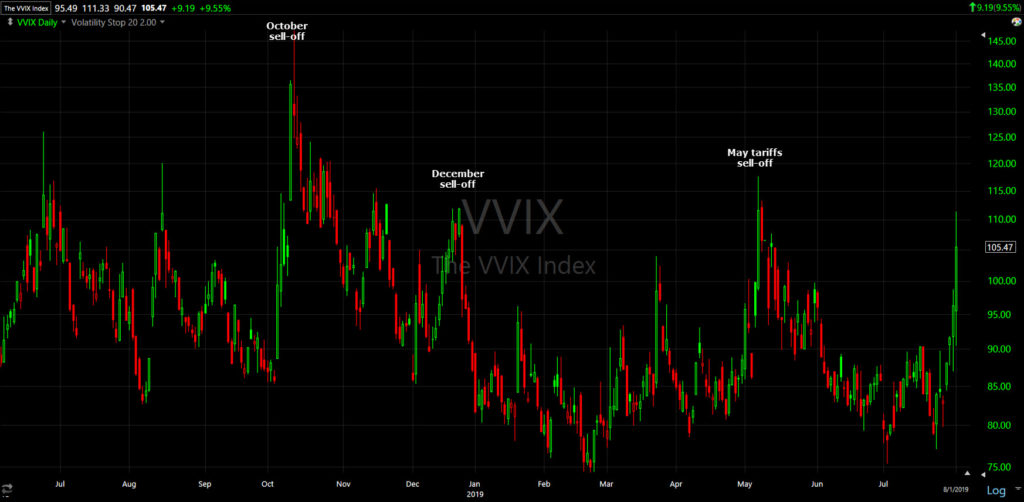 VVIX (daily) Today's high was just as high as the peak of the December sell-off as the S&P lost -15.7%, and on par with early May with the S&P subsequently losing -6.7%. 
Volatility's term structure also briefly moved into backwardation from contango, another indication of traders/investors taking the market seriously and paying up for immediate from month protection in volatility.
Treasuries
Economic growth concerns were made most apparent in the steep drop in U.S. Treasury yields and oil prices ($53.99/bbl, -$4.39, -7.5%), both of which had already been on the decline in the wake of the Fed's rate cut yesterday. The 2-year yield dropped 16 basis points to 1.72%, and the 10-yr yield dropped 13 basis points to 1.89%. That's an amazingly large drop in yields. The second half of the day was due to safe haven flows in addition to further weakening growth as tariffs expand the trade war.
Like yesterday, today treasury yields declined as stocks advanced, creating another massive divergence between the two. Also like yesterday, S&P reverted down to yields this afternoon.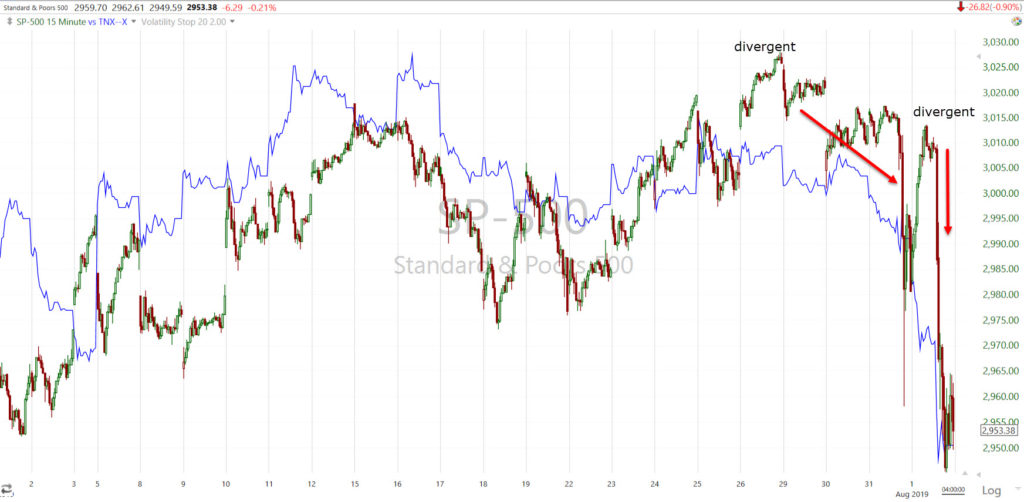 SP-500 (15m) and 10-year yield.
If you're interested, here's what the divergence looked like at its height earlier today  before the reversion. It's the chart at the bottom of the post.
TLT had a strong day, the tariffs made it the perfect storm for TLT.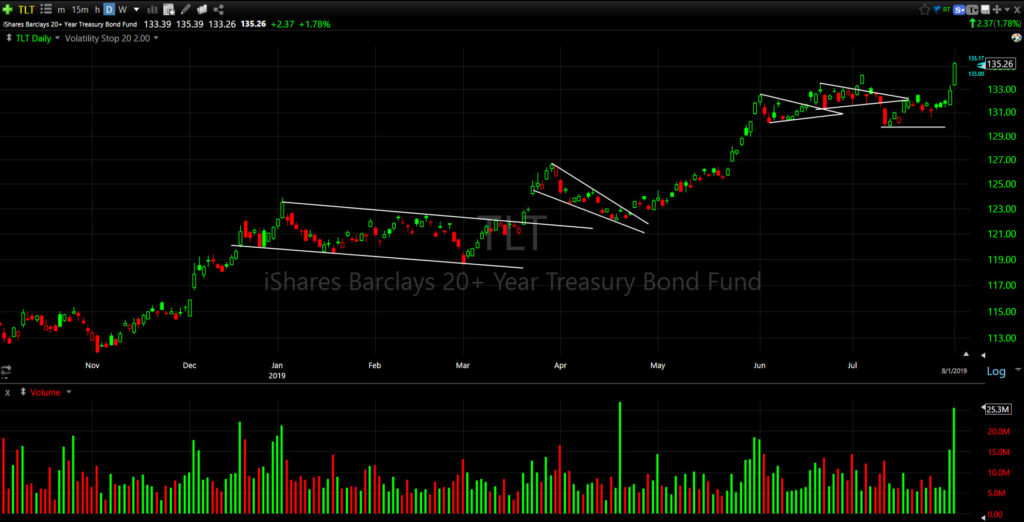 TLT (daily) with a beautiful move yesterday and today. The tariffs sealed the deal as both growth was marked down and safety was in demand. The expanding volume Wednesday and today is picture-perfect. This  is a far more constructive price and volume trend in 2019 than the S&P.
Currencies and Commodities
The U.S. Dollar Index lost 0.2% to 98.36.
Checking in on the Chinese Yuan…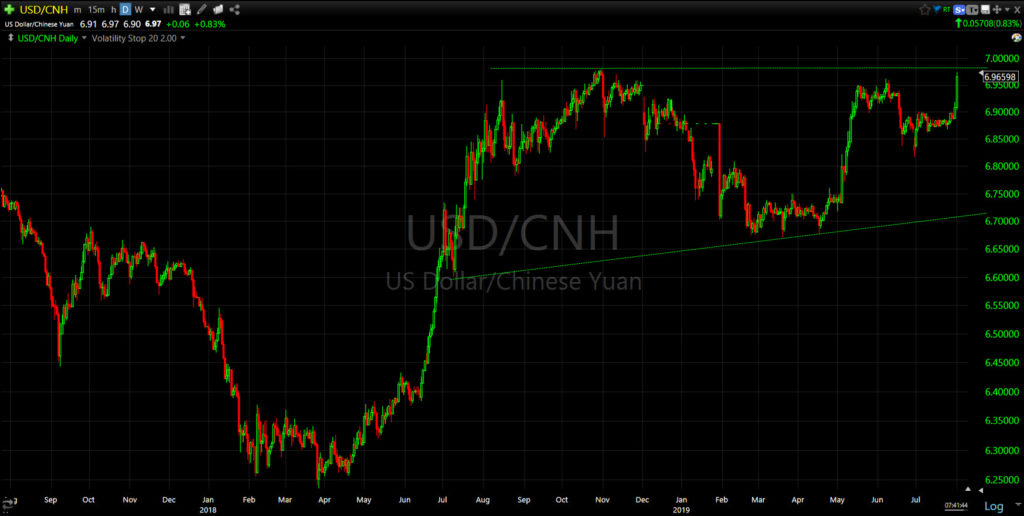 USD/CNH (U.S Dollar/Chinese Yuan daily). The consolidation since the last yuan devaluation to offset the original tariffs sure looks like a large bullish ascending triangle. China has defended the $7 level since then. Maybe that's about to change. Note the spike up today on the tariffs tweet (Yuan down).
The Dollar strength is wreaking havoc in other places. Monday of this week I showed a basket of emerging market currencies breaking an up-trend that has been supportive of emerging market stocks, which on a risk/reward basis, I've liked better than the S&P. Emerging markets are particularly sensitive to the U.S. Dollar, they do not like a strong dollar, and after the FOMC it got even stronger.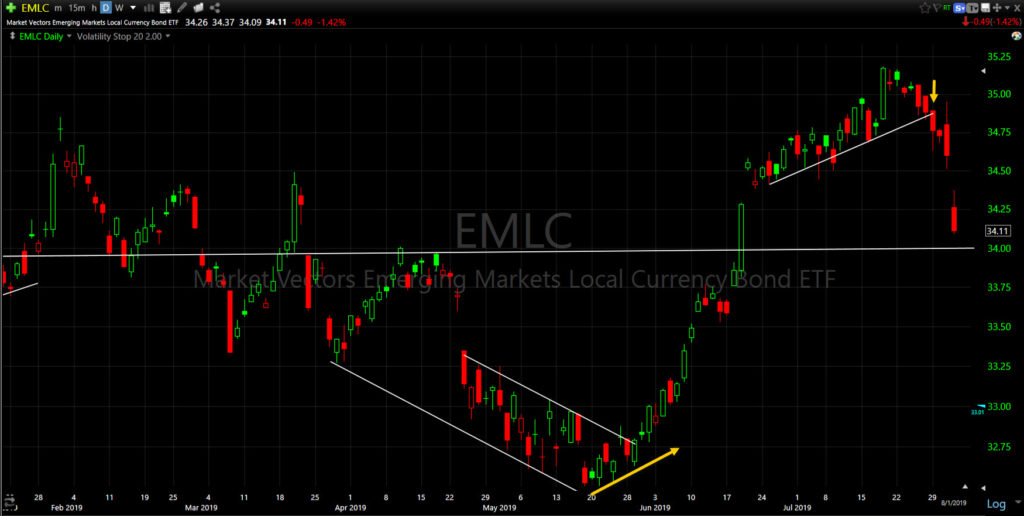 EMLC (daily – proxy for a basket of EM currencies). The EM currencies led not only EM stocks, but the entire market higher a week or more before the June rally (white arrow). When I liked EEM (long), the currencies were very supportive, but that changed Monday with a trend break (yellow).
Here's EEM's post and why I liked it. In short, because of the currencies supporting it, and because the risk of the trade was small vs. the potential reward. If these charts illustrate nothing else, they shows how currencies, whether you trade them or not, can give you an edge elsewhere, like stocks.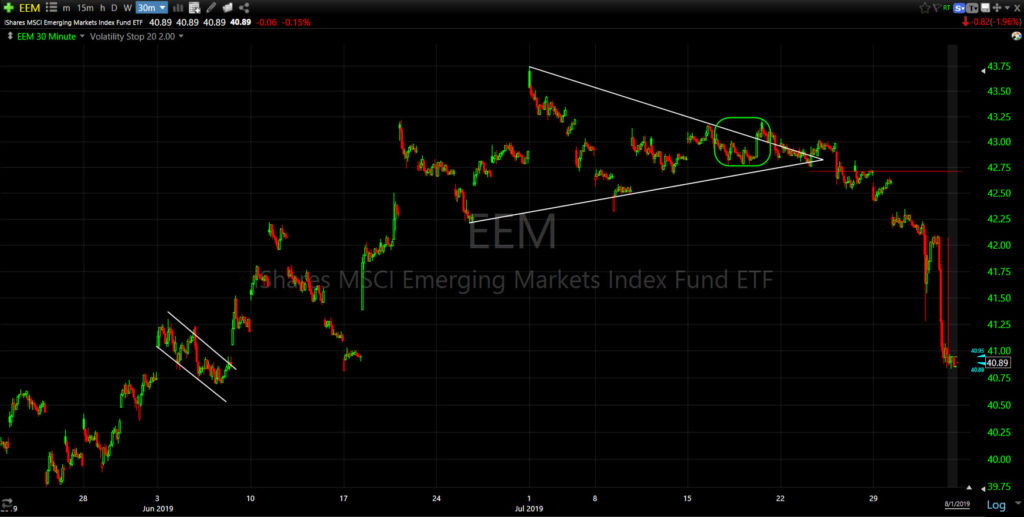 EEM (30m) the area in green is where/when I liked EEM long. The stop was just below the lower triangle support trend, around $42.70 which would have bee hit last Wednesday, even before the currencies broke trend. Typically Fed easing means a weaker dollar and EM stocks love that. This is what has been so interesting about the Dollar this year, it has remained in an up trend and strong because other global economies have been weaker than the U.S. At a few points it has also been a safe haven. The Dollar Smile… When Growth and Inflation both slow at the same time on a year-over-year rate of change basis, the U.S. Dollar is one of the  best performing assets.
I have been talking about the Aussie for about 2 weeks. Like any currency, it moves due to nation specific developments, but from a broader macro perspective, it's a great window into what growth expectations are in the Asia-Pacific region, as well as global trade, commodities and inflation/deflation. Also it tends to lead risk assets. The Aussie has seen a massive plunge the last 2 weeks, near 4%. Today AUD/USD closed at a new 2019 low, lower than the last manufacturing recession (2015/2016) and the lowest since 2009.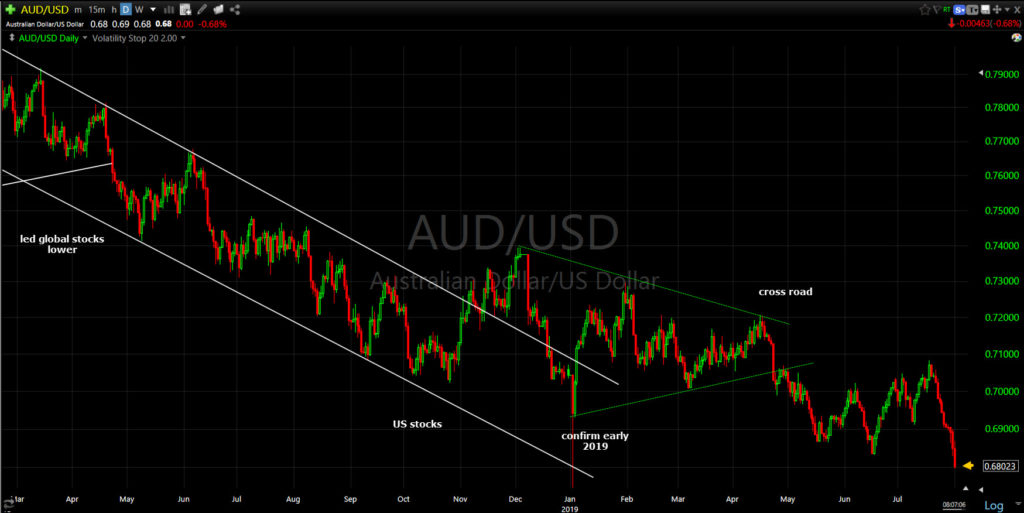 AUD/USD (daily) The Aussie was confirming stock gains in early 2019, then it hit a crossroads in April and has since led growth and inflation expectations lower in advance of the data we've been seeing for months.
For traders/investors who view the current manufacturing slowdown/recession to the manufacturing recession of 2015-16, look at AUD/USD back then. It led the S&P higher then, reflecting an early rebound in growth and the global synchronized growth trend from 2016 until 2018. It's tempting for investors to view now as similar to then, after all central banks around the globe coordinated the largest policy easing ever seen. In early 2016 currencies like the Aussie were supportive. The bond market was not pricing in a recession (yield curve inversions). Both of those are exactly the opposite now.
Typically AUD/USD leads risk assets too, but stocks have been in their own world thinking about the FOMC meeting, while the Aussie has continued doing what it does best, reflecting the state of growth.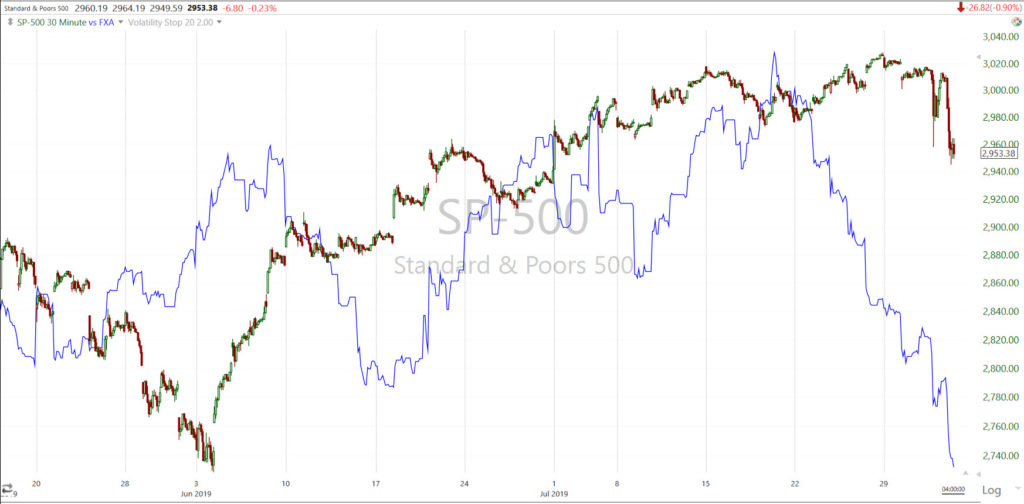 S&P-500 (30m) with FXA (proxy for the Aussie). Like EM currencies, the Aussie also led the S&P higher at the end of May into early June. Look at the recent plunge, and now it looks like stocks that have been ignoring data, are starting to revert down toward the Aussie's reality.
Crude oil prices lost -7.5% to $53.99/bbl, My measured move target, posted again earlier today here in the Energy Sector Update, is about 4% lower.
Briefly touching gold/GLD…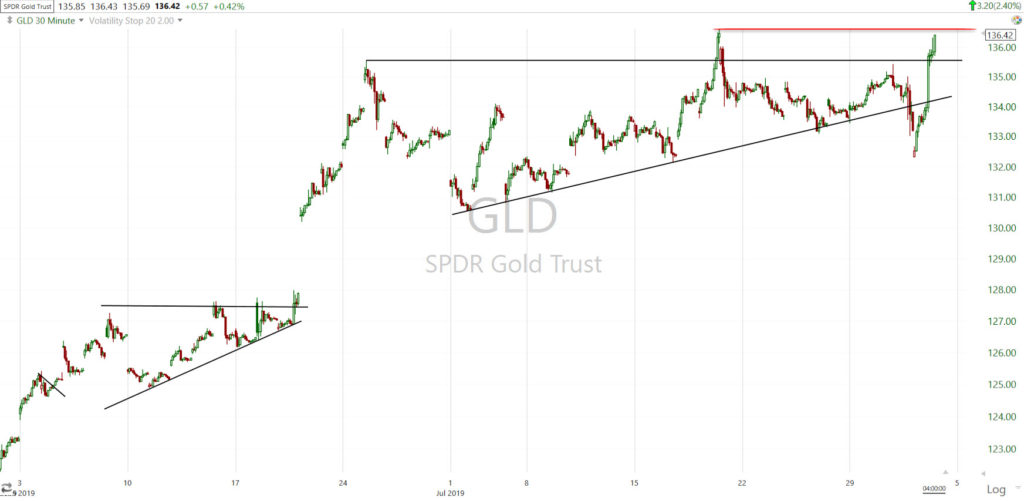 GLD (30m) yesterday both gold and silver slipped just below their consolidation trends. I wasn't that worried about it last night because it wasn't a big violation and it was an FOMC knee jerk. Gold acted well from the open, but even better on the safe haven flow after the tariffs tweet. Price is very constructive. Today's volume (heavy) was very constructive. It does need to close above July 18th high.
For this consolidation, the measured move target is around GLD $144, about 5.5% higher. I think gold is going to be due a decent pull back/consolidation as the Dollar continues to surge higher, but safe haven flows near term with constructive price/volume could sure hit that target easily. Furthermore, you can have a stop reasonably nearby as the triangle's apex has narrowed. For swing trades I personally would prefer a stop below today's low, which is a bit wide. For trend or position trades, I'd give it a lot more room. Good things are happening here.
Summary
Despite what Powell said Wednesday, the market wasn't ready to give up the dream that the Fed may ease more soon. The timing of this CNBC graphic this morning sums the early advance up nicely.

To further illustrate this point, Wednesday the Fed funds futures implied a 56.9% chance of another 25 basis point cut in September. After the weak ISM report this morning, that probability jumped to 85.4%! If you had bought Eurodollar interest rate futures yesterday after the Fed disappointed, or even this morning before the ISM report, you would be one VERY happy investor. By the way, to be clear, I do think the Fed cuts again in September. September was the month I actually preferred as of late May. And I do think that the Fed started a new easing cycle, whether they know it or want to admit it. The official narrative is  they're still holding out hope for a 1998 scenario, or something like early 2016. The historical track record says an easing cycle is a higher probability. For that reason, I like December 2021 Eurodollar futures. That gives an entire easing cycle, that's not currently priced in, time to play out. Otherwise, Treasuries/bonds are good too.
While there's a lot going on… in terms of the trend, this is pretty easy. We've seen a lot of sectors warn of a trend break and trend change, now it's clear in the benchmark S&P.
No trend lines, no moving averages… just use your eyes and connect the lows of the uptrend from June.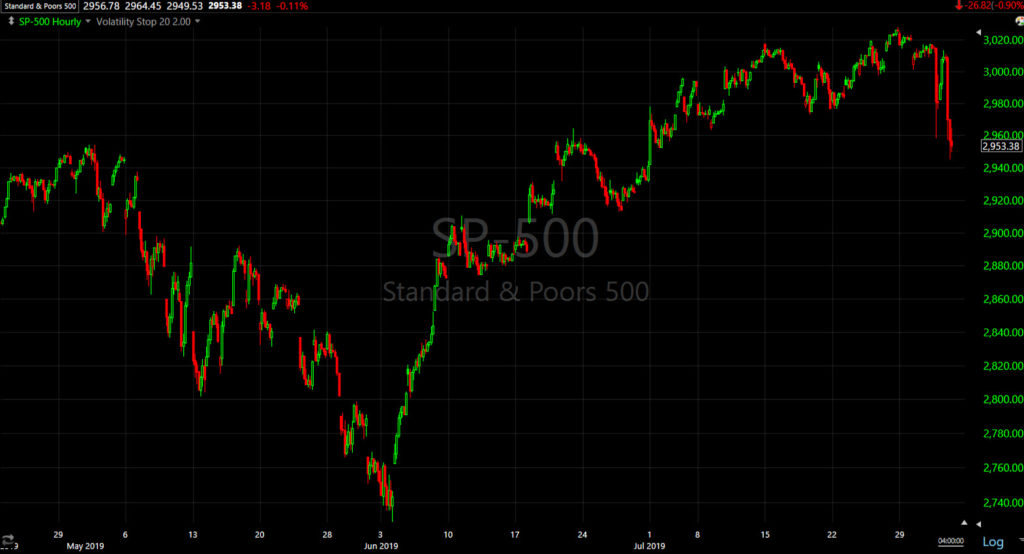 SP-500(60m) Do you see the break of the trend?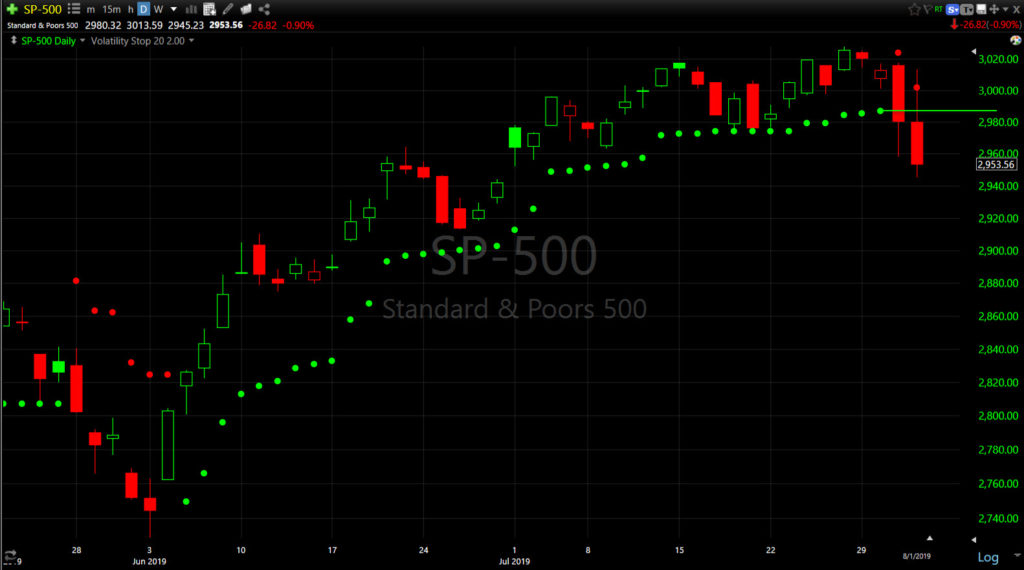 SP-500 (daily) This is a trending stop I look at from time to time, it's based on price's recent volatility and range, sort of an average of what's normal with a buffer. There's a clear break there as well.
I did close out my August SPY Puts today. Half were sold posted here. Then the more I looked at the July lows the averages sat at, considering the potential for near term support, as well as time decay and volatility falling off, I sold the rest shortly after  for about a 45% gain. It took longer than I would have liked, but that's the reason I went out to August, giving them enough time to get past the FOMC.
I did not sell them because I think the market is in a good position. I'll be looking to re-open another, larger short, but with much more duration-along the lines of a position trade to go after the Broadening top. I'm not sure where yet.
I'll post 3C charts of the averages tomorrow, my data feed on that platform is down tonight.
All in all, the major averages have broken the June-July trend. Five of the 8 cyclical sectors have broken the June-July trend. High beta/growth sensitive areas like Transports and Semis have broken too. The best looking price trend now is the Communications sector that benefited in a big way on Google's earnings a week ago. Two of the 3 defensive sectors are lingering just under similar up-trends. Currencies like the Aussie are reflecting an even sharper inflation/growth slowdown that stocks haven't bothered to price in. Market breadth has been getting weaker with less and less participation. That can be seen simply in looking at Small Caps not participating, more than 10% off their record highs. And all of this is coming together as the S&P trades near record highs, and near the top of a huge broadening top. Not to mention all of the late cycle stuff like yields curves inverted, Fed rate cuts, etc.
I'll be looking to build that short position trade. I don't want to build that as prices are going down, but rather up. I already have some exposure in small caps and semis. I also like long Eurodollar futures (December 2021) as a longer trend trade taking advantage of a likely Fed rate cut cycle that's not priced in. That will take some time. I believe the average during a rate cut cycle is 23 basis points a month- divided into 2.0%-2.25%, lets call it a year with a fudge factor, thus December 2021
Overall I still lean toward defensive S&P sectors, Bonds, gold and silver (emphasis on gold), and in FX, the U.S. Dollar. That's a bit of a contradiction liking gold and the Dollar, but they both gain in a strong growth/inflation slowdown that markets haven't bothered to price in. The two have been trending up for the last year.
Overnight
S&P futures are down -0.35%. They do not have notable divergences, but seem to be fumbling around the area (July lows and G-20 level).
VIX futures are seeing some selling since the cash close. There have been at least 3 rounds of selling. The divergence tonight is no larger than any of the ones since Wednesday.
Crude futures are up +1.1%, that's a drop in the bucket compared to what they lost today. 3C is supportive tonight.
Treasuries are still pretty solid, not quite as strong as this morning.
If large players want to sell more, they'll do it in the cash session, and likely into bounces, which means I'll be on the lookout for 3C divergences above and beyond the low grade negative divergences of the last 3 weeks. The near term target on the upside for the S&P is $3,000, that has been a magnet recently.
The Non-Farm Payroll report is out tomorrow morning. I'd think that bad news is good news for stocks as has been the case for 2 months. Stocks were loathe to give up on the hope of more easing this morning. A stronger Payrolls is likely to weigh on Treasuries. A weaker report is supportive.
That's a lot to chew over, but hopefully much of it is useful beyond the next day or two.